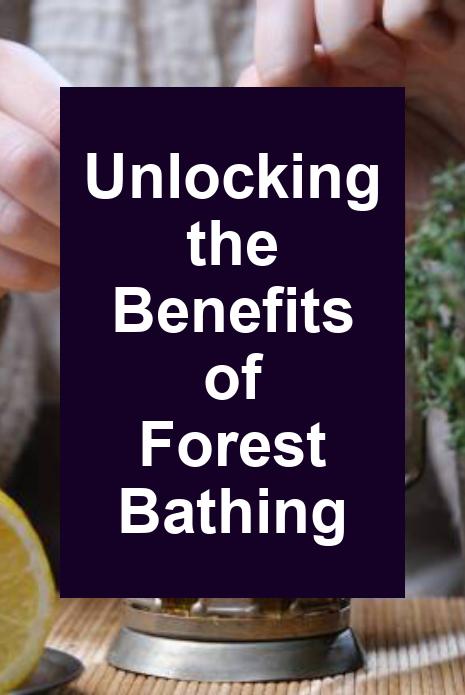 Escape to nature and unlock a world of health benefits with the practice of forest bathing. This rejuvenating experience allows you to immerse yourself in the sights, sounds, and scents of the forest, reaping both physical and mental rewards.
What Is Forest Bathing?
Forest bathing, also known as Shinrin-yoku in Japan, is the practice of immersing oneself in the atmosphere of the forest. It goes beyond a simple walk in nature; it is a mindful and intentional connection with the natural environment. The goal of forest bathing is to engage all your senses and fully experience the healing power of the forest.
The origins of forest bathing can be traced back to Japan in the 1980s when the government introduced it as a form of therapy to combat stress and promote overall well-being. Since then, it has gained global recognition and has become a popular practice in many countries.
The science behind forest bathing is based on the concept that exposure to nature has a positive impact on our physical and mental health. Numerous studies have shown that spending time in nature can lower stress levels, boost immunity, and improve overall well-being. The forest provides a natural sanctuary where we can disconnect from the demands of modern life and reconnect with ourselves.
Benefits Of Forest Bathing For Mental Health
Spending time in nature has a profound impact on our mental health. Forest bathing can reduce anxiety, improve mood, and enhance cognitive function. When we are in the forest, our senses become heightened, and we become more present in the moment. The sights, sounds, and scents of the forest create a calming effect on our nervous system, allowing us to relax and let go of stress.
Research has shown that forest bathing can lower levels of cortisol, the stress hormone, in our bodies. It also increases the production of serotonin, a neurotransmitter that helps regulate mood and promotes feelings of happiness and well-being. In addition, forest bathing has been found to improve concentration and creativity, making it a valuable practice for those seeking mental clarity and inspiration.
Benefits Of Forest Bathing For Physical Health
Forest bathing not only benefits our mental well-being but also has a positive impact on our physical health. Spending time in nature can boost our immune system, improve cardiovascular health, and reduce the risk of chronic diseases.
When we breathe in the forest air, we inhale phytoncides, which are antimicrobial organic compounds released by trees. These phytoncides have been found to increase the activity of our natural killer cells, a type of white blood cell that plays a crucial role in fighting off viruses and cancer cells. This boost to our immune system can help protect us from various illnesses and strengthen our overall health.
In addition, forest bathing encourages physical activity, as walking or moving through the forest is an integral part of the practice. Regular physical activity has been linked to a reduced risk of heart disease, stroke, and diabetes. By incorporating forest bathing into our routine, we can reap the benefits of both exercise and nature simultaneously.
How To Practice Forest Bathing
To fully experience the benefits of forest bathing, it's important to approach it with intention and mindfulness. Here are some steps to help you make the most of your forest bathing experience:
1. Find a suitable location: Look for a forest or natural area that resonates with you. It could be a local park, a nature reserve, or a forest trail. Choose a place that is accessible and allows you to disconnect from the noise and distractions of everyday life.
2. Slow down and be present: As you enter the forest, take a moment to pause and become aware of your surroundings. Engage all your senses and fully immerse yourself in the environment. Notice the texture of the tree bark, listen to the rustling of leaves, and take in the scents of the forest.
3. Mindful walking: Begin your forest bathing experience with a slow and deliberate walk. Pay attention to each step you take, feeling the ground beneath your feet. Walk at a comfortable pace, allowing yourself to absorb the energy of the forest.
4. Engage your senses: Take the time to explore the forest with all your senses. Touch the leaves, flowers, or moss around you. Listen to the sounds of birds chirping or water flowing. Breathe deeply and inhale the fresh forest air. Let the forest envelop you in its sensory delights.
5. Find a quiet spot: Once you have walked for a while, find a peaceful spot to sit or lie down. Take a moment to connect with the natural world around you. Close your eyes if you feel comfortable and let the sounds and sensations of the forest wash over you.
6. Reflect and journal: After your forest bathing session, take some time to reflect on your experience. What emotions did you feel? Did any insights or inspirations arise? Consider writing in a journal to capture your thoughts and feelings.
Finding The Best Forest Bathing Locations
Finding the perfect forest bathing location depends on your geographical location and personal preferences. Here are a few tips to help you find the best spots:
1. Research local parks and nature reserves: Look for nearby parks or nature reserves that have hiking trails or designated forest bathing areas. These places often offer well-maintained paths and serene surroundings.
2. Seek out old-growth forests: Old-growth forests are typically rich in biodiversity and provide a more immersive forest bathing experience. Look for areas with ancient trees and diverse ecosystems.
3. Consider the season: Different seasons offer different experiences in the forest. Spring brings vibrant blooms, while autumn offers a stunning display of colors. Choose a season that resonates with you and aligns with your desired forest bathing experience.
4. Ask for recommendations: Reach out to local nature enthusiasts, hiking groups, or forest bathing communities for recommendations. They may have insider knowledge of hidden gems or lesser-known spots that offer a unique forest bathing experience.
Forest Bathing Tips For Beginners
If you are new to forest bathing, here are some tips to help you get started:
1. Start with short sessions: Begin by dedicating 20-30 minutes to your forest bathing practice. As you become more comfortable, you can gradually increase the duration of your sessions.
2. Dress appropriately: Wear comfortable clothing and shoes that allow you to move freely in the forest. Consider the weather conditions and dress accordingly.
3. Leave distractions behind: Turn off your phone or put it on silent mode. This is your time to disconnect from the digital world and fully immerse yourself in nature.
4. Embrace silence: Allow yourself to embrace the silence of the forest. Be present with your thoughts and observe the sounds of nature without the need for constant conversation or distraction.
5. Practice gratitude: Express gratitude for the opportunity to connect with nature and experience the healing power of the forest. Cultivate a sense of appreciation for the beauty and serenity that surrounds you.
Incorporating Forest Bathing Into Your Daily Routine
While it may not always be feasible to spend extended periods of time in the forest, there are ways to incorporate the essence of forest bathing into your daily routine. Here are a few suggestions:
1. Bring nature indoors: Surround yourself with indoor plants or create a small green space in your home or office. This can help create a sense of calm and connection with nature, even in urban environments.
2. Take micro breaks in nature: Instead of spending your break time scrolling through social media, take a short walk in a nearby park or green space. Even a few minutes spent in nature can have a positive impact on your well-being.
3. Practice mindfulness outdoors: Whether you are gardening, walking, or simply sitting in your backyard, take a moment to be fully present and engage with your surroundings. Notice the sounds, smells, and textures of the natural world around you.
4. Plan weekend nature outings: Make it a habit to explore different forests, parks, or natural areas on the weekends. Schedule time to disconnect from technology and fully immerse yourself in the healing power of nature.
Conclusion: Embracing The Healing Power Of Nature
Forest bathing offers a beautiful opportunity to connect with nature and unlock a multitude of health benefits. By immersing ourselves in the sights, sounds, and scents of the forest, we can reduce stress, improve mental health, boost immunity, and enhance overall well-being. Whether you choose to spend hours in a lush green forest or incorporate small moments of nature into your daily routine, embracing the healing power of nature can lead us towards a healthier, happier life. So, step into the forest, breathe in the fresh air, and let nature be your therapist.