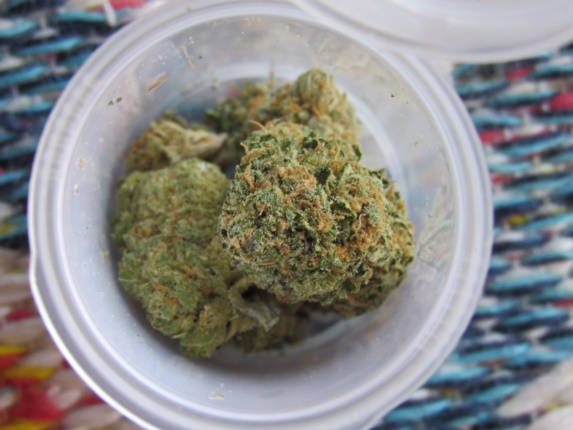 When it comes to a rare yet popular strain of cannabis, look no further than Pineapple Express. The Pineapple Express strain was created by G13 Laboratories in the mid-2000s. It slowly started making an appearance in medical dispensaries in California before being distributed worldwide. In 2008, the movie "Pineapple Express" was released to audiences worldwide, which featured Seth Rogen. The movie (and title) is based on the adventures a young man has after smoking this rare strain of cannabis.
Contents
The THC contents of the Pineapple Express strain is 60% Sativa and 40% Indica. It is a crossbreed from the Trainwreck strain and the Maui Wowie/Hawaiian strain. Pineapple Express boasts a THC content value of above 24%.
Appearance
Pineapple Express is a tall plant that consists of a thick girth. It consists of a center that is thick of trichomes covered in abundant resin. The pistils are orange in color and carry strong terpenes and cannabinoids and the leaves are a shade of dark green and they protrude from the thick white (and sticky) middle. The buds of the Pineapple Express tend to be rock-shaped.
Taste & Aroma
The Pineapple Express strain offers just what the name implies when it comes to flavor: a sweet tropical taste. Consumers describe the flavor as a mix of pineapple and citrus with a hint of pine and the aroma is pretty consistent with the flavor.
Effects
Pineapple Express offers a long-lasting, hard-hitting effect to consumers. Since it's a Sativa-dominant strain, consumers can expect a full-body high that combines a calming but stimulating result. It's known for heightening the senses and leaving users feeling super-energized.
The strain is also used for medical purposes. The effects of this strain make it suitable for loss of appetite, nausea, fatigue, nightmares, chronic pain, migraines, and even depression. For patients undergoing chemotherapy, this strain is known to provide relief from many of the symptoms associated with treatment. However, Pineapple Express is best taken in low does as the negative side effects reported are dry mouth, dry eyes, and possible paranoia.
Growth
Growing Pineapple Express can be done indoors or out, however, growers recommend using an indoor setup since the temperature can be controlled. The maximum height of this strain is around 78 inches. The plant not only grows tall, but it grows wide. Flowering for the Pineapple Express takes approximately (7) seven to (9) nine weeks. Once the flowering cycle is complete, it can be harvested and dried. However, if planting outdoors, harvesting is suggested to take place in October. The yield for Pineapple Express is approximately 19 oz per plant.
The Pineapple Express is also the mothering strain to several known cannabis plants including Glass Apple and Pineapple Trainwreck. The Glass Apple strain is produced when Pineapple Express and Glass Slipper are bred together and the Pineapple Trainwreck strain is produced when Shipwreck and Pineapple Express is bred.
Pineapple Express is definitely a strain that every smoker should try at least once.