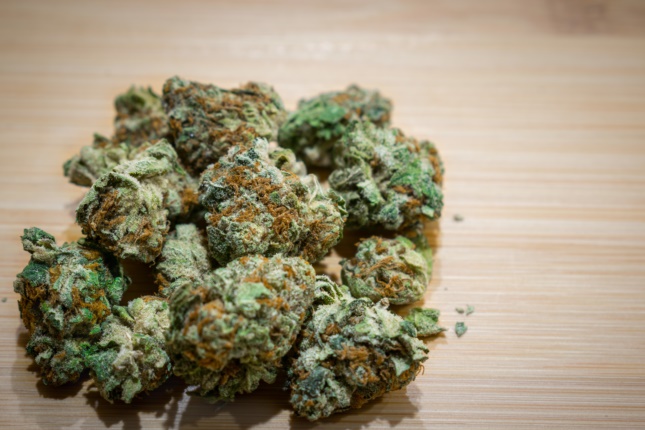 Despite its name, nothing is small about the punch this Spanish creation offers you. Royal Dwarf Strain is indeed a smaller than usual plant, but it produces a big high, pleasant taste and smell, and numerous medicinal benefits.
A Cross Strain
Through mixing Skunk #1 with an unknown Ruderalis, the plant developers created a small and dark plant loaded with crystalized, sugary trichomes. Hints of purple combine with the white trichomes to distinguish its appearance for the Sativa-dominant Royal Dwarf Strain.
You can expect a hint of Indica, though, at around 10 percent of the plant's makeup. Ruderalis makes up about 30 percent of the plant.
CBD/THC Levels
While this plant does contain little to no CBD, your THC levels are expected to be around 16 percent. The THC level gives way to a unique experience. Psychological benefits from the plant mirror those you would find from a plant containing THC levels at the 20 percent level. In rare instances, these plants have produced THC levels at around 35 percent.
Taste and Smell
You will notice this plant gives way to a somewhat spicy taste with hints of melon. Also noticeable, is a unique and enjoyable honey flavor after-taste.
Notes of melon will also be noticed in its aroma. You will also experience fragrances that mirror tropical florals. This meshes well with the skunky smell from the dominant Skunk #1.
Origin and Growing Process
The developers at Royal Standard Seeds in Spain created for you a pant best suited for indoor growing. This plant will thrive for you in 16 to 20 hours of direct light, with eight to four hours of no light, respectively.
Your Royal Dwarf seeds will produce plants that can be anywhere from around eight to 20 inches tall. This auto-flowering strain works best in natural soil, not in potting soil. This very bushy, dark and stout plant will be ready for you in as little as 60 days with some plants needing up to 80 days for maturity.
Medicinal Benefits
If you have issues with sleeping, Royal Dwarf Strain may assist with your insomnia. Users appreciate how the strain immediately relaxes them, and report that they immediately notice this effect.
On top of assisting with insomnia issues, this strain also can also help provide assistance with stress and pain management and appetite issues (helping to increase your appetite).
Royal Dwarf can be found easily online and it may be a good strain to choose if you're looking to alleviate sleep, appetite or ongoing pain issues.