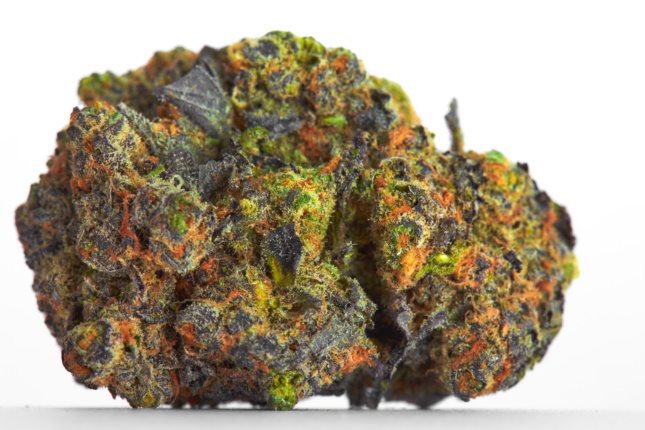 The Gelato strain of cannabis was created by Cookie Fam Genetics and was cultivated in the San Francisco area of Northern California. It is a crossbreed of the flavorful Sunset Sherbet and Thin Mint Girl Scout Cookies strain. With its appealing flavor and mellow high, this strain is also known as Larry Bird as well as #33, which was his jersey number. The strain was even the subject of a rap song by Young Dolph — and even carries the strain's name as the title.
CBD/THC Contents
Gelato is comprised of 56% Indica and 44% Sativa. This strain features bright orange pistils and deep green leaves. It's accented with beautiful dark shades of purple. These attractive hues were the inspiration behind the name Gelato, as it reminds consumers of the Italian ice cream with the same name. The buds of the gelato strain plant are small but have a thick girth.
When it comes to the potency of the Gelato strain, it holds its weight in the cannabis world. Gelato is one of the stronger strains as it has a THC composition between 18-26%.
Taste & Aroma
Just like its name, Gelato offers consumers a sweet fruity yet pungent flavor. The taste has been described as a mix of berry and citrus. The aroma is an earthy smell with hints of blueberry and orange.
Effects
Since Gelato has a slight Indica dominance over Sativa, consumers report experiencing an uplifted, creative feeling. Gelato is also known for helping with focus, relaxation, and giving a feeling of euphoria. Even when used in small doses, Gelato's effects tend to last a long time.
Gelato is also recommended as a good medical cannabis strain, possibly relieving symptoms of chronic pain, headaches, loss of appetite, insomnia, muscle spasms, depression, inflammation, and fibromyalgia.
Growth
Growing Gelato is somewhat difficult, as the seeds are not usually commercially sold. However, once the growth process has started, the growth height of the Gelato plant will typically range between 4-6 feet tall. Because of the strong resilient nature of the Gelato plant, it is able to withstand molds, viruses, bacteria, and mites. Flowering takes approximately 8-9 weeks before the buds can be harvested. The plant will yield an above-average amount regardless of how it's grown.
Once harvested, the drying and curing process is highly important, as this has a strong influence on THC levels. Gelato is offered in various forms including edibles, wax, oil, and shatter and it definitely lives up to its name when it comes to flavor and aroma. Add in the medical benefits and the fact that it has a smooth mellow vibe that lasts longer than average, there is no question why Gelato is a favorite amongst consumers.