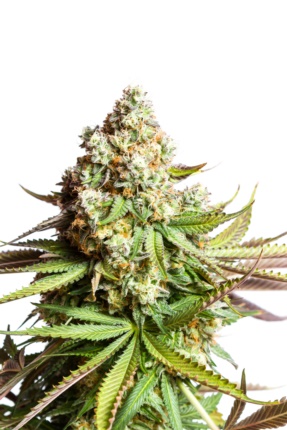 The Royal AK Strain is dynamite just like its parent AK47. This strain is 65 percent sativa dominant with 45 percent indica. It is known for offering smokers a fast and exquisite cerebral effect coupled with a calm body high. Royal AK is an improved version of AK47, and it's very potent and flavorful.
The genetics of the Royal AK strain comes from a mixture of Mexican, Columbian, Afghan, and Thai landrace strains. This strain is considered to be a stabilized hybrid, and it's designed with a complex terpene profile that will impress the most seasoned smokers. Being a sativa-dominant strain, you can expect a quick onset high with feeling pressure on the back of your eyeballs as this strain works its magic.
Royal Ak has an impressive resume with a laundry list of 16 international cannabis championship cups. Accolades include the 2011 High Times Cannabis Cup in Australia, the High Times Cannabis Cup at the 2003 Internationals, and many more. It's safe to say, this strain has been around for a while and for several reasons.
Appearance, Aroma, and Taste
Despite being a sativa-dominant strain, the leaves are broader much like an indica strain. The nugs are small but dense. They have a nice and frosty array of bright greens and orange pistols with yellow highlights and dark green undertones. The aroma is strong with pine and diesel-like characteristics that will satisfy the most experienced ganja connoisseurs. For taste, you can expect a combination of diesel and berry flavors with a liquid-smooth exhale that stimulates your taste buds.
Potency, Effects, and Medical Uses
Royal AK has a THC potency level of 18 percent; however, do not let that number fool you. This is a well-designed strain with a strong genetic heritage. The effects are quick, intense, and stones you really good for about an hour or so. You get the nice head high associated with high-quality sativa landrace strains combined with the physical relaxation properties contained in classic indica strains. The medical uses for this strain include nausea, pain relief, migraines, glaucoma, anxiety, and depression.
Growing the Royal AK Strain
Royal AK is a great strain to grow indoors or outdoors for both novice and experienced growers. The flowering stage takes approximately eight to nine weeks with about 20 ounces per square meter. For outdoor grows, this strain produces roughly 24 ounces per square meter. This strain doesn't grow as tall as some other types of sativas, so it works well in smaller spaces. Due to the strong odor during its flower development, carbon filters are recommended to mask its strong smell.
Purchasing the Royal AK Strain and Sellers
Royal AK can be found in many medical and recreational dispensaries throughout the states and in foreign countries worldwide. Conducting an online search for "Royal AK dispensaries near me" will produce the closest retailers in your local area. For growing this strain, you can buy female feminized seeds from the breeder, Royal Queen Seeds.