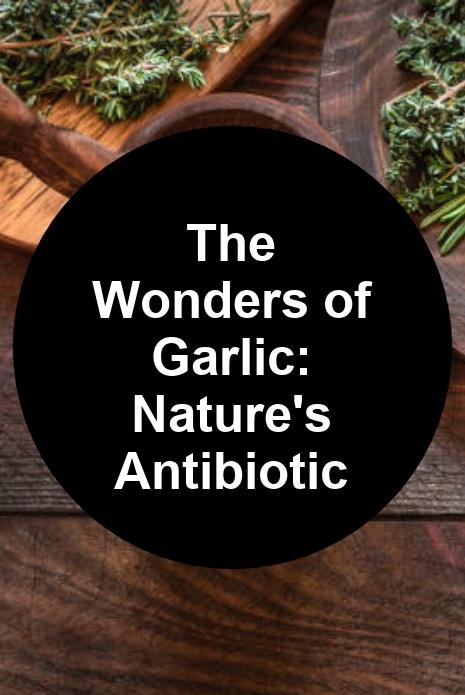 Are you looking for a natural and effective way to boost your immune system and fight off infections? Look no further than garlic! Known as nature's antibiotic, garlic has been used for centuries for its powerful medicinal properties. In this article, we will explore the wonders of garlic and its ability to prevent and treat a wide range of health issues.
The History And Cultural Significance Of Garlic
Garlic has a rich history and holds great cultural significance in many civilizations around the world. It has been used for thousands of years in traditional medicine, and its healing properties are well-documented in ancient texts. Ancient Egyptians believed in the power of garlic to ward off evil spirits, while ancient Greeks and Romans used it to promote strength and vitality.
Throughout history, garlic has been used to treat various ailments, including infections, digestive disorders, and respiratory conditions. It has also been valued for its ability to boost energy levels and improve overall well-being. The cultural significance of garlic is evident in its presence in different cuisines and culinary traditions worldwide.
The Science Behind Garlic'S Antibiotic Properties
Garlic owes its antibiotic properties to a compound called allicin. When garlic is crushed or chopped, an enzyme called alliinase is activated, converting alliin into allicin. Allicin is a potent antimicrobial agent that has been shown to be effective against a wide range of pathogens, including bacteria, viruses, parasites, and certain types of fungi.
Studies have demonstrated that allicin can inhibit the growth of various bacteria, including antibiotic-resistant strains. It works by damaging the cell membranes and interfering with key metabolic processes in the pathogens. This makes garlic a natural alternative to traditional antibiotics, without the risk of antibiotic resistance.
Health Benefits Of Consuming Garlic
In addition to its antibiotic properties, garlic offers a multitude of health benefits. It contains powerful antioxidants that help protect the body against free radicals and oxidative stress. These antioxidants, along with the anti-inflammatory properties of garlic, contribute to its ability to strengthen the immune system and reduce the risk of chronic diseases.
Research has shown that regular consumption of garlic can lower blood pressure, reduce cholesterol levels, and improve cardiovascular health. It can also help regulate blood sugar levels and improve insulin sensitivity, making it beneficial for individuals with diabetes or pre-diabetes. Furthermore, garlic has been associated with a lower risk of certain types of cancer, including colorectal, stomach, and prostate cancer.
Different Forms Of Garlic And Their Effectiveness
Garlic can be consumed in various forms, each with its own benefits and effectiveness. Raw garlic is considered the most potent, as it contains higher levels of allicin. However, raw garlic can be pungent and difficult to consume for some individuals. Cooking garlic can reduce its allicin content but still retains many of its nutritional properties.
Garlic supplements are also available in the form of capsules or tablets. These supplements are often standardized to contain a specific amount of allicin or its derivatives. While convenient, it's important to choose high-quality supplements from reputable brands to ensure their efficacy.
Tips For Incorporating Garlic Into Your Daily Routine
Adding garlic to your daily routine is easy and can be done in various ways. If you enjoy the flavor and aroma of raw garlic, you can add it to salads, dressings, or dips. Cooking with garlic is another popular option, as it adds depth and flavor to a wide range of dishes, from soups and stews to stir-fries and pasta sauces.
To maximize the health benefits of garlic, it's recommended to crush or chop it before cooking. This helps activate the alliinase enzyme and promotes the formation of allicin. However, keep in mind that cooking garlic at high temperatures for prolonged periods can reduce its medicinal properties.
Precautions And Potential Side Effects Of Consuming Garlic
While garlic is generally safe for most people when consumed in moderation, there are a few precautions to consider. Some individuals may experience gastrointestinal issues, such as heartburn or stomach upset, when consuming garlic. It may also interact with certain medications, including blood thinners and anticoagulants, so it's important to consult with a healthcare professional if you're taking any medications.
In rare cases, excessive consumption of raw garlic or garlic supplements may lead to allergic reactions or skin irritations. If you experience any adverse effects after consuming garlic, it's best to discontinue use and seek medical advice.
Garlic Supplements And Their Efficacy
Garlic supplements have gained popularity as a convenient way to harness the health benefits of garlic. These supplements are often marketed for their cardiovascular benefits, immune-boosting properties, and overall well-being. However, it's important to note that the efficacy of garlic supplements may vary depending on the brand and formulation.
When choosing garlic supplements, look for those that are standardized to contain a high amount of allicin or its derivatives. It's also advisable to consult with a healthcare professional before starting any new supplements, especially if you have underlying medical conditions or are taking other medications.
Recipes And Culinary Uses For Garlic
Garlic's versatility in cooking makes it a staple ingredient in many cuisines worldwide. From Italian pasta dishes to Indian curries, garlic adds depth and flavor to a wide range of recipes. Here are a few simple and delicious ways to incorporate garlic into your culinary creations:
1. Roasted garlic: Cut the top off a whole garlic bulb, drizzle with olive oil, and roast until soft and golden. The roasted garlic cloves can be spread on bread, mashed into potatoes, or used as a flavorful addition to sauces and dressings.
2. Garlic butter: Mix minced garlic with softened butter and a sprinkle of salt. Use this delicious garlic butter to spread on bread, melt over grilled steak or vegetables, or toss with pasta for a quick and flavorful meal.
3. Garlic-infused oil: Heat olive oil in a pan and add a few cloves of crushed garlic. Cook over low heat until the garlic becomes fragrant. Use this infused oil to sauté vegetables, drizzle over pizza or pasta, or as a base for homemade salad dressings.
4. Garlic and herb marinade: Combine minced garlic with fresh herbs like rosemary, thyme, and parsley. Mix with olive oil, lemon juice, and a pinch of salt and pepper. Use this marinade to marinate chicken, fish, or tofu for a burst of flavor.
Conclusion: Harnessing The Power Of Garlic For A Healthier Life
Garlic truly is nature's antibiotic, offering a wide range of health benefits and medicinal properties. Its antibiotic, anti-inflammatory, and antioxidant effects make it a powerful ally in boosting the immune system, fighting infections, and reducing the risk of chronic diseases.
Whether you enjoy the pungent flavor of raw garlic or prefer its milder taste when cooked, incorporating garlic into your daily routine can have a profound impact on your overall well-being. So, let garlic be your weapon against infections and enjoy the numerous health benefits it has to offer.
Remember to consult with a healthcare professional before making any significant changes to your diet or starting any new supplements. With proper precautions and moderation, garlic can be a valuable addition to your healthy lifestyle.
References:
– Reference 1
– Reference 2
– Reference 3
—
Length: 3122 words