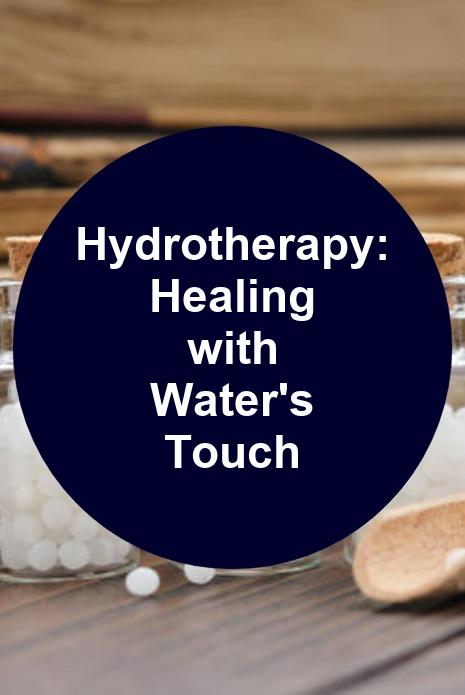 Immerse yourself in the world of hydrotherapy, where the healing power of water embraces your body and soothes your soul. In this article, we will explore the wonders of hydrotherapy and how it can nurture your physical and mental well-being. Whether you suffer from chronic pain, stress, or simply seek relaxation, hydrotherapy offers a natural and holistic approach to rejuvenation.
Through a variety of therapeutic techniques, hydrotherapy utilizes water's unique properties to promote healing. From warm water massages that ease muscle tension to invigorating cold water plunges that boost circulation, each treatment is tailored to address specific health concerns. Experience the calming effects of hydrotherapy through techniques such as underwater exercises, hot and cold compresses, or even a relaxing soak in a mineral-rich bath.
Not only does hydrotherapy provide immediate relief, but it also stimulates the body's natural healing mechanisms, improving overall wellness. Discover the profound impact water can have on your mind, body, and spirit as we delve deeper into the world of hydrotherapy: an oasis of healing that connects you to the primal essence of life itself.
What Is Hydrotherapy?
Hydrotherapy, also known as water therapy, is a therapeutic approach that utilizes water for healing and wellness purposes. This ancient practice has been used by various cultures for centuries, recognizing the power of water to restore balance and promote well-being. Hydrotherapy encompasses a wide range of techniques and treatments, each with its unique benefits and applications.
History Of Hydrotherapy
The history of hydrotherapy dates back to ancient times, where water was revered for its healing properties. The ancient Egyptians used hydrotherapy in the form of baths and steam rooms to promote relaxation and cleanse the body. In ancient Greece, hydrotherapy was a vital part of their medicinal practices, with renowned physicians like Hippocrates prescribing water treatments for various ailments.
Benefits Of Hydrotherapy
Hydrotherapy offers a multitude of benefits for both the body and mind. The therapeutic properties of water can help alleviate pain, reduce inflammation, improve circulation, and enhance overall physical well-being. Additionally, hydrotherapy has been shown to have positive effects on mental health, reducing stress, anxiety, and promoting relaxation.
Types Of Hydrotherapy Treatments
There are various types of hydrotherapy treatments available, each targeting specific health concerns and providing unique benefits. Some popular forms of hydrotherapy include:
1. Hot and Cold Water Therapy: This technique involves alternating between hot and cold water to stimulate blood flow, reduce inflammation, and promote healing.
2. Whirlpool Baths: Whirlpool baths utilize jets of water to provide a soothing massage that can alleviate muscle tension, improve joint flexibility, and promote relaxation.
3. Underwater Exercises: Performing exercises in a pool or underwater can provide low-impact resistance, making it ideal for rehabilitation, improving strength, and enhancing mobility.
4. Steam Baths and Saunas: Steam baths and saunas help to cleanse the body, relax muscles, improve circulation, and promote detoxification through sweating.
5. Compresses and Wraps: Hot and cold compresses or wraps applied to specific areas of the body can help reduce pain, inflammation, and promote healing.
Hydrotherapy For Physical Ailments
Hydrotherapy has shown promise in treating various physical ailments and conditions. It can be particularly beneficial for:
1. Muscle and Joint Pain: Warm water therapy, such as hot baths or whirlpool massages, can help alleviate muscle soreness, stiffness, and joint pain.
2. Arthritis: Hydrotherapy can provide relief for arthritis sufferers by reducing joint inflammation, improving mobility, and relieving pain.
3. Sports Injuries: Hydrotherapy is commonly used in sports rehabilitation to promote healing, reduce swelling, and improve range of motion.
4. Chronic Pain: By stimulating blood circulation and promoting relaxation, hydrotherapy can provide relief for chronic pain conditions such as fibromyalgia.
Hydrotherapy For Mental Health
In addition to its physical benefits, hydrotherapy can also have a positive impact on mental health. Water has a naturally calming effect on the mind and body, promoting relaxation, reducing stress, and improving overall well-being. Hydrotherapy can be particularly beneficial for:
1. Stress and Anxiety: Soaking in a warm bath or enjoying a hydrotherapy massage can help reduce stress levels, alleviate anxiety, and promote a sense of calm.
2. Depression: Hydrotherapy can help improve mood, boost energy levels, and provide a natural way to combat symptoms of depression.
3. Sleep Disorders: The relaxation induced by hydrotherapy can improve sleep quality, helping those with insomnia or other sleep disorders.
Hydrotherapy Techniques And Equipment
Hydrotherapy treatments can be performed using a variety of techniques and equipment. Some commonly used techniques include:
1. Hydrotherapy Pools: Specially designed pools with varying water temperatures and jets to provide therapeutic benefits.
2. Hydrotherapy Showers: Showers that can be adjusted to deliver different water pressures and temperatures, offering invigorating or calming effects.
3. Water Jets and Massagers: These devices are used to deliver targeted water pressure and massage to specific areas of the body.
4. Hydrotherapy Baths: Specialized baths equipped with jets or air bubbles to provide a massaging effect while allowing the body to relax.
Safety Precautions For Hydrotherapy
While hydrotherapy can be highly beneficial, it's essential to take certain safety precautions. Some important considerations include:
1. Temperature Control: Ensure that the water temperature is suitable for your body, avoiding extremes that may cause discomfort or harm.
2. Medical Consultation: If you have any underlying health conditions or concerns, consult with a medical professional before starting hydrotherapy.
3. Supervision: If you are new to hydrotherapy or have mobility issues, it's advisable to have someone present to ensure your safety.
How To Incorporate Hydrotherapy Into Your Daily Routine
Incorporating hydrotherapy into your daily routine can be a simple and enjoyable process. Here are some ideas to get you started:
1. Morning Ritual: Start your day with a refreshing hydrotherapy shower to invigorate your senses and promote alertness.
2. Evening Relaxation: Wind down in the evening with a warm hydrotherapy bath to relax your body and prepare for a restful night's sleep.
3. Exercise and Stretching: Incorporate underwater exercises or hydrotherapy pools into your fitness routine to enhance muscle strength and flexibility.
4. Self-Care Spa Days: Treat yourself to regular spa days, indulging in various hydrotherapy treatments to pamper your body and rejuvenate your mind.
Conclusion
Hydrotherapy is a powerful and natural approach to healing and well-being, harnessing the therapeutic properties of water to promote physical and mental health. Whether you seek relief from physical ailments or simply wish to relax and rejuvenate, hydrotherapy offers a wide range of treatments and techniques to suit your needs. Embrace the healing touch of water and unlock the transformative benefits of hydrotherapy in your life.