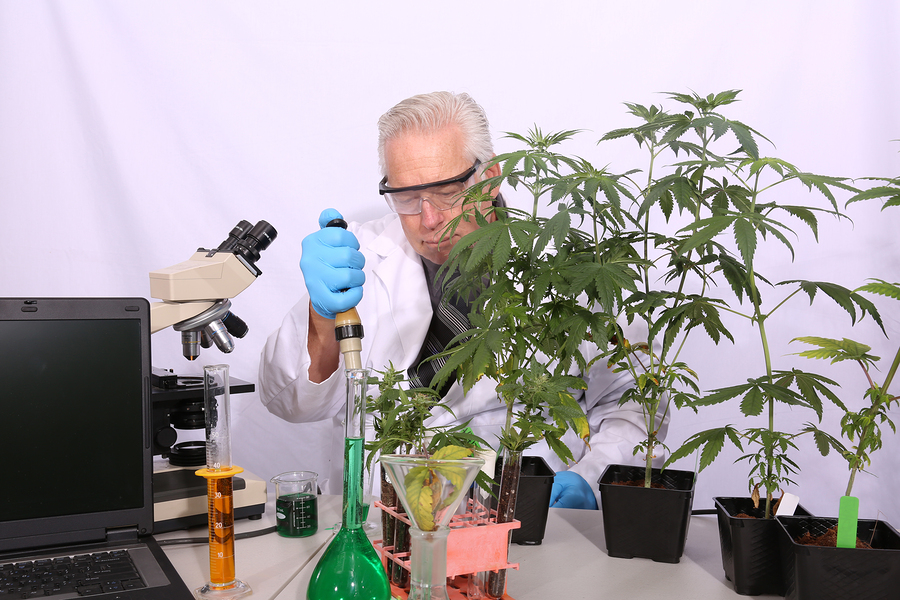 With innovations from cultivators, and breeders crossing genetics, there has never been more of a bigger selection of cannabis strains to choose from. Some of the best cannabis strains to grow include Indica varieties to Sativas, and even hybrids mixing the two. Many growers have fine-tuned their cannabis products to match the needs of consumers, both recreationally and medically.
With the numerous benefits that cannabis can provide, consumers are benefitting from all of these available options. Whether you're new to growing or consuming cannabis, or a long-time user looking to expand your weed horizons, this guide to cannabis strains is just for you.
Cannabis Strain Basics 
Before we dive into the best cannabis strains for growing, and varying effects, it's best to understand why strains deliver different benefits. Cannabis is a complex plant that contains nearly 400 cannabinoids, such as THC and CBD. Cannabinoids work with the body's endocannabinoid system to provide beneficial or psychoactive effects, which are all unique to the specific strain or gene that they're bred from.
When people say 'the nose knows', they're referring to the aromatic scents that marijuana produces, with many users choosing their favorite strain based upon its unique smell and even its taste. But the science behind the pungent aromas proves to mean even more.
Terpenes or 'terps' are produced by cannabis plants as they grow. Terpenes are the molecular compounds present in cannabis buds that are responsible for the unique smells and effects of each strain. They're the little guys most prevalent in cannabis plant glands.
Here are 6 of the most common terpenes found in cannabis on the market today and their effects:
1. Limonene
Citrus scented
Anti-inflammatory, anti-anxiety, anti-stress, relieves pain and elevates mood
2. Myrcene
Earthy and herbal scented
Antioxidant, anti-inflammatory, relieves pain and insomnia, sedates and relaxes
3. Pinene
Woody and pine-scented
Anti-inflammatory, anti-anxiety, relieves pain, promotes alertness and memory retention. Can counteract the effects of THC.
4. Caryophyllene
Spicy and woody scented
Anti-stress, anti-anxiety, and anti-depression
5. Terpinolene
Floral and herbal scented
Antioxidant, anti-fungal, anti-bacterial and uplifting
6. Linalool
Floral scented
Anti-anxiety, anti-depression, anti-inflammatory, relieves pain and insomnia, sedates and elevates moods
Several factors may account for a cannabis plant's specific terpene type, with its growing environment being a big one.
Best Cannabis Strains to Grow Indoors
Some cannabis strains grow best with the natural energy of the sun, and others are ideal for indoor space due to their sensitivity to environmental factors. If you have an indoor grow room, here are a few of the best cannabis strains to grow inside it:
Amnesia Haze – A sativa-dominant hybrid, is known for cerebral, inspiring and overall uplifting. Its taste is a combination of citrusy, piney spice that provides a robust and smooth smoke. For growing, it's ideal for indoors due to its growing stature. Growing more horizontally than vertically, it's perfect for areas with low ceiling space. However, be prepared to have patience, as amnesia Haze has a 10-12-week flowering phase, but it rewards growers with high yields-which is always a good thing.
Northern Lights – A popular indica-dominant strain, is fancied by users and growers alike. Highly sedative, Northern Lights is ideal for evening use and reduces anxiety and stress-related symptoms. With a quick flowering time of 6-8 weeks, Northern Lights is good for growers who desire a quick turnaround on their work indoors. The strain is resistant to pests and mold and grows to medium-sized heights making it ideal for indoor spaces.
OG Kush – A citrusy, earthy sativa is popular for its' high THC levels. And, its ability to grow indoors. The strain provides a 'head high' that's uplifting and mood-elevating. Indoor growing for OG Kush is convenient due to its compact growth and stature. The plants are bushy and short, only reaching 2-31/2-feet tall in full maturity. The strain has a shorter flowering time of 9 weeks but can be pungent in scent for indoor growers who may be concerned about discretion.
Blue Dream – The tasty and classic hybrid strain is potent and often used for medical conditions. It provides a cerebral or 'dreamy' high. With a sweet blueberry taste, it's also a popular strain for indoor growers. Blue Dream provides high yields in a short harvest time (10 weeks) and is overall pretty easy to cultivate for the quality it produces. While it does grow in high heights, Blue Dream's output is well worth the space it uses.
Green Crack – A strain that is aptly named, Green Crack is energizing and potent. The earthy, woody and citrus smelling flower is another ideal 'wake-and bake' or daytime strain. Green Crack uplifts your mood, provides focus and is pretty easy to grow. It has a quick flowering time and produces high yields. The strain thrives in controlled conditions (like that of indoors) and grows laterally, ideal for low-height grow areas.
Easiest Cannabis Strains to Grow 
Growing conditions and required maintenance make some cannabis strains easier to grow than others. Before deciding on which strain to grow it's best that you to understand what type of setup is needed for the specific strain to thrive. What type of lighting does it need? What temperature? What type of growing medium and nutrient delivery does it require?
Below we've compiled a list of cannabis strains (for indoor and outdoor grows) are among the 'easiest' to grow for cultivators of any experience.
GG4 – Gorilla Glue or GG4 has been increasing in popularity in the cannabis market. The 50/50 hybrid strain has become a favorite amongst both medical and recreational users alike. Its rich, chocolate and diesel-like scent come with a punch, boasting high THC levels. Overall easy to tend to, GG4 can get pretty big in size, making them manageable outdoor or indoor-grown plants ideal for those wanting a lot of products for little work.
Durban Poison – The sativa-dominant strain, Durban Poison is easy to grow for its adaptability to a variety of conditions. The gene produces sticky, medium-large dense buds that many smokers prefer. The pungent, piney and skunky smelling buds provide a clear, focused and active head high. It's a hardy and classic strain that comes with great yields outdoors or indoors-and it can grow quite tall.
White Widow – A well-known sativa strain, White Widow has won awards for its powerfully potent effects. The earthy buds produce an abundant amount of trichomes and are easy to manage for growers. The gene is also mold-resistant and ideal for outdoor growing. In addition, the plants normally don't exceed 6 feet and are wide in nature, which makes indoor growing a possibility. The quick flowering time gives growers a pungent, strong product in short 9-weeks.
Blue Cheese – Another High Times cannabis cup-winning strain, Blue Cheese is an indica-dominant hybrid. This means it grows in busy, wide structures and ideal for easy indoor growing in small spaces. The pungent flower produces fruity, pungent and sour notes in the aroma, or what's known as a 'cheesy-funk'. It's another mold-resistant strain that is fast in flowering, and even ideal for colder climates helping its outdoor growing appeal.
AK-47 – AK-47 is a sativa-dominant strain that provides a variety of desirable effects. Peaceful, uplifting and euphoric, just to name a few of its sought-after benefits. This strain is good to go in both indoor grow setups as well as outdoor environments. The plant thrives in dry or mild climates and grows to a moderate height. The hard-hitting high is known to be a 'one-hit and quit', but growing it is oppositely easy.
Best of the Best Strains
High-CBD Strains
For medical users and those fearful of psychoactive effects of THC, high-CBD strains are ideal. Their content quantity of the non-psychoactive CBD provides medical effects combined with those of THC to heighten benefits overall. While the soothing qualities of CBD counteract the paranoia and anxiety that THC can often onset. So if you're looking to wind down, without getting too high, these high-CBD strains may be up your alley.
ACDC – With a 20:1, CBD:THC ratio, ACDC is one of the highest in CBD dominance. Being relatively low in THC (typically 1-6%), ACDC is well-liked among medical users, who are able to address symptoms like pain, tension or anxiety with little psychoactive effects. ACDC is also proving to help patients suffering from conditions like cancer, epilepsy, alcoholism, and seizures. The cannabis nugs deliver sweet, fruity and skunky flavors, providing users with a feeling of relaxation and relief.
Charlotte's Web – Made popular by mainstream media, Charlotte's Web is high in CBD and popularized for its treatment of epileptic seizures. The strain was bred specifically by growers to be high in CBD, to address symptoms of a young medical cannabis user. Standard CBD amounts range between 15-20%, more than 300 times the amount of the average strain. With floral and piney aromas, the CBD heavy buds provide a smooth smoke.
Ringo's Gift – With low levels of THC (hovering around 1%), Ringo's Gift is highly sought after for CBD users. The minty scented strain provides a clear mental focus, and energy while still relaxing the senses. Ringo's Gift is successful in addressing symptoms of pain, inflammation, anxiety, and depression.
Cannatonic – A 1:1, CBD:THC strain, Cannatonic is a mellow 50/50 choice, with an earthy and citrus in scent. It mixes relaxation, with uplifting and focusing effects. The strain relieves symptoms of pain, can stimulate appetite and is known to soothe conditions such as anxiety and stress.
Harle-Tsu – A cross of two classic CBD strains, Harlequin and Sour Tsunami, Harle-Tsu produces twice the CBD effects. An award-winning CBD flower with levels reaching 20%+, and a 20:1 CBD to THC ratio, the unique strain has a variety of terpenes amplifying its therapeutic effects, including myrcene, pinene, humulene, terpinolene, and ocimene.
Sexy Time
With the expansion of legal use, cannabis fans Especially the heightening of relaxing vibes, ideal for dates or after-dark activities. The unique feel that certain cannabis strains can give, are lending themselves to the bedrooms of many consumers. Here are a few of the strains those users are recommending, for enhanced and elevated sexual experiences.
Jillybean – A sweet and fruity scented sativa, Jillybean stimulates cerebral effects while relaxing the body. The euphoric energy it brings combined with soothing body highs is ideal for heightening arousal. The strain also is also known to spark creativity.
Grandaddy Purple – A classic strain, Grandaddy Purple also induces euphoria and relaxation-which is always good for creating an intimate mood…perhaps a "sentimental mood" ?. The indica-dominant hybrid is actually nicknamed 'green viagra' believe it or not, and its grape and fruity scent gives it a subtly sweet flavor (which can be great for making body oils).
Trainwreck – Trainwreck is a sativa-dominant hybrid, known for elevating your mood with a sensual, warming, body buzz to match. The spicy, earthy and citrusy aromatic strain is high in THC. Trainwreck is also known for providing pain relief, which can be beneficial before or after physical activities.
Kali Dog – A sativa-dominant strain, Kali Dog is sour and lemony in taste. It's known to deliver sort of a giggly high and is popular in the world of sexual supplements and dating. Delivering a sweet body buzz combined with potent stimulation Kali Dog is definitely a strain to consider.
Bubblegum Kush – A rare indica for its sedative-like and pain-relieving effects, Bubblegum Kush is ideal for those seeking relaxation and a sense of ease. The sweet, mellow-energy strain is citrusy and smooth in taste and delivers super-sensual vibes.
Creativity
During certain highs, your head and mind are buzzing. Inspiring and new thoughts come to mind, as you feel uplifted with new motivation. Far from the stereotypical, lazy 'stoner' just giggling, eating munchies or talking slow. Sativa-dominant strains and hybrids are increasingly proving to heighten creativity intensify insight. Here are just a few cannabis genes, to get your creative juices flowing.
Chemdawg – A potent choice to stimulate creativity, Chemdawg produces THC levels of 15 – 20%. The legendary strain is gassy in flavor, and enhances senses for heightened inspiration for creatives. The head high, Chemdawg provides is known for sharpening focus.
Berry White – A balanced indica-dominant strain, Berry White is fruity, piney and floral-scented with hints of citrus. It's wide range of aromas deliver a spectrum of effects including head rushes of euphoria that lend to boosts in creativity.
LSD – An indica-dominant strain, named for the psychedelic, due to its cerebral effects. An upbeat and happy high, can get those suffering from creative blocks, past their barriers. Stress-relieving, users feel a calming sensation that lets their imagination run wild.
Strawberry Cough – Potent in taste, and potent in head-highs, Strawberry Cough provides uplifting highs and amplify productivity with its sweet strawberry scents. The sharply focused effects lend to problem-solving and creative energy.
Tangie – The citrusy zest of the Tangie strain delivers a vibrant high, with effects that amplify creativity. A sativa-dominant gene, Tangie heightens feelings of euphoria, focus, and happiness. Giving users a boost in their motivation to complete creative tasks, as well.
Nausea
Nausea is a common side-effect of many conditions and frequently used prescriptions. It can be uncomfortable for everyday life and hard to combat with any medicine. But cannabis is quickly becoming a natural method to overcome the typical tummy ache.
And research is proving certain cannabinoids, like CBG, are providing helpful in digestive disorders, in addition to feeling nauseous. They interact with the body's endocannabinoid system to block the receptors causing the sensation of nausea. So, these cannabis strains are increasing in popularity for soothing the stomach.
Sour Diesel – With a gassy aroma, Sour Diesel is a sativa-dominant hybrid that tames tummy problems. It's a fast-acting strain, that is high in THC and provides euphoric effects that address anxiety and stress that add to upset stomachs. Sour Diesel's effects are also long-lasting in nature.
Super Lemon Haze – Like its' name, Super Lemon Haze, is citrusy scented with sativa effects to boot. High in providing energy, without the upset stomach feels, coffee can sometimes induce. Super Lemon Haze is often used for daytime use and provides a quick but mellow high.
Lavender – An indica-dominant strain, medical and recreational users consume Lavender for equal effects. Its spicy and floral scent soothes nausea with a potent body buzz, while relieving anxiety and depression symptoms.
Blueberry Diesel – A hybrid strain, Blueberry Diesel carries moderate levels of THC. Making it ideal for rookie users, or those avoiding high psychoactive effects. With quick-acting effects, it rids of pain and eliminates feelings of nausea while stimulating your appetite.
White Fire OG – High potency adds to White Fire OG's ability to combat nausea and pain. It combines a head high, with pain-relieving qualities and soothing compounds to address stress. The long-lasting and strong buzz is ideal for daytime use with a sweet, peppery and lemon scent.
Migraines
There are some strains that melt your body, and some that can make your head float. Those cerebral or head fueled highs, are often best for migraines or headaches. Migraines can be debilitating to those who suffer from them, and cannabis is proving to help.
Common similarities among indica strains are genetics high in CBD, and neuro-centric in effects. Those needing to soothe painful headaches, including migraines are often turning to the following strains.
Harlequin – A sativa CBD heavy strain, Harlequin is knocking out head pain and migraines among its' users. With CBD:THC ratios averaging at 5:2, the earthy and fruity buds can clear your head and provide clarity and alertness. Uplifting in effects, Harlequin is ideal for mellowing the mind.
Purple Kush – Purple Kush is an indica strain that is numbing in its high. The strain is slow in onsetting its effects but relaxing overtime. The grape, musky, earthy aromas soothe migraines with a strong body buzz, and calming head high.
Kryptonite – High in THC, Kryptonite is a strain that can knock out any migraine or head pain. Indica-dominant in effects, the potent gene is hard-hitting and fast-acting to provide relief. Sedating, while delivering a sense of euphoria that helps anxiety and depression.
Critical Mass – The hybrid strain, Critical Mass boasts one of the highest CBD THC combos amongst cannabis genes. Due to its balanced content of cannabinoids, Critical Mass sedates the body while clearing the mind. The effects are long-lasting, and ideal for night-time use, relieving headaches like migraines, in addition to insomnia.
Lemon Kush – A tasty sweet hybrid, Lemon Kush is a moderately potent strain that can positively affect head pains. The gene is high in levels of the terpene Limonene, and provides a cerebral focus that can relieve migraines. Ideal for daytime use or relief, while delivering energy to overcome pain and get things done.
PTSD 
Veterans, or those who have gone through a traumatic event, suffer from symptoms of PTSD. Or Post-Traumatic-Stress-Disorder. And certain stress relieving and calming cannabis strains, are being proven to relieve the side-effects, one with the condition can be subject to.
The relaxing, anti-anxiety, anti-stress and anti-depression effects of many cannabis strains lend themselves to sufferers of PTSD. Here are just a few, to combat symptoms of the condition.
Pineapple Express – Even though Pineapple Express boosts 20%+ levels of THC, its' uplifting vibe doesn't tend to add to paranoia. The strain provides a relaxing high that allows users to enjoy their surroundings, comfortably. A natural mood elevator, the sativa gene helps chronic stress, depression, and anxiety.
Headband – Headband is a hybrid, indica-dominant for a delightful head-high. Hence, its' name. To match its cerebral effects, the strain is also known to relax your body. Making it a perfect combination of stress and pain reliever, ideal for veterans who have served, or suffer from symptoms of PTSD.
Master Kush – A potent indica-dominant strain, Master Kush is more than just Snoop's favorite cannabis go-to. The strain produces strong, blissful and euphoric feelings perfect for conditions like PTSD that induce stress and anxiety. Its sedative high also relaxes the body and provides pain relief.
American Kush – With moderate to high levels of THC, the strain landed #1 on High Times best strains for veterans. The indic-dominant American Kush, has rich flavors and powerfully potent effects. The high delivers ultimate relaxation, numbing the body, along with any feelings of stress or anxiety.
Blueberry – A popular strong-flavored indica-dominant hybrid, Blueberry is a strain that is sweet in taste as it is strong in effects. Another 'one hit and quit' strain, it relaxes your body as powerful as cerebral effects calm your mind.
With the growing number of genetics found in cannabis plants, the selections for your strain choices will only continue to grow. No more a 'one-size-fits-all' type of smoke session, you can now fine-tune how you use the weed you love, or rely on smoking.
Cannabis strains are addressing medical and recreational effects, alike, and these types of relief are only the tip of what the plant is doing for users. As research and testing continue to grow, so will our knowledge of how cannabis can help a plethora of issues and symptoms.