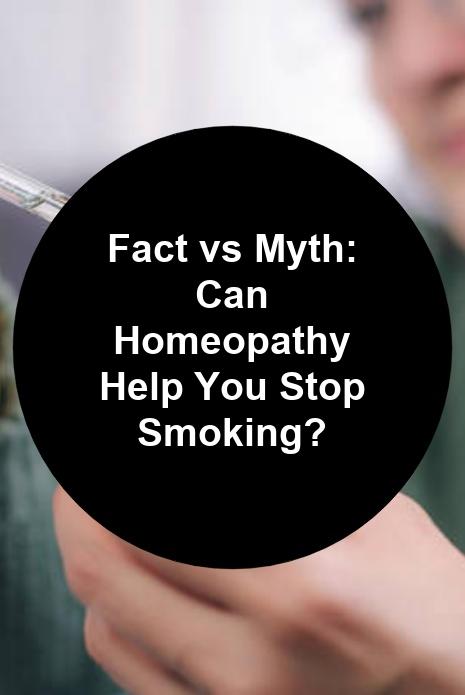 Are you struggling to quit smoking and considering homeopathy as an alternative? With so many myths and conflicting information out there, it's important to separate fact from fiction. In this article, we delve into the question: can homeopathy help you stop smoking?
The History Of Homeopathy And Its Approach To Healing
Homeopathy is a holistic practice that dates back to the late 18th century. It was founded by Samuel Hahnemann, a German physician, who believed that "like cures like." According to the principles of homeopathy, a substance that causes symptoms in a healthy person can be used in a highly diluted form to treat similar symptoms in a sick person.
This approach is based on the belief that the body has an innate ability to heal itself. Homeopathic remedies are prepared through a process of dilution and succussion, which is believed to enhance their healing properties. These remedies are typically made from natural substances such as plants, minerals, or animal products.
Understanding Addiction And Smoking Cessation Methods
Before we explore the potential of homeopathy in smoking cessation, let's first understand addiction and the various methods available to quit smoking. Nicotine addiction is a complex condition that affects both the body and mind. It involves both physical dependence on nicotine and psychological cravings.
Traditional smoking cessation methods include nicotine replacement therapy (NRT), such as patches or gums, prescription medications like bupropion or varenicline, behavioral counseling, and support groups. These methods focus on reducing nicotine cravings and managing withdrawal symptoms.
The Concept Of Homeopathy In Smoking Cessation
Proponents of homeopathy believe that it can address the underlying imbalances in the body and mind that contribute to addiction. They argue that homeopathic remedies can help reduce cravings, alleviate withdrawal symptoms, and support overall well-being during the quitting process.
According to homeopathic principles, a personalized approach is crucial in finding the right remedy for each individual. Homeopaths take into account not only the physical symptoms but also the emotional and mental state of the person. This individualized approach aims to stimulate the body's self-healing mechanisms and restore balance.
Debunking Common Myths About Homeopathy And Smoking Cessation
There are several myths surrounding homeopathy and its effectiveness in smoking cessation. Let's debunk some of the most common ones:
1. Homeopathy is just a placebo: Critics argue that any perceived benefits from homeopathic remedies are due to the placebo effect. However, research suggests that homeopathic remedies can have specific effects beyond placebo, although the exact mechanisms remain unclear.
2. Homeopathy is not backed by scientific evidence: While it's true that the scientific community remains divided on the effectiveness of homeopathy, there are some studies that suggest positive outcomes. It's important to consider all available evidence before drawing conclusions.
3. Homeopathy can cure addiction overnight: Homeopathy is not a magic pill that can instantly eliminate addiction. It requires commitment, patience, and a comprehensive approach that includes lifestyle changes and support from healthcare professionals.
Evidence-Based Studies On Homeopathy And Its Effectiveness In Helping People Quit Smoking
While the scientific evidence on homeopathy's effectiveness in smoking cessation is limited, there are some studies that suggest positive outcomes. For example, a randomized controlled trial published in the journal "Homeopathy" in 2003 found that homeopathic treatment was associated with a significant reduction in tobacco craving and withdrawal symptoms compared to a placebo.
Another study published in "Complementary Therapies in Medicine" in 2010 reported that homeopathy was effective in reducing nicotine craving and withdrawal symptoms, as well as improving overall well-being, in individuals trying to quit smoking.
It's worth noting that these studies have their limitations, such as small sample sizes and lack of long-term follow-up. More research is needed to fully understand the potential benefits of homeopathy in smoking cessation.
Case Studies Of Individuals Who Successfully Quit Smoking With Homeopathy
While anecdotal evidence should be taken with caution, there are numerous cases of individuals who claim to have successfully quit smoking with the help of homeopathy. These stories highlight the individualized nature of homeopathic treatment and the importance of finding the right remedy for each person.
One such case is Sarah, a 45-year-old woman who had been smoking for 20 years. After trying various traditional methods without success, she turned to homeopathy. With the support of a homeopath, Sarah received personalized treatment that addressed both her physical cravings and emotional triggers. Over time, she was able to gradually reduce her smoking and eventually quit altogether.
Homeopathic Remedies And Treatment Options For Smoking Cessation
Homeopathic remedies for smoking cessation vary depending on the individual's symptoms and overall health. Some commonly used remedies include:
1. Tabacum: This remedy is often recommended for individuals who experience intense cravings, irritability, and restlessness when trying to quit smoking. It can help reduce withdrawal symptoms and promote a sense of calm.
2. Caladium seguinum: This remedy is useful for individuals who smoke due to boredom or habit rather than nicotine addiction. It can help address the psychological aspects of smoking and reduce the desire to smoke.
3. Nux vomica: This remedy is often prescribed for individuals who have a strong desire for stimulants like nicotine. It can help alleviate cravings, irritability, and digestive symptoms associated with quitting smoking.
In addition to homeopathic remedies, lifestyle changes such as regular exercise, healthy diet, and stress management techniques are essential in the smoking cessation process.
Integrating Homeopathy With Other Smoking Cessation Methods For Better Results
It's important to note that homeopathy should not be seen as a standalone treatment for smoking cessation. Integrating homeopathy with other evidence-based methods, such as NRT or behavioral counseling, can potentially enhance the effectiveness of the overall quitting process.
Collaboration with a qualified healthcare professional, such as a homeopath or a smoking cessation specialist, is crucial to develop a comprehensive treatment plan that suits the individual's needs and goals.
Conclusion: Considering Homeopathy As A Potential Option For Quitting Smoking
In conclusion, the question of whether homeopathy can help you stop smoking is not a straightforward one. While there is limited scientific evidence to support its effectiveness, there are anecdotal accounts and some studies suggesting positive outcomes.
If you are considering homeopathy as an option for quitting smoking, it's important to approach it with an open mind and consult with a qualified professional. Remember that quitting smoking is a complex process that requires commitment, support, and a personalized approach.
Ultimately, the decision to try homeopathy or any other method should be based on your individual preferences and needs. Quitting smoking is a journey, and finding the right tools and support can increase your chances of success.