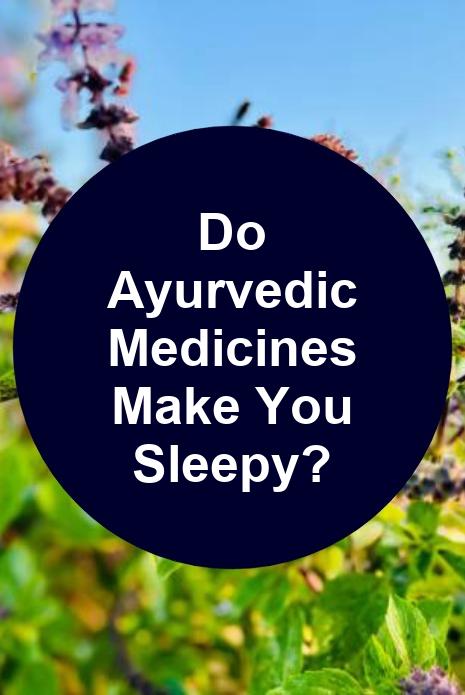 Are you considering trying Ayurvedic medicines but worried they might make you drowsy? If so, you're not alone. Many people wonder whether these natural remedies have any side effects, specifically in relation to sleepiness. In this article, we explore the effects of Ayurvedic medicines on sleep and whether they can actually make you feel tired.
Ayurvedic medicine is a holistic approach to healthcare that has been practiced in India for thousands of years. It focuses on balancing the body, mind, and spirit to promote overall well-being. While Ayurvedic medicines are generally safe and well-tolerated, it's essential to understand how they may affect your sleep patterns.
Understanding The Concept Of Doshas
Ayurveda is based on the concept of doshas, which are the fundamental energies that govern our bodies. There are three main doshas: Vata, Pitta, and Kapha. Each dosha has its own unique characteristics and qualities. Vata is associated with movement and is often linked to insomnia and restlessness. Pitta is related to metabolism and digestion and may contribute to sleep disturbances when imbalanced. Kapha is connected to stability and can cause excessive sleepiness if out of balance.
In Ayurvedic medicine, the goal is to balance these doshas to achieve optimal health. Depending on your dosha type, certain Ayurvedic medicines may have different effects on your sleep. For example, herbs and remedies that have a calming effect on Vata dosha may promote better sleep, while those that increase Pitta or Kapha dosha may lead to drowsiness.
Ayurvedic Medicines And Their Effects On Sleep
Ayurvedic medicines are typically made from natural ingredients such as herbs, spices, and minerals. These ingredients are carefully selected and combined to create specific formulations that target various health issues. When it comes to sleep, Ayurvedic medicines can have different effects depending on their ingredients and intended purpose.
Some Ayurvedic medicines are specifically formulated to promote sleep and relaxation. These medicines often contain herbs like ashwagandha, brahmi, and jatamansi, which have calming properties. They work by reducing stress and anxiety, allowing your mind and body to relax and prepare for sleep. However, it's important to note that not all Ayurvedic medicines have sedative effects. Some may have a stimulating effect on the body, which can make it harder to fall asleep.
Common Ayurvedic Herbs For Sleep
Herbs play a crucial role in Ayurvedic medicine, and several herbs are known for their sleep-inducing properties. Here are some of the common Ayurvedic herbs used for promoting better sleep:
1. Ashwagandha: This adaptogenic herb is known for its ability to reduce stress and promote relaxation. It helps calm the mind, making it easier to fall asleep and stay asleep through the night.
2. Brahmi: Also known as Bacopa monnieri, this herb is traditionally used to enhance memory and cognitive function. It has a calming effect on the nervous system, which can aid in achieving a restful night's sleep.
3. Jatamansi: This herb is often used in Ayurvedic medicine as a natural sedative. It helps to calm the mind, reduce anxiety, and improve sleep quality.
4. Shankhpushpi: This herb is known for its brain-tonic properties and is often used to improve memory and concentration. It also has a calming effect on the nervous system, promoting better sleep.
Ayurvedic Lifestyle Practices For Better Sleep
In addition to Ayurvedic medicines, certain lifestyle practices can also contribute to better sleep. Ayurveda emphasizes the importance of maintaining a balanced lifestyle to support overall well-being. Here are some Ayurvedic lifestyle practices that can help promote better sleep:
1. Follow a regular sleep schedule: Going to bed and waking up at the same time every day helps regulate your body's internal clock and promotes healthy sleep patterns.
2. Create a calming bedtime routine: Engage in relaxing activities before bed, such as reading, taking a warm bath, or practicing gentle yoga or meditation. This helps signal to your body that it's time to wind down and prepare for sleep.
3. Avoid stimulating substances: Caffeine, nicotine, and alcohol can disrupt sleep patterns. It's best to avoid or limit these substances, especially in the evening hours.
4. Create a sleep-friendly environment: Make sure your bedroom is quiet, dark, and cool. Use comfortable bedding and invest in a supportive mattress and pillow to create an optimal sleeping environment.
Ayurvedic Sleep Remedies And Techniques
In addition to Ayurvedic medicines and lifestyle practices, there are several sleep remedies and techniques you can try to improve your sleep quality. Here are a few Ayurvedic sleep remedies that you can incorporate into your routine:
1. Warm milk with spices: Drinking a cup of warm milk infused with sleep-promoting spices like nutmeg, cardamom, and cinnamon before bed can help relax your mind and body.
2. Ayurvedic massage: Abhyanga, an Ayurvedic self-massage using warm oil, is a great way to relax your muscles and calm your mind before sleep. Choose a soothing oil such as sesame or coconut and gently massage your body, paying extra attention to your feet and head.
3. Nasya therapy: Nasya involves applying herbal oils or ghee to your nostrils. This practice is believed to help clear the nasal passages, improve breathing, and promote better sleep.
4. Shirodhara: This Ayurvedic therapy involves pouring a continuous stream of warm oil onto the forehead. It helps calm the mind, reduce stress, and induce a state of deep relaxation, making it a popular treatment for sleep disorders.
Potential Side Effects Of Ayurvedic Medicines On Sleep
While Ayurvedic medicines are generally safe and well-tolerated, it's important to be aware of potential side effects. Some Ayurvedic medicines may interact with certain medications, so it's crucial to consult with a healthcare professional before starting any new treatment. Additionally, individual sensitivity to certain herbs or ingredients may vary, and some people may experience drowsiness or other side effects when using Ayurvedic medicines.
If you notice any unusual symptoms or experience persistent drowsiness after taking Ayurvedic medicines, it's important to seek medical advice. A healthcare professional, especially one trained in Ayurvedic medicine, can help assess your symptoms and guide you on the appropriate course of action.
Precautions And Considerations When Using Ayurvedic Medicines
When using Ayurvedic medicines, it's important to keep the following precautions and considerations in mind:
1. Quality and authenticity: Ensure that the Ayurvedic medicines you choose are of high quality and sourced from reputable manufacturers. Look for certifications and labels that indicate the authenticity and safety of the products.
2. Dosage and duration: Follow the recommended dosage and duration of use as specified by the manufacturer or an Ayurvedic practitioner. Taking excessive amounts or using medicines for extended periods may increase the risk of side effects.
3. Individual differences: Remember that everyone's body is unique, and what works for one person may not work for another. Pay attention to how your body responds to Ayurvedic medicines and make adjustments as needed.
4. Consultation with an Ayurvedic practitioner for sleep issues
If you're experiencing persistent sleep issues or have concerns about the effects of Ayurvedic medicines on your sleep, it's advisable to consult with an Ayurvedic practitioner. They can assess your dosha type, evaluate your overall health, and provide personalized recommendations for better sleep. An Ayurvedic practitioner can also help you identify any underlying imbalances or lifestyle factors contributing to sleep disturbances.
Conclusion: Finding The Right Balance With Ayurvedic Medicines And Sleep
In conclusion, Ayurvedic medicines can have varying effects on sleep depending on their ingredients, dosha-balancing properties, and individual factors. While some Ayurvedic herbs and remedies have sleep-inducing properties, others may have stimulating effects. It's important to understand your dosha type, consider the specific ingredients in the medicines you're using, and make lifestyle adjustments to support healthy sleep.
Remember to consult with an Ayurvedic practitioner or healthcare professional before starting any new treatment, especially if you have pre-existing sleep issues or are taking other medications. With the right knowledge and guidance, you can find the right balance between Ayurvedic medicines and sleep to support your overall well-being. So, embrace the wisdom of Ayurveda and enjoy restful nights of rejuvenating sleep.