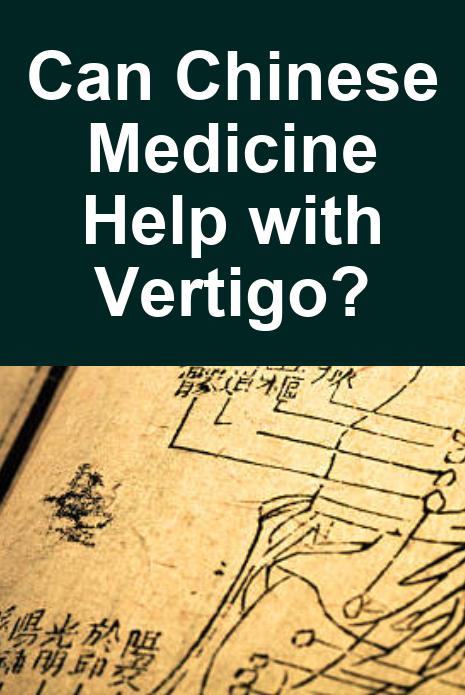 Are you constantly battling vertigo, feeling dizzy, and struggling to maintain your balance? If so, you're not alone. Vertigo affects millions of people worldwide and can significantly impact their quality of life. While conventional medicine offers various treatments for vertigo, an alternative approach worth considering is Chinese medicine. Chinese medicine, with its holistic approach to health and wellness, has been used for centuries to treat a wide range of conditions, including vertigo. By addressing the body as a whole and focusing on restoring balance and harmony, Chinese medicine aims to tackle the root cause of vertigo rather than just alleviating symptoms. In this article, we will delve into the potential benefits of Chinese medicine in managing vertigo. We will explore the traditional Chinese therapies and techniques that may help alleviate vertigo symptoms and contribute to a better quality of life. So, if you're curious about how Chinese medicine could provide relief from vertigo, keep reading to discover more.
What Is Vertigo?
Vertigo is a common condition characterized by a spinning sensation, dizziness, and a loss of balance. It can be caused by various factors, such as inner ear problems, head injuries, migraines, or even certain medications. The sensation of vertigo can range from mild and intermittent to severe and chronic, significantly affecting a person's daily activities and overall well-being. Conventional treatments for vertigo typically focus on managing the symptoms and can include medications, physical therapy, and lifestyle modifications. However, some individuals may seek alternative therapies like Chinese medicine to address the underlying causes of vertigo and promote long-term healing.
Understanding Chinese Medicine
Chinese medicine is a traditional system of medicine that has been practiced for thousands of years in China and other parts of Asia. It is based on the concept of balance and harmony within the body, as well as the interconnectedness of the mind, body, and environment. According to Chinese medicine, vertigo is often seen as a result of an imbalance in the body's energy, known as Qi (pronounced "chee"). Qi flows through meridians, or energy pathways, in the body, and any disruption or blockage in these pathways can lead to various health conditions, including vertigo.
Chinese medicine practitioners use a combination of modalities to restore balance and harmony in the body. These modalities include acupuncture, herbal medicine, dietary and lifestyle recommendations, and other techniques like cupping and moxibustion. By addressing the root cause of vertigo and rebalancing the body's energy, Chinese medicine aims to provide long-lasting relief from symptoms and improve overall well-being.
Traditional Chinese Medicine Approach To Vertigo
In traditional Chinese medicine, vertigo is often classified into different patterns, each associated with specific imbalances within the body. By identifying the pattern or patterns present, Chinese medicine practitioners can tailor their treatment approach to address the underlying causes of vertigo.
One common pattern seen in vertigo is known as "Liver Yang Rising." In this pattern, excessive heat and energy rise to the head, leading to dizziness and a spinning sensation. Another pattern is "Phlegm-Damp Obstruction," where an accumulation of phlegm and dampness in the body disrupts the flow of Qi and causes vertigo.
Acupuncture, a key modality in Chinese medicine, is often used to address these patterns and restore balance. During an acupuncture session, thin needles are inserted into specific points on the body to stimulate the flow of Qi and promote healing. For vertigo, acupuncture points on the head, neck, and limbs may be targeted to alleviate symptoms and rebalance the body's energy.
Acupuncture For Vertigo
Acupuncture has been widely studied for its potential benefits in managing vertigo. Research suggests that acupuncture may help reduce the frequency and severity of vertigo episodes, improve balance, and alleviate associated symptoms such as nausea and vomiting. The exact mechanisms behind acupuncture's effectiveness in treating vertigo are not fully understood, but it is believed to involve the modulation of neurotransmitters and the stimulation of the body's natural healing processes.
In a study published in the Journal of Acupuncture and Meridian Studies, researchers investigated the effects of acupuncture on patients with chronic vertigo. The study found that acupuncture significantly reduced the frequency and duration of vertigo episodes, improved balance, and enhanced quality of life. These findings support the use of acupuncture as a complementary therapy for vertigo, either as a standalone treatment or in conjunction with conventional approaches.
Chinese Herbal Remedies For Vertigo
In addition to acupuncture, Chinese herbal medicine is another integral part of Chinese medicine's approach to vertigo. Chinese herbal remedies are formulated based on the individual's specific pattern of vertigo and aim to rebalance the body's energy, resolve any underlying imbalances, and alleviate symptoms.
Herbs commonly used in the treatment of vertigo include Ginkgo biloba, which has been shown to improve blood circulation and reduce dizziness, and Chuanxiong, which promotes the flow of Qi and blood to the head and alleviates headaches and vertigo. These herbs, along with others like Bai Zhu and Bai Shao, may be prescribed in various combinations to address the specific imbalances observed in each individual.
It is important to note that Chinese herbal remedies should be prescribed by a qualified Chinese medicine practitioner. They will consider your individual pattern of vertigo, any underlying health conditions, and any medications you are currently taking to create a personalized herbal formula that is safe and effective for you.
Dietary And Lifestyle Recommendations
Alongside acupuncture and herbal remedies, Chinese medicine also emphasizes the importance of dietary and lifestyle modifications in managing vertigo. The foods we eat and the way we live can have a significant impact on our overall health and well-being, including the management of vertigo symptoms.
In Chinese medicine, certain foods are believed to exacerbate vertigo symptoms, while others can help alleviate them. For example, foods that are greasy, spicy, or excessively cold or raw are thought to contribute to the accumulation of dampness and phlegm in the body, worsening vertigo symptoms. On the other hand, foods that are warm, nourishing, and easy to digest, such as soups, cooked vegetables, and whole grains, are often recommended to support the body's healing process.
In addition to dietary recommendations, Chinese medicine also emphasizes the importance of regular exercise, stress management techniques, and adequate rest to support overall well-being. Practices like tai chi, qigong, and meditation can help promote relaxation, improve balance, and reduce stress levels, all of which can contribute to a reduction in vertigo symptoms.
Case Studies And Success Stories
Numerous individuals have reported positive outcomes after receiving Chinese medicine treatment for vertigo. One such success story is that of Sarah, a 45-year-old woman who had been suffering from chronic vertigo for several years. Sarah had tried various conventional treatments without significant improvement in her symptoms. Frustrated and seeking alternative options, she decided to explore Chinese medicine.
After undergoing an initial consultation with a qualified Chinese medicine practitioner, Sarah was diagnosed with a "Liver Yang Rising" pattern. She received regular acupuncture sessions targeting specific points to address the imbalance in her body. In addition, she was prescribed a personalized herbal formula to support the treatment. Over the course of several months, Sarah noticed a significant reduction in the frequency and severity of her vertigo episodes. She also experienced improvements in her overall well-being and quality of life.
Sarah's case is just one example of how Chinese medicine can provide relief for vertigo sufferers. While individual results may vary, many people have reported positive outcomes after incorporating Chinese medicine into their vertigo management plan.
Integrating Chinese Medicine With Western Treatments
Chinese medicine can be used as a complementary approach alongside conventional treatments for vertigo. It is important to note that Chinese medicine should not replace any prescribed medications or therapies without consulting a healthcare professional. Instead, it can be integrated into a comprehensive treatment plan to address the underlying imbalances contributing to vertigo symptoms.
If you are considering incorporating Chinese medicine into your vertigo management plan, it is essential to communicate and collaborate with your healthcare providers. They can help ensure that the different treatment modalities are coordinated and complement each other effectively. This integrative approach can provide a more comprehensive and holistic approach to managing vertigo, addressing both the symptoms and the underlying causes.
Finding A Qualified Chinese Medicine Practitioner
When seeking Chinese medicine treatment for vertigo, it is crucial to find a qualified practitioner who specializes in treating this condition. Look for a practitioner who is licensed, experienced, and has a good understanding of both Chinese medicine and vertigo. They should conduct a thorough assessment of your condition, take into account your medical history, and develop a personalized treatment plan tailored to your specific needs.
To find a qualified Chinese medicine practitioner in your area, consider asking for recommendations from trusted healthcare professionals, friends, or family members who have had positive experiences with Chinese medicine. Additionally, professional organizations like the National Certification Commission for Acupuncture and Oriental Medicine (NCCAOM) and the American Association of Acupuncture and Oriental Medicine (AAAOM) can provide directories of licensed practitioners.
Conclusion
Vertigo can be a debilitating condition that affects many aspects of a person's life. While conventional treatments are available, exploring alternative approaches like Chinese medicine can provide additional options for managing vertigo symptoms. Chinese medicine's holistic approach, which aims to restore balance and harmony in the body, may help address the root causes of vertigo and provide long-lasting relief.
From acupuncture and herbal remedies to dietary and lifestyle recommendations, Chinese medicine offers a range of therapies and techniques that can be tailored to each individual's specific pattern of vertigo. By working with a qualified Chinese medicine practitioner and integrating Chinese medicine with conventional treatments, individuals with vertigo can explore a comprehensive and holistic approach to their condition.
If you're struggling with vertigo and seeking alternative options, consider consulting a qualified Chinese medicine practitioner to discuss how Chinese medicine could potentially help you regain your balance and improve your quality of life. Remember, finding the right treatment approach for you may involve a combination of therapies, and it's important to work with your healthcare providers to develop a personalized plan that addresses your specific needs.