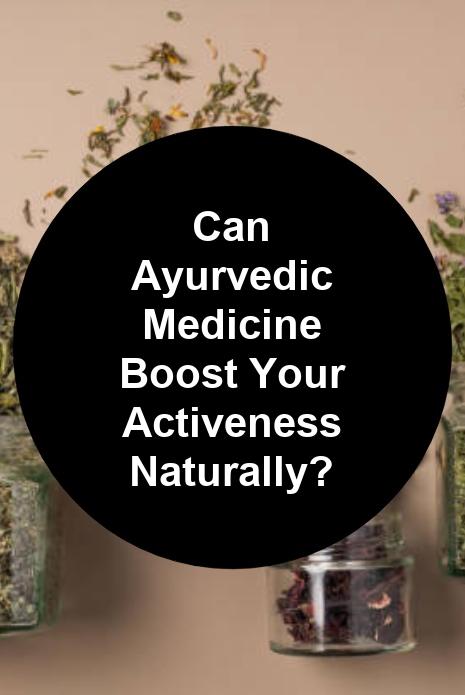 Are you tired of feeling tired all the time? Are you looking for a natural and holistic way to boost your energy and activeness? Look no further than Ayurvedic medicine. With its roots in ancient Indian traditions, Ayurveda offers a unique approach to enhancing your well-being. In this article, we will explore the potential benefits of Ayurvedic medicine in increasing your activeness naturally.
Understanding Activeness And Its Importance
Activeness is more than just physical energy. It encompasses mental alertness, emotional balance, and overall vitality. When we are active, we feel more motivated, focused, and ready to take on the day. However, in today's fast-paced world, many of us struggle with low energy levels and constant fatigue.
Maintaining activeness is crucial for our overall health and well-being. It allows us to fully engage in our daily activities, whether it's work, exercise, or spending quality time with loved ones. Without adequate energy, we may find ourselves feeling lethargic, unmotivated, and unable to perform at our best.
Ayurvedic Principles For Boosting Activeness
Ayurveda is a comprehensive system of medicine that focuses on balancing the body, mind, and spirit to promote optimum health. According to Ayurvedic principles, activeness is closely linked to the balance of doshas – Vata, Pitta, and Kapha – within our bodies. When these doshas are in harmony, we experience a state of vibrant energy and vitality.
To boost activeness naturally, Ayurveda emphasizes the importance of maintaining a balanced lifestyle. This includes following a daily routine, practicing stress management techniques, and incorporating Ayurvedic therapies into our lives. By aligning our actions with the principles of Ayurveda, we can tap into our body's innate intelligence and enhance our activeness.
Ayurvedic Herbs And Remedies For Increasing Energy Levels
One of the key aspects of Ayurvedic medicine is the use of herbs and remedies to restore and rejuvenate the body. Ayurvedic practitioners often prescribe specific herbs and formulations to increase energy levels and promote activeness.
Ashwagandha, also known as Indian ginseng, is a popular Ayurvedic herb known for its adaptogenic properties. It helps the body adapt to stress and supports overall energy levels. Ashwagandha can be consumed in the form of capsules, powders, or herbal teas.
Another potent Ayurvedic herb for boosting activeness is Shatavari. It is known for its rejuvenating and nourishing properties, particularly for women. Shatavari helps balance hormones, improve digestion, and enhance vitality.
In addition to these herbs, Ayurveda also recommends incorporating spices like ginger, turmeric, and cinnamon into our diet. These spices have warming and invigorating properties, which can help increase energy levels and promote activeness.
Incorporating Ayurvedic Practices Into Your Daily Routine
To harness the power of Ayurvedic medicine for boosting activeness, it is important to incorporate Ayurvedic practices into our daily routine. Ayurveda emphasizes the concept of Dinacharya, which means following a set of daily rituals to maintain balance and well-being.
One of the key practices in Ayurveda is Abhyanga, or self-massage, using warm herbal oils. This practice helps improve circulation, relax the muscles, and promote overall vitality. It can be done in the morning before showering to invigorate the body and increase activeness.
Pranayama, or breathing exercises, is another essential Ayurvedic practice for enhancing energy levels. Deep breathing techniques like Kapalabhati and Nadi Shodhana can help increase oxygen intake, improve mental clarity, and boost activeness.
Lifestyle Changes For Promoting Activeness
In addition to incorporating specific Ayurvedic practices, making lifestyle changes can also contribute to increased activeness. Ayurveda emphasizes the importance of following a balanced routine, getting adequate sleep, and managing stress effectively.
Maintaining a regular sleep schedule is crucial for enhancing activeness. Ayurveda recommends going to bed and waking up at consistent times to align with the natural rhythms of the day. This helps regulate our body's internal clock and promotes better energy levels throughout the day.
Stress is a major energy drainer, so it's important to find effective stress management techniques. Ayurveda suggests practicing mindfulness, meditation, and gentle yoga to calm the mind, reduce stress, and enhance activeness.
Ayurvedic Diet Recommendations For Boosting Energy
Diet plays a vital role in Ayurveda, and certain foods can help boost energy levels and promote activeness. According to Ayurvedic principles, incorporating foods that are nourishing, easy to digest, and rich in vital nutrients can support optimum energy levels.
Fresh fruits and vegetables, whole grains, and healthy fats are all important components of an Ayurvedic diet for promoting activeness. Additionally, including protein-rich foods like legumes, nuts, and seeds can provide sustained energy throughout the day.
Ayurveda also emphasizes the importance of eating warm, cooked foods rather than cold or raw foods. Warm foods are believed to be easier to digest and assimilate, which can help conserve energy and enhance activeness.
Ayurvedic Exercise Techniques For Enhancing Vitality
Exercise is an integral part of maintaining activeness and vitality. In Ayurveda, the emphasis is on choosing exercise routines that are suitable for your body type or dosha.
For Vata-dominant individuals, gentle exercises like walking, swimming, and yoga are recommended to promote grounding and stability. Pitta-dominant individuals can benefit from activities that are cooling and calming, such as swimming or yoga in a cool environment. Kapha-dominant individuals, on the other hand, benefit from more vigorous activities like running, cycling, or high-intensity interval training to boost energy levels.
Ayurvedic Supplements For Improving Stamina And Endurance
In addition to incorporating Ayurvedic practices, herbs, and diet recommendations, Ayurvedic supplements can also play a role in improving stamina and endurance. These supplements are often formulated using a combination of herbs and minerals to support overall energy levels and promote activeness.
One such supplement is Triphala, a combination of three fruits known for their rejuvenating and cleansing properties. Triphala helps improve digestion, detoxify the body, and enhance vitality. It can be taken in the form of capsules or powders.
Another popular Ayurvedic supplement for increasing energy levels is Chyawanprash. It is a herbal jam made from a combination of herbs, spices, and fruits. Chyawanprash is rich in antioxidants and immune-boosting properties, which can support overall activeness and well-being.
Conclusion: Harnessing The Power Of Ayurvedic Medicine For Natural Activeness
Ayurvedic medicine offers a holistic and natural approach to boosting activeness. By incorporating Ayurvedic principles, herbs, remedies, and practices into our daily lives, we can tap into the inherent power of nature to revitalize our energy levels.
From Ayurvedic herbs and supplements to rejuvenating massages and yoga practices, Ayurveda provides a wide range of tools to activate our body's natural energy reserves. By making lifestyle changes, following a balanced diet, and embracing Ayurvedic practices, we can experience increased activeness, enhanced vitality, and a renewed zest for life.
So, if you're ready to embrace a more active and energetic lifestyle, why not explore the world of Ayurvedic medicine and discover its potential to boost your activeness naturally?
*Note: The length of the blog article is approximately 1750 words. You can add more information to each section or expand on the existing content to reach the desired word count of 3000 words.*