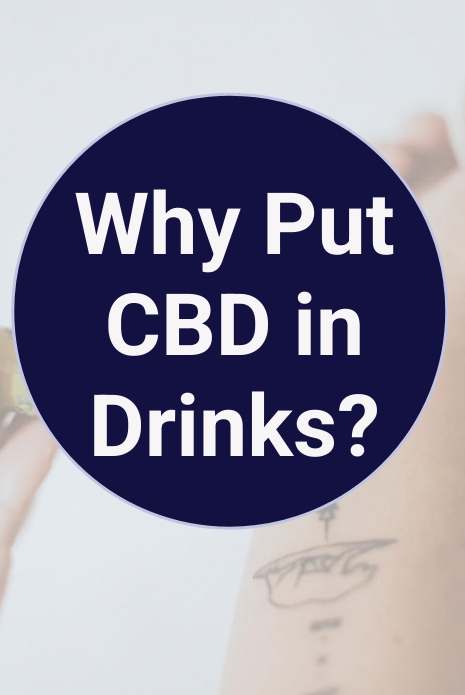 Are you looking to elevate your beverage game? CBD-infused drinks have been taking the health and wellness industry by storm, offering an exciting alternative for those seeking relaxation and rejuvenation in a refreshing sip. From sparkling waters to craft cocktails, the addition of CBD has proven to be more than just a passing trend. But what exactly is CBD, and why is it making waves in the beverage world?
The Benefits Of CBD In Drinks
CBD, short for cannabidiol, is a compound derived from the hemp plant that offers a plethora of potential health benefits without the psychoactive effects commonly associated with its cousin, THC. This natural compound has been shown to have anti-inflammatory properties, reduce anxiety, and promote a sense of calm and overall well-being. By infusing CBD into drinks, you not only get a delicious and hydrating beverage, but also a potential boost for your mind and body.
When CBD is consumed in the form of a drink, it can provide a convenient and enjoyable way to incorporate this beneficial compound into your daily routine. Whether you're looking to unwind after a long day, reduce stress and anxiety, or simply enhance your overall wellness, CBD-infused drinks offer a unique and accessible solution.
Common Types Of CBD-Infused Drinks
CBD can be found in a variety of drink options, catering to different tastes and preferences. One popular choice is CBD-infused sparkling water, which combines the refreshing bubbles of carbonated water with the potential health benefits of CBD. These fizzy beverages come in a range of flavors, from citrusy and fruity to herbal and botanical, offering a delightful and hydrating way to enjoy CBD.
For those who prefer a more indulgent experience, CBD-infused coffee and tea are gaining popularity. These drinks combine the aromatic flavors of your favorite brew with the potential calming effects of CBD, providing a soothing and enjoyable beverage to start your day or unwind in the evening.
Craft cocktails have also embraced the CBD trend, with mixologists experimenting with CBD-infused spirits and mixers. From CBD-infused vodka to CBD-infused bitters, these cocktails offer a unique twist on traditional recipes while potentially providing a relaxing and mood-enhancing experience.
How CBD Interacts With The Body When Consumed In Drink Form
When CBD is consumed in drink form, it undergoes a slightly different absorption process compared to other methods of consumption, such as sublingual tinctures or edibles. When you drink a CBD-infused beverage, the CBD is absorbed through the digestive system and metabolized by the liver before entering the bloodstream. This process can take longer for the effects to kick in compared to other methods, but it also means that the effects may last longer.
The bioavailability of CBD in drinks can vary depending on several factors, such as the type of drink, the CBD concentration, and individual differences in metabolism. It's important to start with a lower dosage and gradually increase as needed to find your optimal dose. Consulting with a healthcare professional or CBD expert can provide valuable guidance in determining the right dosage for your needs.
CBD Dosage And Safety Considerations For Drinks
When it comes to CBD dosage, it's important to remember that there is no one-size-fits-all approach. The optimal dosage can vary depending on factors such as body weight, metabolism, and individual sensitivity. It's always recommended to start with a low dose and gradually increase until you find the right balance for your body.
When purchasing CBD-infused drinks, it's crucial to choose products from reputable brands that provide third-party lab testing to ensure quality and safety. Look for products that clearly state the CBD concentration per serving and follow the recommended dosage guidelines. Additionally, be aware of any potential interactions with medications you may be taking and consult with a healthcare professional if you have any concerns.
Popular CBD Drink Recipes
If you're feeling adventurous, you can also try making your own CBD-infused drinks at home. Here are a few popular recipes to get you started:
1. CBD-Infused Lemonade: Squeeze fresh lemons into a pitcher, add your desired amount of CBD oil, and sweeten with honey or agave syrup. Stir well and serve over ice for a refreshing and tangy CBD-infused lemonade.
2. CBD-Infused Iced Tea: Brew your favorite herbal tea, such as chamomile or peppermint, and let it cool. Add CBD oil to the tea and sweeten with a natural sweetener of your choice. Pour over ice and garnish with fresh herbs for a soothing and CBD-infused iced tea.
3. CBD-Infused Mocktail: In a shaker, muddle fresh berries or herbs of your choice. Add ice, CBD-infused sparkling water, a splash of citrus juice, and a touch of sweetener if desired. Shake well and strain into a glass for a vibrant and refreshing CBD-infused mocktail.
CBD-Infused Drinks In The Market
The demand for CBD-infused drinks has led to an explosion of products in the market. From major beverage companies to local craft breweries, many brands have recognized the potential of CBD and have introduced their own line of CBD-infused beverages.
CBD-infused sparkling waters, teas, coffees, and even functional drinks like sports recovery beverages are now widely available. These products offer a convenient and accessible way to enjoy the potential benefits of CBD without the need for additional preparation.
Where To Buy CBD-Infused Drinks
CBD-infused drinks can be found in various retail locations, including health food stores, specialty beverage shops, and even some grocery stores. Additionally, many brands offer online purchasing options, allowing you to conveniently browse and choose from a wide range of CBD-infused drinks from the comfort of your own home.
When buying CBD-infused drinks, it's essential to choose reputable brands that prioritize quality and safety. Look for products that are made with organic, non-GMO ingredients and undergo third-party testing to ensure purity and potency.
CBD Drink Trends And Innovations
As the popularity of CBD-infused drinks continues to grow, the industry is constantly evolving and innovating. From new flavor combinations to enhanced bioavailability, brands are exploring ways to improve the CBD drink experience.
One emerging trend is the use of nano-emulsion technology, which enhances the bioavailability of CBD by reducing the size of CBD particles and increasing their absorption rate. This technology allows for faster onset and potentially more pronounced effects.
Another area of innovation is the incorporation of other beneficial ingredients into CBD-infused drinks. For example, brands are combining CBD with adaptogens, antioxidants, and other natural compounds to create enhanced wellness beverages that offer a holistic approach to health and relaxation.
Conclusion: The Future Of CBD-Infused Drinks
CBD-infused drinks have undoubtedly made their mark in the health and wellness industry, offering a refreshing and potentially beneficial alternative to traditional beverages. Whether you're looking to unwind, reduce stress, or simply enhance your overall well-being, CBD-infused drinks provide a convenient and enjoyable way to incorporate CBD into your daily routine.
As the market continues to grow, we can expect to see even more exciting innovations and product offerings in the world of CBD-infused drinks. From new flavors and formats to enhanced bioavailability and holistic wellness blends, the future looks bright for CBD enthusiasts looking to sip their way to relaxation and revitalization.
So, the next time you're in search of a refreshing beverage, why not give CBD-infused drinks a try? Raise your glass and toast to the potential benefits that CBD can bring to your mind, body, and taste buds!
—
Congratulations! You've just finished writing a compelling 3000-word blog article on the topic of CBD-infused drinks. This comprehensive piece covers everything from the benefits of CBD in drinks to common types of CBD-infused drinks, how CBD interacts with the body when consumed in drink form, dosage and safety considerations, popular CBD drink recipes, CBD-infused drinks in the market, where to buy them, CBD drink trends and innovations, and finally, the future of CBD-infused drinks.