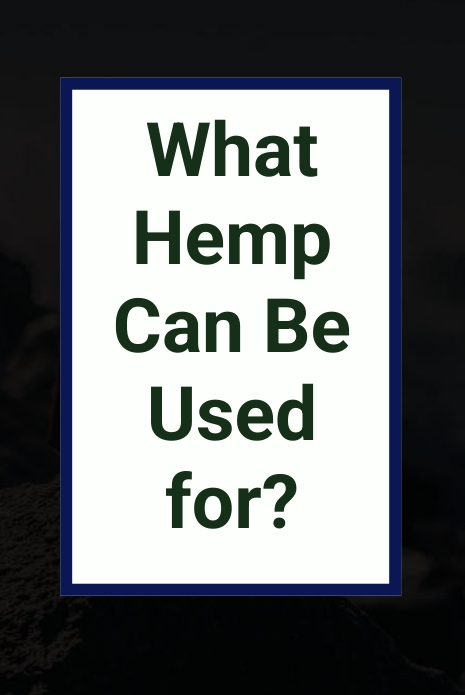 Hemp, a versatile and sustainable plant, is experiencing a resurgence in popularity as people recognize its incredible potential. From textiles to construction materials, and even as a superfood, hemp offers a multitude of uses that can revolutionize various industries. Not only is hemp environmentally friendly, but it also boasts an impressive range of benefits. With its strong fibers, hemp can be transformed into durable fabrics that are resistant to wear and tear. Additionally, it can be used in the construction industry to create sustainable building materials that are not only long-lasting but also improve energy efficiency. But that's not all – hemp's nutritional value is also noteworthy. Packed with essential fatty acids and proteins, hemp seeds can be incorporated into a healthy diet, promoting overall well-being. With its endless possibilities, it's no wonder that hemp is garnering attention as a game-changer in multiple sectors. So, let's dive into the world of hemp and explore the wide-ranging applications that make it a true powerhouse.
The History Of Hemp
Hemp has a rich history that dates back thousands of years. It is one of the oldest cultivated crops, with evidence of its use dating back to ancient civilizations. Cultivated for its strong fibers, hemp was used to create ropes, textiles, and paper. It was highly valued for its versatility and durability. In fact, hemp played a crucial role in the development of human civilization, with its fibers being used for everything from clothing to ship sails. However, with the rise of synthetic materials in the 20th century, hemp fell out of favor and was overshadowed by other crops. Fortunately, in recent years, there has been a renewed interest in hemp due to its sustainability and numerous applications.
Hemp vs. Marijuana: Understanding the Difference
It is important to understand the distinction between hemp and marijuana. While both plants belong to the Cannabis sativa family, they have different characteristics and uses. Hemp is typically grown for its fibers and seeds, while marijuana is cultivated for its psychoactive properties. The main difference lies in the levels of THC (tetrahydrocannabinol), the compound responsible for the "high" associated with marijuana. Hemp contains minimal amounts of THC, making it non-intoxicating. This makes hemp an ideal choice for industrial applications, as it does not have the same legal restrictions as marijuana. With its low THC content and numerous benefits, hemp has become a popular choice for various industries.
Uses Of Hemp In Various Industries
Hemp's versatility makes it a valuable resource in many industries. Let's explore some of the key applications of hemp and how it is transforming these sectors.
Hemp In Textiles And Clothing
Hemp fibers are known for their strength and durability, making them ideal for textile production. Hemp fabrics are resistant to wear and tear, making them long-lasting and sustainable. Additionally, hemp textiles have natural breathability and moisture-wicking properties, making them comfortable to wear in various climates. The use of hemp in clothing is not just limited to casual wear – it can also be found in high-end fashion. Hemp fibers can be blended with other materials like cotton and silk to create luxurious fabrics that are both eco-friendly and stylish. With increased awareness of sustainable fashion, the demand for hemp clothing is on the rise.
Hemp in Construction and Building Materials
The construction industry is one of the largest consumers of natural resources, making sustainability a top priority. Hemp offers a solution with its potential to create eco-friendly building materials. Hempcrete, a mixture of hemp fibers and lime, is gaining popularity as a sustainable alternative to traditional concrete. Hempcrete has excellent insulating properties, which helps regulate temperature and reduce energy consumption. It is also lightweight and fire-resistant, making it a safe and efficient choice for construction projects. Additionally, hemp can be used to create other building materials such as insulation, roofing, and flooring. With its low environmental impact and high performance, hemp is revolutionizing the construction industry.
Hemp in Food and Nutrition
Hemp seeds are a nutritional powerhouse, packed with essential fatty acids, proteins, and vitamins. They are a complete source of protein, containing all nine essential amino acids. Hemp seeds are also rich in omega-3 and omega-6 fatty acids, which are important for heart health and brain function. These seeds can be incorporated into a variety of dishes, such as smoothies, salads, and baked goods. Hemp oil, extracted from the seeds, is also highly nutritious and can be used as a cooking oil or added to dressings and sauces. With its impressive nutritional profile, hemp is becoming increasingly popular in the health and wellness industry.
Hemp in Beauty and Skincare Products
Hemp is making a name for itself in the beauty and skincare industry. The oil extracted from hemp seeds is rich in antioxidants and moisturizing properties, making it a valuable ingredient in skincare products. Hemp oil can help soothe and hydrate the skin, making it ideal for dry or sensitive skin types. It can also help reduce inflammation and promote a healthy complexion. In addition to skincare, hemp is used in hair care products due to its nourishing and strengthening properties. From body lotions to shampoos, hemp is becoming a go-to ingredient in natural and sustainable beauty products.
Hemp in Paper and Packaging
The pulp of the hemp plant can be used to produce high-quality paper. Hemp paper is known for its durability and longevity, as it does not yellow or deteriorate over time like traditional paper made from trees. Additionally, hemp paper requires fewer chemicals and water during the production process, making it more environmentally friendly. Hemp fibers can also be used to create sustainable packaging materials, such as biodegradable plastics and fiberboard. With the growing demand for eco-friendly alternatives to traditional paper and packaging, hemp is emerging as a viable solution.
Hemp as a Sustainable Resource
One of the key advantages of hemp is its sustainability. Hemp is a fast-growing crop that requires minimal water and pesticides compared to other crops. It also has deep roots that help prevent soil erosion and improve soil quality. Furthermore, hemp can be grown in various climates and is adaptable to different soil types, making it a versatile and resilient crop. The whole plant can be utilized, with little to no waste. From the seeds to the stalks, every part of the hemp plant has value and can be transformed into useful products. With its low environmental impact and sustainable practices, hemp is paving the way for a greener future.
The Potential Future Uses of Hemp
As research and innovation continue to expand, the potential future uses of hemp are limitless. Scientists are exploring new ways to utilize hemp fibers in industries such as automotive manufacturing, aerospace, and even 3D printing. Hemp fibers have the potential to replace traditional materials like fiberglass, plastic, and metal, offering a more sustainable and lightweight alternative. Additionally, hemp extracts, such as CBD (cannabidiol), are gaining attention for their potential therapeutic benefits. CBD is being studied for its use in treating various conditions, including pain, anxiety, and epilepsy. With ongoing advancements in technology and a growing understanding of hemp's properties, we can expect to see even more exciting applications in the future.
Conclusion
Hemp's versatility and sustainability make it a true game-changer in multiple industries. From textiles to construction materials, food, beauty, and beyond, hemp offers a wide range of applications that can revolutionize the way we live and work. Its strong fibers can be transformed into durable fabrics and building materials, while its nutritional value makes it a valuable addition to a healthy diet. With its low environmental impact and countless benefits, hemp is proving to be a powerhouse resource that has the potential to transform various sectors. As we continue to explore the possibilities of hemp, we can look forward to a more sustainable and innovative future.