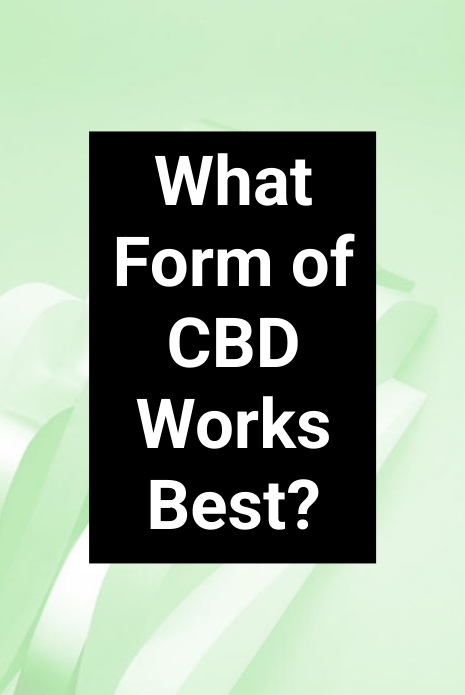 Introduction:
In the rapidly growing market of CBD products, it's no surprise that consumers are faced with an overwhelming array of options. From oils and tinctures to capsules and edibles, finding the right form of CBD can feel like navigating a maze. But fear not, because we're here to help you make an informed decision.
In this article, we'll explore the different forms of CBD and dive into the factors that determine which one works best for you. Whether you're seeking relief from chronic pain, anxiety, or sleep disorders, understanding the benefits and drawbacks of each CBD form is essential. So, sit back, relax, and get ready to discover the most effective way to incorporate CBD into your wellness routine. Let's find out which form of CBD truly reigns supreme in the realm of holistic remedies.
Understanding CBD And Its Forms:
CBD, short for cannabidiol, is a natural compound found in the cannabis plant. Unlike its close relative, THC, CBD does not produce psychoactive effects, making it a popular choice for those looking to experience the therapeutic benefits of cannabis without the "high." CBD interacts with the body's endocannabinoid system, which plays a crucial role in regulating various physiological processes, including pain, mood, appetite, and sleep.
Different forms of CBD are available on the market, each with its own unique properties and benefits. Let's take a closer look at some of the most common types of CBD products.
Different Types Of CBD Products:
1. CBD Oils: CBD oils are one of the most popular forms of CBD due to their versatility and ease of use. These oils are typically taken sublingually, meaning they are placed under the tongue for fast absorption into the bloodstream. CBD oils can also be added to food or beverages for a more enjoyable consumption experience. They come in various concentrations, allowing users to customize their dosage based on their individual needs.
2. CBD Capsules: CBD capsules offer a convenient way to incorporate CBD into your daily routine. These capsules contain a pre-measured dosage of CBD, making it easy to track your intake. Capsules are tasteless and odorless, making them a preferred choice for those who dislike the natural flavor of CBD oils. They are also a discreet option for on-the-go use.
3. CBD Edibles: CBD edibles, such as gummies and chocolates, have gained popularity for their tasty and fun nature. These products mask the natural flavor of CBD, making them more palatable for those who find the taste unpleasant. CBD edibles are a convenient option for those who prefer a pre-measured dosage and enjoy the slow-release effect of ingesting CBD through the digestive system.
4. CBD Topicals: CBD topicals include creams, lotions, and balms that are applied directly to the skin. These products are popular for their localized effects, providing relief to specific areas of the body. CBD topicals are commonly used for pain management and skincare, as they can penetrate the skin to target underlying muscles and joints.
5. CBD Vapes: CBD vapes involve inhaling CBD-infused vapor through a vape pen or vaporizer device. Vaping allows for quick absorption of CBD into the bloodstream, resulting in fast-acting effects. This form of CBD is preferred by those who want immediate relief and enjoy the act of inhaling.
Comparing CBD Forms – Oils, Capsules, Edibles, Topicals, And Vapes:
Each form of CBD has its own set of pros and cons. Understanding these differences can help you determine which one is best suited for your needs.
CBD oils offer flexibility in dosage, allowing you to adjust the amount based on your desired effects. The sublingual method of consumption ensures quick absorption, making it a suitable choice for those seeking fast relief. However, the taste of CBD oils can be off-putting for some individuals.
CBD capsules provide a convenient and discreet option for consistent dosing. They are tasteless and easy to swallow, making them ideal for individuals who are always on the go. However, the effects may take longer to kick in compared to CBD oils due to the digestive process.
CBD edibles offer a delicious way to consume CBD, making it enjoyable for those who dislike the taste of CBD oils. The slow-release effect can provide long-lasting relief, but the effects may take longer to manifest as the CBD needs to pass through the digestive system.
CBD topicals are excellent for targeted relief and skincare applications. They do not enter the bloodstream, making them suitable for localized pain management. However, they may not be as effective for conditions that require systemic effects.
CBD vapes provide the fastest relief due to the direct absorption of CBD into the lungs. The inhalation method offers a high bioavailability, allowing for quick and potent effects. However, vaping may not be suitable for everyone, especially those with respiratory issues.
Factors To Consider When Choosing A CBD Form:
When deciding on the best form of CBD for your needs, several factors come into play. Consider the following aspects:
1. Condition: Determine the purpose of CBD usage. Are you seeking relief from pain, anxiety, or sleep disorders? Different forms of CBD may be more suitable for specific conditions.
2. Onset and duration: Consider how quickly you need relief and how long you want the effects to last. Some forms of CBD offer immediate relief, while others provide a slow-release effect.
3. Dosage control: Determine if you prefer pre-measured dosages or the ability to customize your CBD intake. Some forms, like capsules, offer precise dosing, while others require more manual control.
4. Taste and preferences: Consider your taste preferences and lifestyle. CBD oils have a natural hemp flavor, while capsules and edibles offer a tasteless and convenient option.
5. Convenience: Evaluate the ease of use and portability of different CBD forms. Some forms may be more suitable for daily use or on-the-go consumption.
Benefits And Drawbacks Of Each CBD Form:
Each CBD form has its own set of benefits and drawbacks. Let's explore them in detail.
1. CBD Oils:
– Benefits: Versatile usage, customizable dosage, fast absorption, wide availability.
– Drawbacks: Natural hemp flavor, may require measurement and administration tools.
2. CBD Capsules:
– Benefits: Pre-measured dosages, tasteless, convenient, discreet.
– Drawbacks: Slower onset, limited dosage options, may contain additional ingredients.
3. CBD Edibles:
– Benefits: Tasty and enjoyable, slow-release effect, easy to incorporate into daily routine.
– Drawbacks: Longer onset, limited dosage options, may contain added sugars and calories.
4. CBD Topicals:
– Benefits: Targeted relief, suitable for skincare, non-invasive.
– Drawbacks: Limited efficacy for systemic issues, may require frequent reapplication.
5. CBD Vapes:
– Benefits: Fast-acting, high bioavailability, customizable dosage.
– Drawbacks: Inhalation method, potential respiratory concerns, limited availability.
Personal Preferences And Lifestyle Considerations:
Your personal preferences and lifestyle play a significant role in choosing the right CBD form. Consider the following factors:
1. Taste: If you are sensitive to flavors or dislike the natural taste of CBD, capsules or edibles might be a better choice.
2. Convenience: If you have a busy schedule or travel frequently, capsules or topicals may be more convenient options.
3. Immediate relief: If you need fast-acting effects, vapes or oils can provide quick relief due to their rapid absorption.
4. Avoiding inhalation: If you have respiratory issues or prefer not to inhale vapor, consider non-inhalable options like oils, capsules, or topicals.
CBD Dosage And Administration Methods:
Determining the right CBD dosage and administration method is crucial for achieving the desired effects. Start with a low dosage and gradually increase until you find the optimal dose. It's recommended to consult product labels, CBD calculators, or healthcare professionals for guidance.
Different administration methods have varying bioavailability and absorption rates. Sublingual administration (oils) and inhalation (vapes) offer higher bioavailability compared to oral ingestion (capsules and edibles). Topicals provide localized effects without entering the bloodstream.
Exploring CBD Product Quality And Safety:
When choosing a CBD product, it's essential to consider its quality and safety. Look for the following factors:
1. Source of CBD: Opt for products derived from organically grown hemp to ensure purity and minimize exposure to pesticides and chemicals.
2. Third-party testing: Choose products that undergo third-party testing to verify their potency, purity, and absence of contaminants.
3. Extraction method: CO2 extraction is considered the gold standard, as it produces clean and high-quality CBD without harmful solvents.
4. Product labeling: Check if the product provides clear and accurate information about CBD concentration, serving size, and any additional ingredients.
Consulting With A Healthcare Professional:
If you have any pre-existing medical conditions or are taking medications, it's important to consult with a healthcare professional before incorporating CBD into your wellness routine. They can provide personalized advice and ensure CBD does not interact with any medications or exacerbate existing health issues.
Conclusion: Finding The Best CBD Form For You
In conclusion, finding the best form of CBD depends on various factors, including your specific needs, preferences, and lifestyle. CBD oils, capsules, edibles, topicals, and vapes each offer unique advantages and drawbacks. Consider the onset time, duration, dosage control, taste preferences, and convenience when making your decision.
Remember to prioritize quality and safety by choosing products from reputable brands that undergo third-party testing. Lastly, consult with a healthcare professional to ensure CBD is a suitable option for you, especially if you have any underlying health conditions or are taking medications.
By taking the time to explore and understand the different forms of CBD, you can make an informed decision and find the best CBD form that works for you. Incorporating CBD into your wellness routine has the potential to bring relief and enhance your overall well-being. So, go ahead and embark on your journey to discover the incredible benefits of CBD!