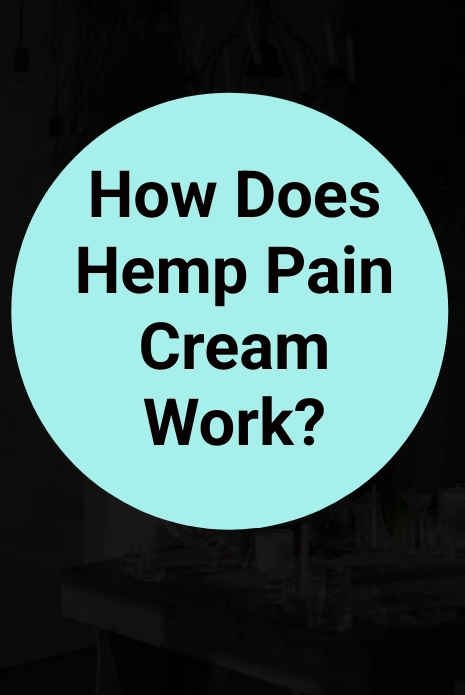 Are you tired of dealing with nagging pain that just won't go away? If so, you're not alone. Many people are searching for natural and effective ways to manage their pain, and that's where hemp pain cream comes in. But how exactly does it work?
Understanding Hemp Pain Cream
Hemp pain cream is made from the extract of the hemp plant, which contains a compound called cannabidiol (CBD). Unlike its cousin, tetrahydrocannabinol (THC), CBD does not have psychoactive effects. Instead, it offers a wide range of potential health benefits, including its ability to alleviate pain.
The Science Behind Hemp Pain Cream
When applied topically, hemp pain cream works by interacting with the body's endocannabinoid system (ECS). The ECS is a complex network of receptors located throughout the body, including the skin, immune system, and nervous system. Its main function is to regulate pain, inflammation, and other physiological processes.
The CBD in hemp pain cream binds to certain receptors in the ECS, namely the CB1 and CB2 receptors. By interacting with these receptors, CBD can help reduce pain signals and promote a sense of relaxation. This is why hemp pain cream is often used to target localized pain, such as muscle soreness or joint discomfort.
Key Ingredients In Hemp Pain Cream
In addition to CBD, hemp pain cream typically contains other natural ingredients that further enhance its effectiveness. Two common ingredients found in hemp pain creams are menthol and camphor.
Menthol is a natural compound derived from mint plants. It provides a cooling sensation when applied to the skin, which can help soothe discomfort. Menthol also has analgesic properties, meaning it can temporarily relieve pain.
Camphor, on the other hand, is a waxy substance derived from the camphor tree. It has a numbing effect when applied topically, which can help alleviate pain. Camphor also has anti-inflammatory properties, making it a valuable ingredient in hemp pain creams.
Benefits Of Using Hemp Pain Cream
There are several benefits to using hemp pain cream for pain management. Firstly, it offers a natural alternative to conventional pain relief options, such as over-the-counter painkillers or prescription medications. Hemp pain cream is derived from plant-based ingredients and is generally considered safe for topical use.
Secondly, hemp pain cream provides targeted relief. Unlike oral medications, which are distributed throughout the body, hemp pain cream can be applied directly to the affected area. This allows for faster and more localized relief, making it an ideal choice for muscle or joint pain.
Additionally, hemp pain cream is non-addictive and does not produce a "high" like THC-containing products. This makes it a suitable option for individuals who want to avoid the psychoactive effects of marijuana.
How To Use Hemp Pain Cream Effectively
To get the most out of your hemp pain cream, it's important to use it correctly. Here are some tips for effective application:
1. Start with clean, dry skin: Before applying hemp pain cream, make sure the area is clean and dry. This will help the cream absorb better into the skin.
2. Use the right amount: Apply a thin layer of hemp pain cream to the affected area. You don't need to slather it on – a little goes a long way.
3. Massage gently: After applying the cream, gently massage it into the skin using circular motions. This can help improve absorption and promote relaxation.
4. Follow the recommended dosage: Read the product label for dosage instructions. It's important not to exceed the recommended amount, as this may not improve efficacy and could lead to unwanted side effects.
5. Be patient: Hemp pain cream may take some time to work, so be patient and give it a chance. You may need to apply it consistently for a few days or weeks to experience the full benefits.
Potential Side Effects Of Hemp Pain Cream
While hemp pain cream is generally safe for topical use, it's important to be aware of potential side effects. Some individuals may experience skin irritation or allergic reactions to the ingredients in hemp pain cream. If you notice any redness, itching, or swelling, discontinue use and consult a healthcare professional.
Additionally, because hemp pain cream contains trace amounts of THC, there is a possibility of a positive drug test result. If you are subject to drug testing, it's important to consider this before using hemp pain cream.
Choosing The Right Hemp Pain Cream Product
With the growing popularity of hemp pain cream, there are now numerous products available on the market. To ensure you're getting a high-quality and effective product, consider the following factors:
1. Source of hemp: Look for hemp pain creams made from organically grown hemp. This reduces the risk of exposure to pesticides and other harmful chemicals.
2. CBD concentration: Check the product label for the CBD concentration. Higher concentrations may offer more potent pain relief, but it's important to start with a lower concentration to gauge your individual response.
3. Third-party testing: Choose a hemp pain cream that has been third-party tested for quality, purity, and potency. This ensures that the product is free from contaminants and accurately labeled.
4. Customer reviews: Read customer reviews and testimonials to get an idea of other people's experiences with the product. This can help you make an informed decision.
Frequently Asked Questions About Hemp Pain Cream
1. Is hemp pain cream legal? Hemp pain cream that contains less than 0.3% THC is legal in most states in the United States. However, it's important to check the specific regulations in your state or country.
2. Will hemp pain cream make me high? No, hemp pain cream does not produce a psychoactive effect or make you high. The THC content is minimal and not enough to cause intoxication.
3. Can I use hemp pain cream for chronic pain? Hemp pain cream can be used for both acute and chronic pain. However, if you have a chronic condition, it's best to consult with a healthcare professional for personalized advice.
4. Can I use hemp pain cream with other medications? While hemp pain cream is generally safe to use, it's always a good idea to consult with a healthcare professional if you're taking other medications to ensure there are no potential interactions.
Hemp Pain Cream Vs Other Pain Relief Options
Compared to other pain relief options, hemp pain cream offers several advantages. Unlike oral medications, it bypasses the digestive system and delivers relief directly to the affected area. This allows for faster pain relief and avoids potential side effects associated with oral medications.
Hemp pain cream is also a natural alternative to pharmaceutical painkillers, which often come with a long list of potential side effects and risks. It provides a gentler approach to pain management without the risk of addiction or dependency.
Additionally, hemp pain cream can be used in conjunction with other pain relief methods, such as physical therapy or exercise. It can complement these treatments by providing localized relief and reducing inflammation.
Conclusion
If you're tired of dealing with nagging pain and are looking for a natural and effective solution, hemp pain cream may be the answer. Its unique combination of CBD, menthol, and camphor offers targeted relief for muscle and joint pain. By interacting with the body's endocannabinoid system, hemp pain cream can help reduce pain signals and promote relaxation. Remember to choose a high-quality product, follow the recommended dosage, and be patient as you experience the relief you've been searching for. Say goodbye to pain and hello to a more comfortable life with hemp pain cream.