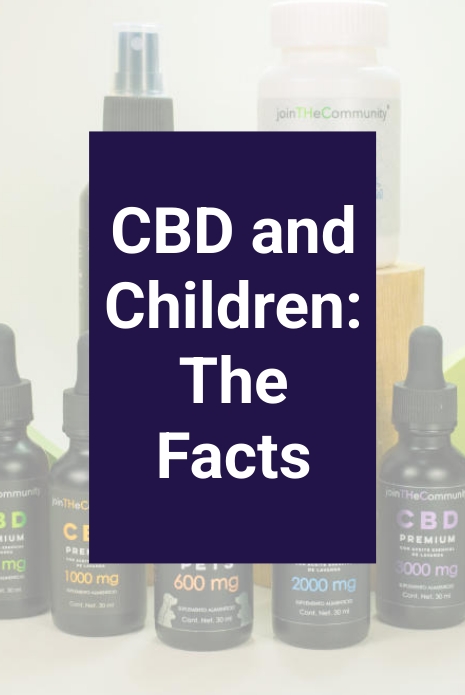 In recent years, CBD has become a hot topic in the world of health and wellness. But what about CBD and children? Many parents are now turning to CBD as a natural alternative to help support their children's well-being. CBD, or cannabidiol, is a non-psychoactive compound found in cannabis plants that has been shown to have a range of potential health benefits. From reducing anxiety and improving sleep to managing symptoms of epilepsy and ADHD, CBD has gained attention for its potential therapeutic effects. However, when it comes to children, there are still many questions and concerns that need to be addressed. This article will explore the current research and provide insights into the use of CBD for children, ensuring that parents are equipped with the knowledge they need to make informed decisions about their child's health.
Understanding The Potential Benefits Of CBD For Children
CBD has been touted for its potential benefits in children, and many parents are curious about its effectiveness. Research suggests that CBD may help manage symptoms of various conditions commonly seen in children. For children with anxiety, CBD may offer a natural and non-addictive alternative to traditional medications. Studies have shown that CBD can activate serotonin receptors in the brain, which may help reduce anxiety levels and promote a sense of calm and relaxation. Additionally, CBD has been found to have anti-inflammatory properties, which can be beneficial for children with conditions such as arthritis or autoimmune disorders.
Research And Studies On CBD Use For Children
Although research on CBD use for children is still limited, there have been some promising studies. For example, a study published in the New England Journal of Medicine found that CBD significantly reduced seizures in children with Dravet syndrome, a severe form of epilepsy. Another study conducted by the University of Colorado found that CBD oil reduced symptoms of ADHD in children. These studies, along with anecdotal evidence from parents, suggest that CBD may be a viable option for children with certain health conditions.
However, it's important to note that more research is needed to fully understand the long-term effects and optimal dosages of CBD for children. The current studies provide a glimpse into the potential benefits of CBD, but further investigation is required to establish its safety and effectiveness in pediatric populations.
Safety Considerations And Potential Side Effects Of CBD For Children
When considering any supplement or medication for children, safety is of utmost importance. CBD is generally considered safe for children when used in appropriate doses. However, like any substance, it is not without potential side effects. Some common side effects of CBD include drowsiness, dry mouth, and changes in appetite. These side effects are typically mild and temporary, but it's essential to monitor children closely when introducing CBD into their routine.
It's also crucial to source CBD products from reputable manufacturers to ensure quality and purity. Look for products that have been third-party tested for potency and contaminants. Additionally, it's advisable to start with a low dose and gradually increase as needed, under the guidance of a healthcare professional.
Legal Considerations For Using CBD With Children
The legality of CBD varies from country to country and even within different states or regions. In some places, CBD is fully legal, while in others, it may be restricted or require a prescription. It's essential for parents to familiarize themselves with the laws and regulations regarding CBD in their specific location.
Before giving CBD to a child, it's important to consult with a healthcare professional who is knowledgeable about CBD and its potential benefits and risks. They can provide guidance on dosage, potential interactions with other medications, and help monitor the child's progress.
How To Administer CBD To Children
CBD is available in various forms, including oils, capsules, gummies, and topicals. The best method of administration will depend on the child's preference and the condition being treated. CBD oil is one of the most popular options as it allows for precise dosing and can be easily mixed with food or beverages. Some children may prefer gummies or capsules, which offer a convenient and discreet way to take CBD. For topical use, CBD creams or lotions can be applied directly to the skin to target specific areas or provide localized relief.
When administering CBD to children, it's important to follow the manufacturer's instructions and consult with a healthcare professional if unsure about the appropriate dosage or method of use.
Parent Testimonials And Success Stories With CBD For Children
Many parents have shared their positive experiences with using CBD for their children. From improved sleep and reduced anxiety to better focus and decreased seizure activity, there are numerous success stories that highlight the potential benefits of CBD. These testimonials can provide valuable insights and reassurance for parents who are considering CBD for their children. However, it's important to remember that every child is unique, and individual results may vary. What works for one child may not necessarily work for another, so it's important to approach CBD use with an open mind and realistic expectations.
CBD Products Specifically Designed For Children
As the popularity of CBD continues to grow, more companies are developing CBD products specifically designed for children. These products often come in lower concentrations to ensure safe and effective dosing for young users. Additionally, they may be formulated with child-friendly flavors or textures to make them more appealing. When choosing CBD products for children, it's crucial to select reputable brands that prioritize quality and safety.
Consultation With Healthcare Professionals Before Using CBD With Children
Before starting CBD treatment for a child, it's crucial to consult with a healthcare professional who is familiar with CBD and its potential benefits. They can provide personalized advice based on the child's specific needs and medical history. Additionally, healthcare professionals can help monitor the child's progress and make any necessary adjustments to the treatment plan. Open communication and collaboration between parents and healthcare professionals are essential to ensure the best possible outcomes for children using CBD.
Conclusion: Weighing The Pros And Cons Of CBD For Children
CBD holds promise as a natural alternative for supporting children's well-being and managing various health conditions. While research is still ongoing, the existing studies and anecdotal evidence suggest that CBD may offer a range of potential benefits. However, it's crucial for parents to approach CBD use with caution and seek guidance from healthcare professionals. Safety considerations, legal regulations, and individual factors should all be taken into account when deciding to use CBD for children. By weighing the pros and cons and making informed decisions, parents can explore the potential benefits of CBD while prioritizing their child's health and well-being.