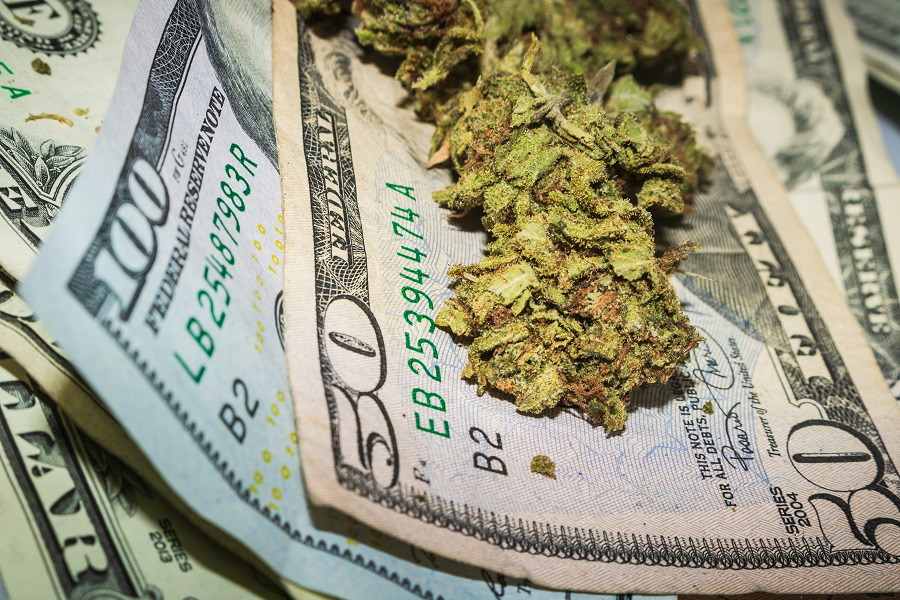 Cannabis is becoming legal around the country, and that means an opportunity for business people. The companies that make their mark now will be in a prime position to expand into new states as legalization continues. There are so many options in the cannabis space that it can be hard to know what to do.
Types of Cannabis Businesses to Start
The first step to starting your cannabis business is choosing what you want to do. There are plenty of pieces in the marijuana supply chain. Finding the right fit for you will help your business last in the long run.
Marijuana Production (Grow Ops)
In order for anyone to sell marijuana, someone needs to grow the bud. If you're not in an area with a perfect climate, growing bud requires some serious indoor infrastructure. If you like plants and want something that gives you some free time, marijuana grow ops are a great option. You can stay behind the scenes and the day-to-day work is minimal. Just be prepared for long days around harvest time and the potential for pests to impact your profit.
Processing Marijuana
If you liked chemistry during school, processing marijuana provides a lot of opportunities to explore. You can just cure the bud or you can go so far as to produce high-quality cannabis concentrates. Either way, how cannabis is processed plays a huge part in the final product quality. If you enjoy the nitty-gritty and strive for perfection, you can develop a thriving processing business.
Selling Medical Marijuana
Medical marijuana is legal in some aspects in 47 states. If you want to work with marijuana in one of the states where recreational bud isn't yet legal, this is the way to go. You get to help people with debilitating conditions, you get to work with your favorite plant, and you'll be first in line when your state eventually legalizes marijuana recreationally.
Selling Recreational Marijuana
In states where recreational marijuana is legal, selling bud is perfect for outgoing individuals. You'll have the opportunity to work with both suppliers and customers. You'll have the chance to educate people about your favorite flower. Even better, you'll be able to create the exact kind of atmosphere to attract customers you like.
Delivering Marijuana
Delivering marijuana is one of the most flexible options in the cannabis business. It's easy to wrap a delivery business into an established dispensary. On the other hand, delivery businesses can stand on their own, making profit through a service instead of a product. Delivery services of all kinds are more popular than ever; starting your own will get you out ahead of the curve.
Selling Marijuana Accessories
If you aren't interested in working with the plants themselves, marijuana accessories are an important part of the culture. As an artist, you can make your own pipes, bongs, and other products. You can also act as a retailer for other artists in your community. It's an easy way to play a roll in the cannabis community without getting licensed yourself.
Starting a Business
No matter what business you choose to start, it's important to register your company legally. Creating a business entity, like a corporation or an LLC, will help keep your business and personal assets separate. There's always a risk when it comes to starting a new business, after all. Plus, many licensing and loan organizations prefer to work with official businesses over sole proprietorships. You'll see quicker bureaucratic results as a business entity.
1. Make a Business Plan
Every business should have a business plan. This is a roadmap for how your business will be run, now and in the future. Every business plan should have the following pieces:
• Executive Summary: The overview of the whole plan.
• Company Description: How your company is set up.
• Products and Services: What exactly you provide to your customers.
• Market Analysis: An in-depth look at your competition, your customers, and your local conditions.
• Strategy and Implementation: How your company does what it does.
• Organization and Management Team: Who's a part of your company, now and in the future.
• Financial Plan and Projections: Budgets and expected financial needs.
Some states like California require that you submit a business plan in order to get your marijuana license. Making sure your plan is thorough and well-thought-out will go a long way to making sure your business is successful.
2. Find a Location
Before you even start applying for necessary licenses, you should decide where you're going to operate. Every city and county government can potentially put their own marijuana regulations in place. It's important to choose your location before you start anything else so you can make sure you follow the local laws. You can also look for locations that have looser regulations or lower sales tax to make your life simpler down the road.
3. Get the Help You Need
Starting a business is a lot of work. If you're great with numbers, marketing, sales, and bureaucracy, then you might be able to handle the whole process on your own. However, there's no shame in getting some help.
Local business lawyers and your Chamber of Commerce will be able to help you navigate legal requirements. A good accountant can help you balance your books and work towards a steady cashflow. You can even hire an assistant or a general manager to help take care of administrative tasks. Trying to do everything yourself leads to things being neglected or forgotten. Getting the help you need in the beginning will keep things running smoothly.
4. Getting Licenses
Regardless of what type of business you choose to start, you'll need to get state and local licenses. Exactly what licenses you'll need will vary wildly from state to state. Different cannabis businesses also require different licenses. The permits for a grow op are much different from those of an edibles business.
In order to get your cannabis license, there are a variety of things you might need to provide. Check your state and local ordinances to see which of the below are necessary for you.
Potential Licensure Requirements
• A business registered with the state
• A tax ID number for your business (also known as an EIN)
• A general business license
• A sales tax permit
• A health department permit for food preparation
• A zoning permit
You will also need to follow strict regulations for how your business is set up. Your employees may need to have specific licenses to work with marijuana. You will likely need to have security plans and a tracking system for your sales. Many states have rules for how much cannabis a single person can buy in a given period, and they use specific tracking systems for that purpose.
Since every state has its own requirements, you should do your research. Local and state websites give great explanations of the requirements for all sorts of businesses. If you have questions about your local requirements, you can always reach out to local resources like the Chamber of Commerce, too.
There's never been a better time to start your own cannabis business. Whether you want to grow, sell, deliver, or process marijuana, there's an opportunity for you. Your budding passion can become your career if you're willing to put in the time.