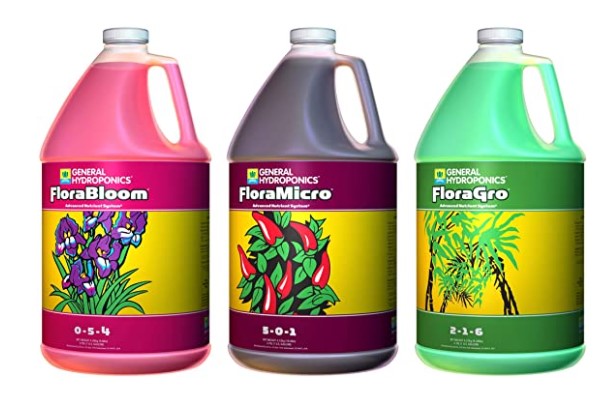 Hydroponic growing is one of the most efficient methods of growing cannabis. If you have a firm grasp on chemistry and plant biology, you can get incredible yields from your plants. It's a little more hands-on than other growing methods, though. That's because you have to provide all the nutrients for your plants manually.
Choosing the right hydroponic nutrients for your plants will make all the difference. Good hydroponic nutrients take a lot of the guesswork out of hydroponic growing. The following hydroponic nutrients are the best of the best, and they'll help you get the most out of your plants without the stress.
Best Dry Hydroponic Nutrients for Cannabis
The simplest way to receive your nutrients is in powder form. Hydroponic powder nutrients come in tubs or bags, and need to be mixed with water. It's the cheapest way to get your nutrients, because you're not paying for water weight. On the other hand, you need to carefully follow directions so you don't make the solution too strong or too weak. If you're careful and ready to measure, dry nutrients are the way to go.
General Hydroponics is one of the preeminent brands when it comes to hydroponic fertilization. They provide a wide variety of fertilizers, but if you're looking for something simple, MaxiGro and MaxiBloom are the way to go. These two options are designed to cover the growing and blooming phases for your plants, giving you complete coverage. They also include a variety of micronutrients, so you aren't accidentally starving your plants.
MaxiGro is a 10-4-14 N-P-K ratio, while MaxiBloom is 5-15-14. The shift between the two gives your plants the nutrients they need to thrive in different life stages. You can get both plants in 2.2 lb, 16 lb, and 50 lb bags. With an average ratio of a teaspoon (about 1/6 of an ounce) per gallon of water, these will last you a long time.  No matter how big your operation is, you can use MaxiGro and MaxiBloom nutrients effectively in your hydro grow.
Flower Fuel is designed specifically to accent a base fertilizer. It's a premium bloom-booster that lets you keep costs down by using a standard two or three part nutrient mix most of the time. During flowering, a tiny amount of Flower Fuel will lead to impressive blooms every time.
Flower Fuel's N-P-K ratio is 1-34-32 – heavily leaning towards the phosphorous and potassium flowers need for growth. Using Flower Fuel with another nitrogen-heavy fertilizer will lead to a harvest that's sure to impress. A quarter teaspoon (just over a gram) of this super-concentrated powder in a gallon of water is all you need. You can get it in 250 g, 1 kg, 5 kg, and 20 kg containers, so you never have to worry about running out.
Best Liquid Hydroponic Nutrients
Liquid nutrients are a little simpler to use. They've already been mixed with water, so all you need to do is measure the right amount and give the water a good stir. Smaller or home grows often start with liquid hydro nutrients.
Another General Hydroponics product, their Flora Grow, Bloom and Micro fertilizer set covers everything you need. These three nutrient blends cover everything you need during your grow, from seeds to flowers. All three fertilizers are pH-balanced and include micronutrients. Best of all, they have clear feeding schedules included. Even NASA has used these nutrients for growing things on the Space Station!
Flora Grow is a 2-1-6 ratio, while Flora Micro is 5-0-1, and Flora Bloom is 0-5-4. The combination provides everything your plants could need, and following the provided schedule leads to stellar results. Whether you're growing bare-root plants or working with a growing medium, these liquid nutrients cover every hydroponic situation. On average, a teaspoon per gallon is more than enough, and you can buy by the pint through 55 gallon drums.
Coming from close to home, the Fox Farm FX14049 series is made in the US. The series is split into three stages: growing, early flowering, and late flowering. This gives you more specific control over the nutrients given at every stage, without having to deal with additional supplementation. It's great for people who want to be specific without juggling different systems.
Grow Big, the first in the series, has a ratio of 6-4-4. Tiger Bloom, designed for early flowering, has a 2-8-4 ratio. Finally, Big Bloom, which finishes things off, has a milder ratio of 0-5-7. All three are great for all hydroponic setups, or even watering soil-based systems. Best of all, these nutrients come in sizes from quarts to 55 gallon tubs.
Best Organic Hydroponic Nutrients
If you're looking to go organic, you'll find some people much more interested in your harvest. Hydroponic systems may seem like they're the opposite of organic, but that's not the case. With the right nutrients, you can have a completely organic harvest. Just make sure your nutrients are truly organic, like these options below.
Uprising Grow Fertilizer is an impressive dry organic option. Its proprietary blend is designed to be used in hydroponic systems. This powder hydroponic nutrient blend is the first step in a system of nutrients that will carry your organic plants through their whole lives. The full series includes blooming and a foundation blend, as well.
The Uprising Grow fertilizer is a 6-5-1.5 ratio, so it covers everything growing green things need. You can get it in 20 and 40 lb sizes, so you definitely won't run out. It's all-natural and completely organic, providing a diverse and complete nutrient base – micronutrients included.
The Bush Doctor line of fertilizers from FoxFarm includes some of the best organic liquid hydroponic nutrients out there. The Wholly Mackerel and Kelp Me Kelp You bottles are particularly useful for hydroponic growers. They cover delicate times and overall growth, while consisting entirely of organic, natural ingredients.
Wholly Mackerel is a fish-based fertilizer that's designed for young plants and transplants. Coming in sizes from a pint to a gallon, you can get the amount that works for you. Just a tablespoon in a gallon of water will shepherd your plants through their youth into adulthood. Meanwhile, Kelp Me Kelp You is a great seaweed-based plant food. One to two teaspoons in a gallon of water is perfect in a hydroponic system. Both of these fertilizers can be used with FoxFarm's Grow Big line, which is also wholly organic.
DIY Organic Hydroponic Nutrients
If you want to keep your organic grow a completely in-house endeavor, you can make your own organic nutrients. This can be a little tricky at first. Always test your mixes on just a few plants before you go all-in. This will help you make sure your blends develop healthy, hardy plants before you waste seeds and time.
Seaweed Tea
This is the simplest recipe imaginable if you're near the ocean. All you need is this:
Six ounces seaweed
Five teaspoons Epsom salts
5 gallons of water
5-gallon bucket
Take six ounces of seaweed and wrap it in some cheesecloth (or a similar loose, organic fabric like cotton). Tie up the bundle and place it in a five-gallon bucket full of water, then leave it in the sun for five days. This essentially makes a kelp tea, full of nutrients for your plants.
Once your five days are up, mix the Epsom salts into the mix. If you have an EC and pH reader, check your levels and make sure they're in safe ranges. Then add your seaweed tea to your reservoir one gallon at a time, and measure EC and pH again each time until you reach the top end of safe. Your plants should love it.
Farmer's Friend
This one is a little more complex when it comes to ingredients, but it's ready more quickly. It's great for large operations.
4 lbs seed meal
1 lb agricultural lime
1 lb gypsum
1 lb dolomitic lime
1 lb bone meal
1 lb dried kelp
Five gallons of water
Combine all ingredients until you have a thin liquid. Use six ounces for every hundred gallons of water – smaller systems may need to halve the recipe so you don't have too much left over.
Compost Tea
If you have a lot of outdoor space, compost tea is the way to go. It's organic and it helps you dispose of other materials at the same time.
Make a compost heap and turn it every few weeks. When you have some compost that's dark brown and just about dirt, add it to a five-gallon bucket until it's about a third full. Add water to the bucket until it's full – aquarium water or rain water are great for this. Let the mixture steep for three or four days. Strain out the compost and put it back in your heap. For every 50 gallons of water in your system, add half a gallon of compost tea.
Hydroponic systems are versatile. Whether you want to use completely organic options or rely on pre-mixed, balanced fertilizers, there's something for you. Just make sure your nutrients are designed for a hydroponic system, and you'll be growing in no time.