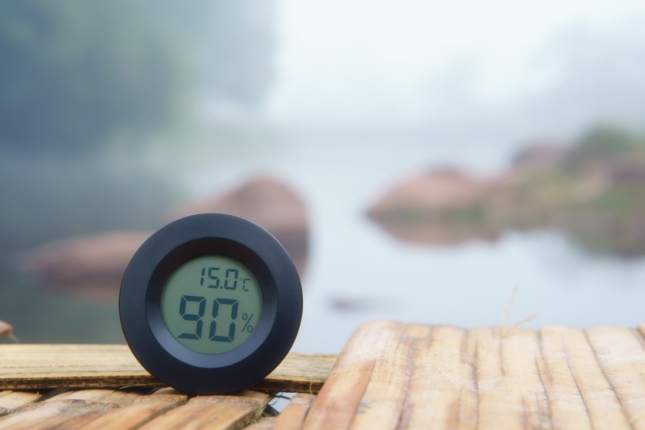 If you're looking to build a quality grow room, investing in a quality hygrometer is vital for the health of your plants. Keeping track of and adjusting humidity levels on a daily basis is a vital skill every grower should possess. You can use some of the most refined techniques when it comes to growing your cannabis, however, this will not have any positive effect if relative humidity and temperature are not controlled as well.
The final results of an indoor growing operation are greatly influenced by how you keep track of certain parameters such as humidity, temperature, and air quality. A hygrometer offers a visual reminder of the relative humidity levels in your grow room. It's important to know that temperature and relative humidity are closely related.
When discussing relative humidity, it's defined as the ratio of partial pressure of water vapor to the maximum vapor pressure of water at the same temperature, which explains why warm air tends to hold more water vapor than cold air. It's also important to extract some of this warm air from our grow rooms so cool air will be forced to enter, as too much water vapor in the air can be detrimental to the health of cannabis plants.
1. Habor Indoor Thermometer and Superior Mini Digital Hygrometer (2 Pack)
This Habor mini digital hygrometer is a great option for almost any grower. With 24 sensitive vents, the device accurately measures temperature and humidity levels at every 10 second interval. With ultra-accurate readings and a high temperature and humidity range (32°F to 122°F and 20% to 95% humidity), this product will not disappoint. The temperature function on this device measures with an accuracy of ±2.7°F and the humidity sensor has an accuracy of ±5%. It also features a clear LCD display, allowing for easy operation and readability-even from a distance.
You can get started using this item right away, as it comes with its own batteries that have been designed to last for 6 months of consistent, operational use. The Habor mini hygrometer measures relative humidity and temperature levels consistently enough so you can adjust their respective levels whenever you need to, something that is very important for the health of cannabis plants. For extra convenience, this set also features a variety of mounting options with magnet attachment, wall hanging, and table standing options.
This makes it convenient for almost any grow room. The price for this set of two mini digital hygrometers retails for the affordable price of $15.99 USD, meaning the health of your plants won't come before the health of your wallet.
2. Oasis OH-2 Digital Hygrometer With Clip
This super-sleek device is a perfect option for most grow rooms. The convenient velcro mount allows you to stick this device pretty much anywhere and move it whenever you need to. The Oasis digital hygrometer is also guaranteed for a full 5 years of operational use and is one of the best hygrometers on the market toda. With an accuracy of ±3%, you can be sure you're always getting accurate readings about the humidity of your grow room. This device also measures temperature and can be changed between both Celsius and Fahrenheit according to your preferences. The price of this product is relatively steep as it retails for $29.95 USD.
3. ThermoPro Indoor/Outdoor Digital Temperature and Humidity Monitor with Jumbo Backlight Touchscreen
The ThermoPro digital hygrometer wirelessly measures humidity and temperature both indoors and outdoors simultaneously, making it one of the best hygrometers on the market. This model is both cold-resistant, and weatherproof, making it a viable option for both indoor and outdoor grow rooms. With an upgraded lithium battery, the ThermoPro efficiently transmits accurate readings in the rain and at temperatures as low as -31°F.
This product has a remote range of up to 200 ft and a strong signal penetration which allows it to measure relative humidity and temperature at 4 different locations simultaneously. This is perfect for growers with large setups as humidity often varies throughout their grow rooms. The large 4-inch backlit LCD display on the ThermoPro also allows for great visibility, which means that it can be read in the dark and from far distances.
At all times, the maximum and minimum temperature and humidity levels are recorded giving growers more data than most other hygrometers which measure values at instantaneous moments. Trend arrows also indicate whether humidity and temperatures are projected to rise or fall. This allows you to adjust your temperature and humidity levels in advance of a peak or dip as to maintain the overall health of your plants.
Finally, the ThermoPro is also environmentally friendly, with its lithium battery able to be recharged with a standard USB charging cable. The ThermoPro retails for a very affordable price of $25.99 USD, especially given all of the features it comes with. Should you have any problems with this device, the ThermoPro also offers a handy 3-year warranty.
4. ThermoPro Digital and Wireless Indoor/Outdoor Hygrometer and Thermometer
The intelligent design of this wireless hygrometer allows the device to simultaneously measure indoor and outdoor humidity levels and temperatures. Beneficial trend lines also allow you to see whether levels are projected to rise or fall, allowing you to make adjustments ahead of time for optimal plant health. This hygrometer has a remote range of up to 200 ft and a strong signal penetration which allows it to measure relative humidity and temperature at 4 different locations simultaneously. This is very important for growers with larger setups and grow rooms as humidity and temperature often vary widely at different points in the room.
The ThermoPro is also able to be wall mounted or sat on a tabletop and has a large display, perfect for reading even at far distances. It runs on 4 AAA batteries, which are conveniently included with this set. By purchasing this product, you can get started using it right away. This hygrometer retails for a budget-friendly price of $18.99 USD and the only complaint is that the accuracy can be questionable in bad weather. However, the manufacturer does offer a 3-year warranty in the event it malfunctions.
Cannabis plants need varying levels of humidity depending on their stage of life, so it's imperative to invest in a quality hygrometer so that your plants can remain as healthy as possible. As seedlings, cannabis plants need humidity levels of 65-70% since their root systems are not established yet. During the vegetation period, humidity levels can be decreased by 5% every week because the roots are able to absorb more water which is evaporated out of the leaves.
During the flowering period, humidity levels need to be lowered between 40-50%. Humidity levels should be as low as possible 1 to 2 weeks before harvest in order to improve yield, flavor, and appearance. Although the issue of humidity can be confusing for most growers, it is vital to maintaining healthy plants so they can produce a high-quality yield. Hopefully, this breakdown will make it easier to choose the right hygrometer for your grow room needs.