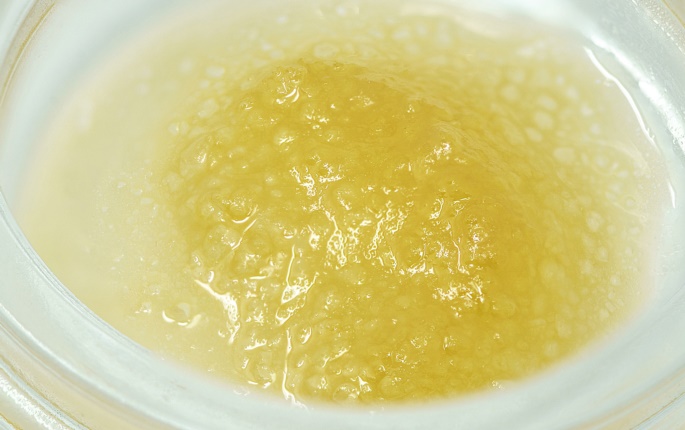 "Terp sauce" is one of the most potent forms of Cannabis out there. It is an oil-based product packed with terpenes (hence the name) and cannabinoids. These increase the potency of the final product and leads to a different experience than traditionally smoking Cannabis.
Terpenes are compounds found in the resin of Cannabis plants which provide it with its unique flavor and aroma. Each strain of the plant has its own flavor profile due to the presence of these such compounds. "Terp sauce" will normally contain twice the levels of terpenes found in standard concentrates and has a very intense flavor.
"Terp sauce" is consumed by "dabbing," or the practice of heating up and inhaling small quantities of cannabis oil or resin. The end product is typically placed in a "dab rig" and then heated up by using a blowtorch or other similar heating device. The vaporized oil is inhaled by the user for a very intense high that hits extremely quickly.
This particular cannabis concentrate synergizes to create a very balanced and therapeutic high, which is why it is so popular. Terp wax is now the king of cannabis concentrates because of the full-spectrum cannabis experience it gives its user.
Terp wax is made by first obtaining a high-quality strain of Cannabis. The more terpenes there are in the strain, the higher quality the end product will be. Next, the cannabis flowers are flash-frozen to preserve their natural flavors and aromas. Then, a chemical solvent such as butane is used to obtain its extract. This is then lightly torched to burn off the rest of the solvent and stored slightly above room temperature. The next step is where the magic happens. After about two or three weeks of "curing," THC crystals will begin to form, causing the terpenes to rise into a sticky layer on top. This is once again purged to remove any remaining solvent and then packaged for sale. The end product is a golden "sauce" with an extremely high terpene and cannabinoid content.
A wide array of terp sauces can be bought under the table, however, many dispensaries offer products that are extremely high in quality. You can buy it in its natural form or in a vape cartridge called a "sauce cart." This allows one to discreetly enjoy their product by vaporizing it in a small, handheld device. Many people really enjoy terp waxes and oils because of their very intense flavor profile. It is one of the most flavorsome ways to enjoy your cannabis product and can lead to much stronger effects as opposed to smoking it traditionally.
From edibles to wax, crumble, and shatter–new ways of consuming Cannabis are popping up all the time. However, it does not seem like sauce will be going anywhere. It is one of the most desirable Cannabis products and new and more intense versions are being made every day. There are even several flavors available due to the various terpene profiles of different strains, so there definitely is an option for everyone looking to try it.