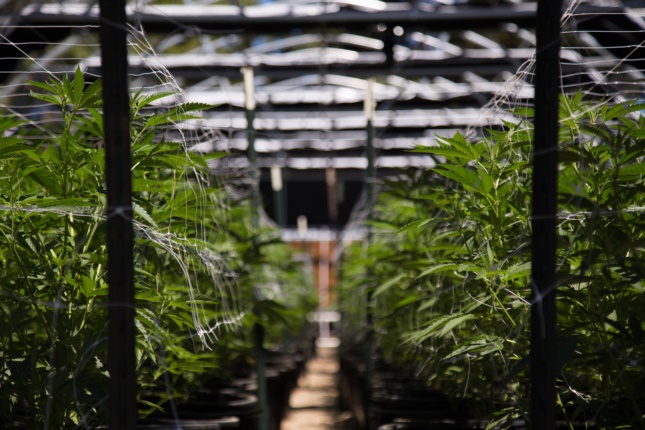 There are dozens of methods for growing cannabis. Some are simple and hands-off, while others take more planning. If you're looking for a method to maximize the efficiency of your grow, the Sea of Green (SOG) method is worth a look. If you want to make the most of a small space, Sea of Green training can help you get more bud, more quickly.
What Is the Sea of Green Training Method?
There are two basic ways to get all you can out of your square footage. One option is to train a few plants to grow very large and fill the entire room. The other option is to use many small plants packed closely together. The Sea of Green (SOG) method takes the second path. You pack many small plants close together, so your grow room looks like a green sea.
Sea of Green is also useful because it shortens your overall grow time. In order to keep plants small, you keep the vegetation phase as short as one or two weeks. You switch into the flowering stage early, so that the maximum amount of growth gets funneled into the buds.
When to Choose the Sea of Green Training Method
If you're space-constrained, want results quickly and you're able to care for many plants, SOG is perfect for you. It does take more work on your end. You need to be able to put in more time or some infrastructure like automatic watering if you want to use SOG. Many small plants are needier than fewer, larger plants, and there are more chances for things to go wrong. However, the payoff is worth the extra work, if you're willing to do it.
Equipment to Manage SOG Growing
The SOG method takes some pre-grow setup. Having the right equipment from the beginning can save you time and stress later. The vegetative phase is so short that you don't have time to make too many mistakes.
Carbon Filters
The more plants you have, the stronger the smell they'll produce. The goal of SOG is to get the maximum density of plants per cubic foot. That means there's going to be a high level of marijuana scent being produced by a successful SOG grow. Adding a carbon filter to your ventilation system will help with this.
Automatic Watering
With the SOG method, plants are densely packed. It quickly becomes difficult to reach individual plants in a SOG grow, so installing a watering system can make your life easier. Regardless of whether you include a timer, using drip emitter feeders will help you water every plant equally. Automatic watering can take care of your many plants for you.
Light Reflectors
The more light you can give your plants, the better. The plants at the edge of the grow may not get as much light as those in the center. Using light reflectors can rescue light that would otherwise be absorbed by the walls of the grow room. The reflectors will send light back to the edge plants and help ensure even growth. This keeps your canopy even and helps maximize the amount of bud you harvest at the end of the grow.
Many Tall, Narrow, Square Pots
Last, but most importantly, it's best to grow SOG plants in individual pots. You want to keep the plants close together, after all. If too many plants are kept that close together in a single pot, one plant will tend to grow a little more efficiently than the others. You will see uneven development. Instead, keep each plant in its own pot, and you don't have to worry about nutrient thieves. Each plant will get the precise amount you measure out, instead of too much or too little.
Also, the shape of the pot matters. You want each plant to have as much room as possible, even with the SOG constraints. Using round pots helps you avoid wasting space. Square pots lose the volume of space where the corners of pots meet. You should also use tall pots, to give your plants more soil in the same square footage. You're thinking in 3D, not 2D space with the SOG method.
How to Do the SOG Method
So how do you actually do the SOG method of training? First, you need to choose the right cannabis plants. Since the goal of SOG grows is to keep plants small, you should look for compact strains. Indica plants lend themselves to SOG growing, because of their small, compact forms.
Sativa plants can work, but you need to keep a close eye on them. Sativa plants like to grow big and fast. If you're using Sativa strains in your SOG grow, you might go with as little as seven days in the vegetation phase.
Once you've chosen a strain, you can choose how to start off your plants. If you have to germinate seeds, that adds time to your grow. Clones are ideal for the SOG method. Once your clones develop roots, you're ready for the vegetative phase. You can also use autoflowering strains. Their short lifespan lets you grow them from seed in their pots and still keep your grow time down.
Next, it's time to set up your grow room. On average, you should pack in about one plant per square foot. The goal of SOG growing is to build an even canopy. The tops of the plants should remain even with each other, so all the light gets put to use. The one-plant-per-foot rule is the sweet spot where the tops of plants are close together without crowding each other out. The buds are found at the top of the plant, so you don't need to worry about the lower branches affecting your harvest.
Remember to add your automatic watering system right away. The goal is for your plants to form a thick, dense canopy, so watering them by hand will quickly become tricky. Placing drip hoses immediately will make your life easier in the long run.
Once your plants are in place, you can start a traditional 18-6 or 20-4 lighting pattern. You're working on the short SOG vegetative phase. If you're working with autoflowering plants, you're done! The plants will automatically switch to the flowering stage in a few weeks, no matter what.
If you're using regular cannabis, you can switch your plants from the vegetative phase to flowering once they hit about 6-8 inches tall. Cannabis usually stretches during the flowering stage, so don't worry if your plants seem small. The goal is to keep them under two feet tall, so that they put all their energy into the buds. Once the plants are in the flowering stage, the flowers will progress the way they do in a regular grow. Keep an eye on the trichomes to know when to chop your plants. Don't be surprised when you're harvesting beautiful buds in eight weeks or less – that's the beauty of the SOG method.
If you're ready to take the next step with your grows, SOG growing might be a perfect choice. With this method, you can maximize your harvest for the space you have, and cut down the time to flower. SOG growing is simple, even if you have prior grow experience. You can get more out of your grow room with a beautiful green sea of plants in less than two months.