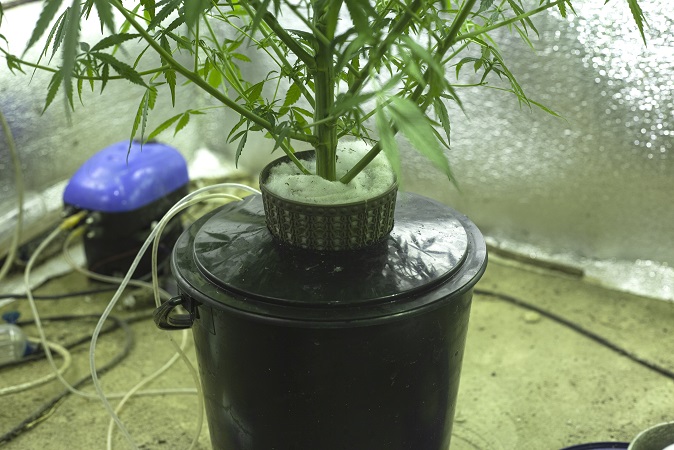 Hydroponics is the process of growing plants in sand, gravel, or liquid, with added nutrients, but without soil. Hydroponic growing provides a great option for growing cannabis. It requires less space, can be done indoors, and gives the plants improved access and absorption to nutrients and oxygen.
About Hydroponic Systems
Each hydroponic system uses similar equipment and growth mediums. A growth medium describes the substance that is used as the substrate for growing your cannabis' root system. This can include clay pebbles, Rockwool, perlite, coco coir, vermiculite, pine shavings, floral foam, river rock, rice hulls, and many other options. Your choice of growth medium (amongst other factors) will determine how well your strain of cannabis grows.
Through a hydroponic system, the plants have direct and unlimited access to water, oxygen, and a strong nutrient base. Each plant will reside in a reservoir or net pot with a growing medium that is suspended above, near or in the water base. In this method, the plant roots have direct or near direct contact with the water and nutrients they need.
There are multiple hydroponic systems that can be used to successfully grow your crop of cannabis. While some may find growing in a traditional method simpler, requiring little equipment and relying on nature for plant health, hydroponics can be an option that gives beginning growers more control over their crop and the ability to more carefully monitor the nutrition and health of their plants.
Why Choose Hydroponic Growing?
Traditional crop growth is primarily reliant on two things: soil composition and the weather. Depending on your geographic location, the soil available to you for growing your cannabis crop may not be the best option. Due to erosion and past plant habitats, soil composition can be completely unpredictable.
And we all know that the weather can be either our worst enemy or best friend – it's unpredictability makes it difficult to depend on when cultivating any type of crop but particularly cannabis. Cannabis primarily thrives in high temperatures with dry environments. As cannabis becomes legal in states with more varying ecosystems, traditional crop growth may not even be an option.
Hydroponic systems are a huge investment in terms of time and money, but growing any crop requires a deep commitment to its health and well-being. Cannabis is also a plant that requires a balanced environment to grow well, including light, heat, cooling, nutrients, oxygen, and freshwater.
Hydroponics gives cannabis growers an opportunity to provide a perfectly balanced environment for their crop. With the proper monitoring, feeding, and care, a hydroponically based crop system can yield some of the healthiest, most productive cannabis crops you can find. Let's start by examining the five main types of hydroponic systems.
The 5 Types of Residential Hydroponics
DWC
The first type of hydroponic is Deep Water Culture (DWC). It is by far the easiest of the hydroponic systems to use. The plants are suspended over the water with net pots and the roots are fully submerged in the water reservoir. DWC is inexpensive, easy to maintain, and produces less waste.
Wicking
The second hydroponic option is called the wicking system. This is generally considered a beginner's system as well. In this system, the plant is placed in a reservoir of growth medium with a string or felt piece sticking out the bottom and into the water/nutrient mix below. The wick acts as a pipeline to directly feed the plant.
NTF
In the Nutrient Film Technique, the plants are grown in net pots that rest in a channel without the water/nutrient base. The water/nutrient base includes an air stone and air pump to maintain high levels of oxygen. A timer is set, and the water/nutrient base is flushed past the roots of the plants and then drains back into the reservoir to be recycled. This leaves a thin film of nutrients on the plant roots without submerging them.
Ebb & Flow
The Ebb and Flow system (sometimes called flood and drain) starts by securing your plants in a growth medium inside a hydroponics tray. Then, in cycles, the water, nutrients, and oxygen are flooded through the tray. This gives your plants a burst of nutrition and gravity simply pulls the excess water down out of the tray for use in the next cycle.
Finally, we have the most expensive yet most productive hydroponic system: Aeroponics. In this system, the plants are suspended in the air (which looks pretty cool btw). The aeroponic sprayers either douse the roots on a cyclical basis or spray a continuous fine mist over the plants.
This helps growers avoid over-saturation of the plants and keeps the plants continuously fed with highly oxygenated nutrients.
Of these five types, deep water culture seems to be the most popular choice among cannabis growers..
How Does DWC (Deep Water Culture) Work?
As one of the most popular options, Deep Water Culture works very simply. Let's examine how to set up this system in deeper detail.
Steps to Setting Up A Deep-Water Culture System
Step 1. First, you'll need to secure reservoirs, net pots, growth medium, air stone, air pump, nutrient solution, and distilled water. Each reservoir will hold a predetermined amount of water and nutrient solution that will be cycled.
Step 2. Begin by carefully placing your plants in the net pots with the roots extending through the slits.
Step 3. Next, fill your net pots with your chosen growing medium. The most popular seem to be clay, Rockwool, and coco coir. Set the pots aside.
Step 4. Then fill your reservoirs with the right balance of fresh or distilled water (or spring water if you are willing to foot the bill) and nutrients.
Step 5. Next, install your air stone and air pump for oxygen circulation. The oxygenation of the roots is critical for optimal growth. The air stone and air pump must run 24/7 to ensure consistent root exposure to fresh oxygen.
Once the system is operational, it's essential to check and maintain the pH balance of the water/nutrient solution for your plants. If it's not balanced, the pH can damage the plants and the plants may not be able to absorb enough nutrients. The growth medium must be taken into consideration when finding your pH balance as well.
The plants are placed in a hole in the reservoir. Until the plant roots can reach the water/nutrient solution in the reservoir, you'll need to hand-water the plants. Once the roots have reached the solution, you won't need to water the plants. The air stone and air pump will circulate the water solution, keeping your plants well-fed until harvest.
A variation on the DWC is Bubbleponics. This is where the grower creates a top-drip feeding process to make sure the roots are getting watered before they reach the nutrient solution. The solution is pumped from the reservoir directly to the roots, which can increase the health of the roots as well as improve the time it takes for the roots to reach the nutrient solution.
Another variation on DWC is called the Dutch Bucket.
The Dutch Bucket
In the Dutch Bucket system, the plants and growth medium are placed in small buckets on a shelf near the reservoir. Then, each small bucket has an irrigation line above it that is attached to the pump in the reservoir. The nutrient solution is pumped through the irrigation line and drips on the plants.
At the bottom of each plant bucket, there's a small drainage line that takes the excess moisture back into the reservoir through the return line. While this system is designed to run 24/7, it's necessary to check the nutrient solution regularly for pH balance as well as overall nutrient levels. Over time, the reservoir will need to be replenished with freshwater and more nutrients.
Maintaining Your System
There are multiple steps that must be taken to maintain your hydroponic system and ensure good growth for your plants: drain to waste, cooling, feeding, pH balancing, and changing the water.
Drain-to-Waste
Periodically, you need to "cleanse" your plants individually. During the drain to waste process, you'll add water to each plant until the water starts to run-off as "waste". You can either collect this in the reservoir and recycle it, or you can do this as a way to prepare your plants for a fresh reservoir of nutrient solution.
There are several advantages to using a drain to waste process: there's less chance of root rot, pH doesn't fluctuate as much, and the system stays cleaner.
When your plant roots are constantly exposed to water/nutrient solution, there's always a chance they can develop root rot. Root rot is transmitted by spores within a recirculating system. In drain to waste, if there are spores, they are sent down a drain rather than back to the reservoir.
If your plants are getting fresher water/nutrient solution on a consistent basis, that means the pH balance will fluctuate less often. Because you're preparing fresh reservoir water, you'll be testing for proper pH and this keeps your plants on balance most of the time.
As a whole, any hydroponics systems is going to collect waste and debris. This will require a flushing of the system and constant monitoring of pH and nutrient levels. If you use a drain to waste system, your plants will be getting fresher nutrients more frequently and the system will not be recirculating depleted water/nutrient solution through the plants.
Keeping Hydroponic Water Cool
Experts agree that your water should be kept at around 68 degrees Fahrenheit. There are multiple ways you can do this. You can invest in a water chiller, basically an underwater air conditioner, that you simply plug in and let run. You could also paint your reservoir a light color, usually white, to help reflect heat (dark colors absorb heat).
One of the more obvious solutions would be to keep your reservoir in a shaded area, away from direct sunlight. You could also ensure that your reservoir is large (maybe 75 gallons) to help with not only cooling but also better control with pH balance. If you have the option, you can also bury your reservoir in the ground where temperatures are naturally lower.
Adding Nutrients to Hydroponic Cannabis Plants
If you have a very large hydroponics operation, it'll require regular monitoring of the nutrient solution. The reservoir should be drained and refilled every 7 to 14 days to ensure optimal growth. You can add nutrients in-between draining and refilling; however, make sure you have the proper equipment for measuring nutrient levels and the know-how needed before adding nutrients to the solution at random.
You can "top off" the nutrients if your measurements indicate the solution is running low. This can be quite often – even daily. But be cautious – too many nutrients can become toxic to your plants and cause irreparable damage.
Feeding Hydroponic Cannabis Plants
So, what is in the nutrient solution that helps keep your plants alive? The basic nutrients for all hydroponics is NPK – nitrogen, phosphorous, and potassium. These are essential for cannabis as well. What's important to understand is that the levels of NPK needed are different based on the two stages of growth: vegetative and flowering.
During the vegetative stage, your plants will need high nitrogen, medium to high pHospHorous, and high potassium. During the flowering stage, your plants will need low nitrogen, high pHospHorous, and high potassium. Other nutrients your cannabis will need to include magnesium, iron, calcium, boron, sulfur, copper, cobalt, manganese, molybdenum, and zinc.
For cannabis growers, there are a variety of suppliers who offer combination feeding treatments for cannabis that are based on many factors, such as the size of your grow, the strain of the plants, and the growth medium you are using.
Using pH Up and Down
PH Up and Down is a pH balancing chemical used to maintain your plants' pH. It must be used very carefully, or your plants could suffer. PH refers to the level of acidity or alkalinity of your growing medium. Some growth media are highly acidic, while others are nearly pure alkaline.
When choosing your growth medium, be aware of the pH base. This'll help you determine how much pH Up and Down you will need to create a balanced growth medium for your plants. If your pH is in a state of imbalance, there's a chance your growth medium will become compacted and destroy your plant roots.
There are various ways to monitor the pH of your growth medium: litmus paper/pH test strips, pH indicator solutions, digital meters, and non-digital meters. Obviously, the cheapest would be litmus paper/pH test strips. The process is simple: take a sample of the water/nutrient solution and dip a test strip in (follow the instructions on the label for the time required in the solution). Use the color-coded chart that came with the test strips to determine the pH.
When your reading is too acidic, add pH Up. Add pH Down for a reading of too alkaline. You want to mix the pH Up and Down until you reach a pH reading of 5.7 to 6.2 (the generally accepted range for normal pH). Don't overdo it. Use very, very small amounts of pH Up and Down until your readings reach the optimal range.
Changing Hydroponic Water
Depending on the number of plants you introduce into the system, you may need to change the water every day or every few days. Check your reservoir every day for the first week or so to get a sense of when you will need to change it. Not only will you lose water to feeding your plants, but you'll lose water to evaporation as well.
It's also essential that you check the pH levels and nutrient levels when you add water or change the water to ensure your plants are getting what they need to be healthy. Adding just a cup of water to a reservoir can change the pH balance of the nutrient solution significantly. Any additions or changing of water must be accompanied by a thorough pH balance check.
If your plants are in large buckets, you should plan on one to two gallons of water per bucket every day. Therefore, if you have 6 plants attached to one reservoir, it needs to hold a minimum of 6 gallons of water (plus nutrients). However, the strain of cannabis you are growing may require more than a gallon a day. Do some research to determine if the strain you are growing is "thirstier" than you may have anticipated.
Starting your own hydroponics system to grow your own crop of cannabis is both an exciting and daunting adventure. Before you begin, make sure you're well-educated on how each system works, what system best fits your space, and which growth medium will be most compatible with your strain of cannabis.
Also, be sure to price different equipment brands and determine how much time you have to spend maintaining your garden on a daily/weekly basis.