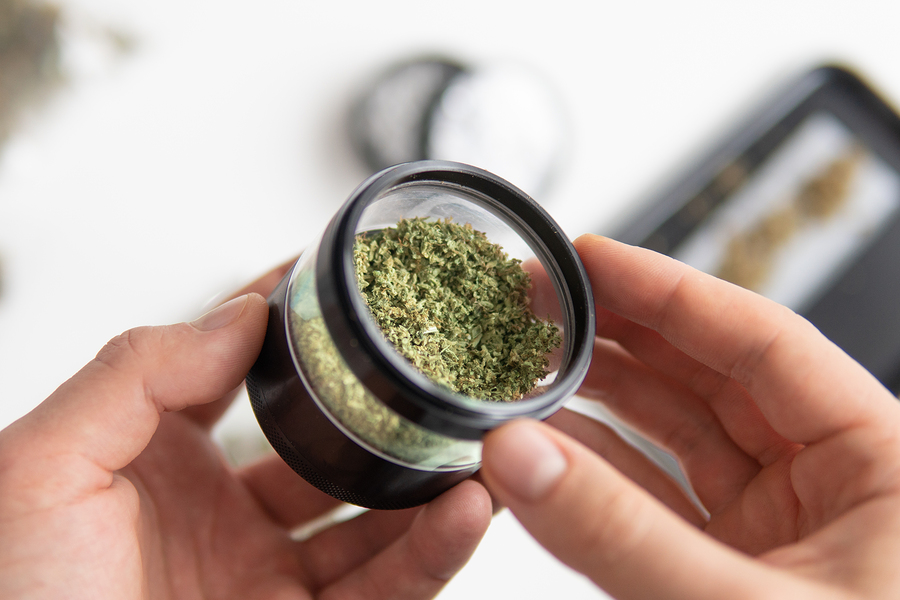 Weed grinders offer bud smokers a convenient way to grind without the mess associated with it. Hey, it's not called "sticky" for nothing. In addition, a weed grinder usually has a built-in kief catcher so as you grind the bud, the kief breaks away from the plant's fibers and falls into the kief catch. Later, you can scoop out the potent kief to pack into your pipe's bowl and smoke it, or you can even use it to make edibles or hash.
How to Use a Weed Grinder
Grinders are pretty simple devices. Most will fit in the palm of your hand, but you can purchase larger variations. Here are a few step-by-step instructions on how to use a weed grinder:
Remove the top lid.
Using your fingers, break away pieces of the bud and place the pieces into the chamber by the grinder's teeth. You will not be placing the weed in the direct center, as that's the location of the magnetic pivots so that section of the grinder does not shred.
Place the lid back on the grinder and start to rotate the device. It usually takes about 10 rotations to grind the weed. If any pieces become stuck in the grinder's teeth, then remove the lid and tap them loose.
Unscrew the chamber holding your freshly ground weed and remove it for use.
Once you have accumulated a nice supply of kief in the bottom chamber then you can scrape it out (many grinders provide you with a handy scraping tool).
Cleaning It
Over time, your weed grinder is going to become sticky with resin. The threading will accumulate a gummy substance that makes it difficult to twist the grinder mechanism. You'll want to clean your grinder so that it functions well.
Here's the play-by-play on how to clean your grinder:
Place your grinder in the freezer so that the sticky kief becomes easier to remove. Some people actually store their grinders in the freezer, so it does not become so gunky.
Using isopropyl alcohol and a pinch of salt, rub the grinder parts that are covered in sticky gunk.
Brush off the kief from the screen using a stiff-bristled toothbrush, paintbrush, or beard brush.
The Benefits Of Using Them
If you haven't been using a weed grinder then you might consider it an unnecessary tool. However, a weed grinder is a nice device to have in your marijuana arsenal.
Here are just are a few benefits of a weed grinder:
Enhances quality: The grinder enhances the flavor and aroma of the ground marijuana so you can enjoy the plant's robust terpenes and flavonoids.
Offers greater potency: Grinding the weed increases its potency for an even greater hit.
Saves time: A grinder is easy to use and will save time by cutting processing time in half.
How To Grind Weed Without A Weed Grinder
Yes, you can grind weed without a weed grinder. Stoners have been using DIY methods for centuries. Here are just a few of the top DIY weed grinding methods:
Cutting board and knife
Scissors and a glass to smash/grind
Stone and pestle
Fingers
Bottle or drinking glass to roll the weed and crush it with the cylindrical side
A coffee grinder
Types of Grinders
There are several types of weed grinders to choose between. You can purchase either electric or manual models, but most people opt for a manual grinder because of the price, size, and ease of use.
Here a few options in the different models:
Two-Piece Grinder: This is a simple compartment grinder. However, it'd often difficult to get the weed out of this grinder type. Also, there's no compartment for kief. It can become gunky very quickly.
Three-Piece Grinder: This form of a grinder has two compartments. One is where you place your unground weed and the other compartment is where the ground weed falls into.
Four-Piece Grinder: This is a very advanced weed grinder design that has a place for your kief to accumulate. This is by far the top choice in grinder design.
Top 5 Weed Grinders
The Santa Cruz Schredder is available in 10 unique colors to fit your style. It has a very unusual tooth design that gives it the capability of creating fluffy, wonderfully ground weed. The canister is also sealed with addition magnets that are exceptionally strong. This is a four-piece grinder.
This premium great grinder works great for on-the-go as its small 1.75-inch design lets you slip it into any pocket or purse. The Mendo Muncher is made out of aircraft-grade billet aluminum for optimum durability. The construction and design let you grip it easily in your hand while you grind your weed. The two-piece grinder does not have a mesh filter. This grinder is affordable and built to last.
A medical-grade grinder provides a very nice medium grind to your weed. It has deep bowls and a wonderful grip. It's a four-piece grinder that is very easy to use. If you're looking for a grinder that is easy-to-use and won't break the bank, this might be a perfect choice.
This is a premium four-piece grinder that's made from aircraft-grade aluminum. It's lightweight and fits in your hand perfectly. It boasts a black anodized finish that is completely scratch-resistant so it'll stay looking good for a long time. The blades are made of diamond and exceptionally sharp. The grinder also has neodymium magnets to help ensure freshness and control the rather pungent aroma of the weed during grinding.