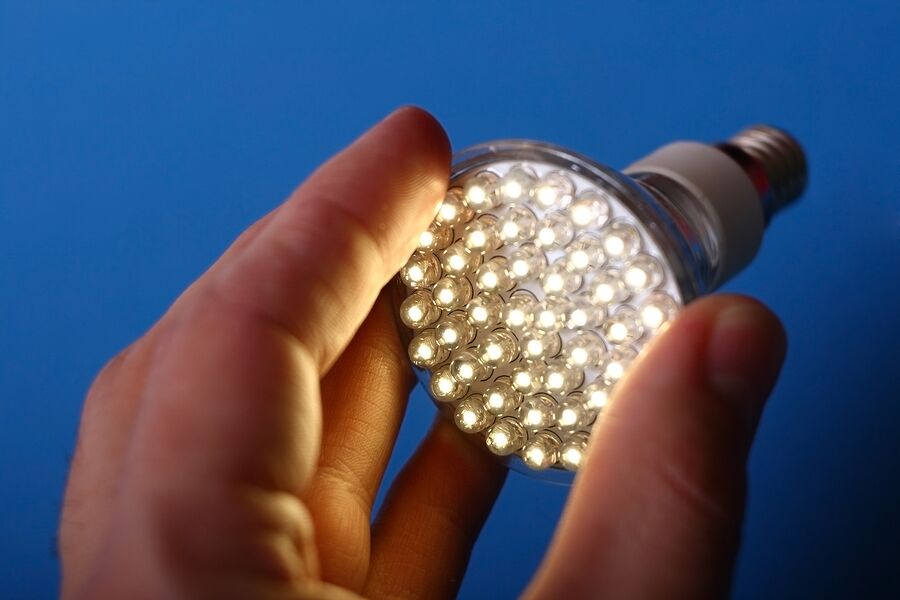 Your cannabis plant needs light to properly flower. If you have been shopping for grow lights, then you have probably been shocked by the prices. To save money, you might be considering taking on the construction of the grow light yourself. This isn't such a farfetched idea. In fact, it is a relatively easy task. In this DIY grow light article, we will explore how to build your own LED grow light for cannabis.
Why Make LED Grow Lights for Your Grow Room?
LED (light-emitting diodes) run cooler than other grow lights so your grow room or grow tent is less likely to overheat. Also, they are less likely to burn your marijuana plants. These are all reasons why LED grow lights are a must-have when growing cannabis. They are energy-efficient and long-lasting. If you opt to purchase an LED setup then it can become expensive. However, remember the lights will last from 50,000 to 70,000 hours before its strength is reduced by 30 percent. This makes their high cost an affordable option. However, there is a way you can save on an LED light setup and that is by building your own.
The Importance of LED Colors to Your Plant's Growth
LED's are available in different colors such as red and blues so you can pick the correct colors for the lifecycle of your crop. Blue lights promote chlorophyll production. Reds come in varying hues that range from purple to pink. Reds are important during the plant's flowering stages.
Making Your Own LED Grow Light
You'll experience plenty of advantages when you decide to make your own LED grow light. Two of the biggest are savings and the ability to customize the output. Plus, the project is fun. There is no reason to fork over a huge amount of money on expensive premade grow lights. You can easily make your own COB LED grow lights.
COB Style LED Grow Lights
COB (Chip on Board) LED grow lights are the latest craze in cannabis grow lights for the home grower. They contain a multitude of LED chips in a very small, well-defined area. COBs can produce very intense light that far outshines other LED types. However, the major drawback of COB light is that they do use an excessive amount of electricity, but their ability to make your plants flourish is undeniable. COB style LED grow lights have a handful of large COBs that have a strong lens that works to direct light down onto the plant's surfaces to improve growth. One of the great things about COB lights is that they could truly penetrate the deep, dense plant canopy.
Why Pick LED Grow Lights?
If you are still not sold on LED grow lights, then please continue reading to learn the benefits of the lights.
Here are a few reasons to pick LED grow lights over all others:
You want cutting-edge grow lights that will make your cannabis plants thrive
You're seeking lights with customized spectrum lighting
You have the extra money to truly go top-of-the-line with LEDs
You don't want to have an exhaust system or ducts to keep the area cool as a result of the lights.
You understand that LED grow lights produce optimum trichome development and growth in the cannabis plant.
How To Use LED Grow Lights
You will usually have much better results with LED grow lights if you use smaller panels. The reduced size lets you spread the light out where it is needed most on your plants. LED grow lights that have 3w chipsets appear to provide the greatest yield. Plus, you don't have to worry about the lights burning your plants. Also, when picking LED lights, take a close look at the actual power draw and power consumption which is the electricity that the LED lights pull from the wall. Ideally, you should use LED panels that offer about 50 to 60 watts per square foot of the grow space.
Parts Needed to Build a Grow Light
Here is the breakdown of the parts that you will need to build a grow light.
6 light bulbs that are 27 watts per bulb
Housing to hold the number of lights
Light sockets
Template
Step One: Drilling the Necessary Holes
Use the template that you have created on the housing, so you have a general idea of where to drill to place your lights. You'll want to make three holes positioned on the back of the panel. These are the grounding points where you will put the on/off switch including the energy cord.
Step Two: Drilling the Primary Holes on the Housing
After you have drilled the holes on the rear of the housing it is time to start drilling the primary mounting holes. You can use your template to ensure that you place the holes in the proper position on the housing.
Step Three: Mounting the Light Sockets
The aluminum chassis is very flexible. It will bend and twist if you are not careful. When you mount the light sockets, you will want to lay the chassis face down on a firm surface or tabletop. Use a screwdriver to push the chassis into the light sockets. You might be able to use your hands and forego the screwdriver. Use whichever method works best for you so that the chassis does not bend.
Step Four: Wire The Chassis
Use a 22-gauge wire that has been coated in Teflon. When complete, the entire fixture will use 0.4 amps with a 120 VAC if you are using six lambs that have 8 LED Watts to create a total of 48 watts.
Step Five: Time To Hang the Chassis
Your LED chassis is now complete so it's time to hang it over your plants. Ideally, you will want to keep the LED light chassis about 24 inches above your plants to provide them with enough room to grow without touching the lights.
This article has illustrated how to make an affordable LED Cob light fixture that will work well at growing your cannabis plants.