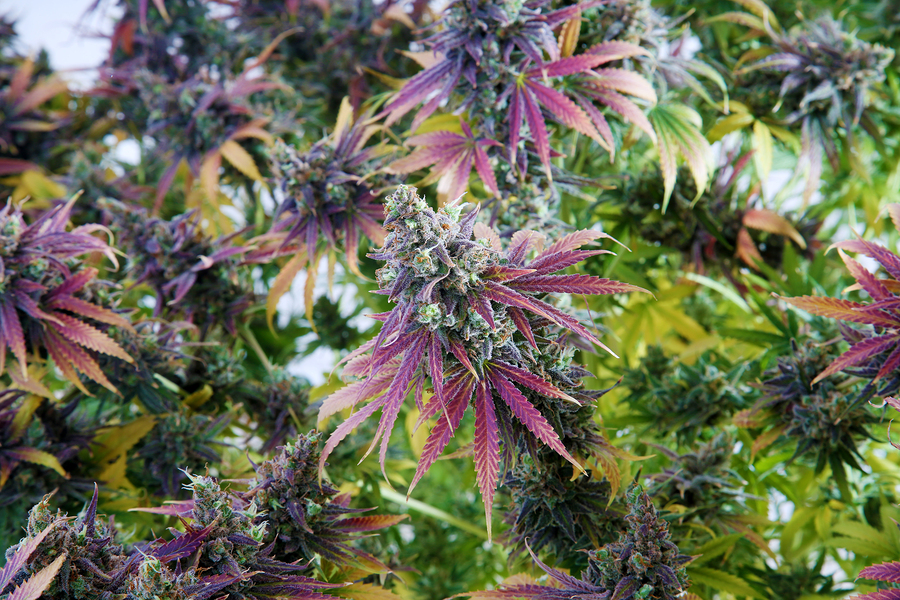 'Grow your own pot' is a phrase fitting more than just garden to table, fruits, and vegetables. While cannabis legalization spreads across the nation, many home growers are cultivating crops in the privacy of their own homes. Whether it's for hobby or for medical treatment, setting up your own indoor pot-growing system can be a cost-efficient venture. So, how do you start growing your own weed exactly? Let's start with the basics of how to grow a pot plant.
Cannabis Strains, Seeds, and Clones
Like most plants, there isn't just one type of cannabis plant. Not only is there hemp and marijuana strains, but indica, sativa or hybrid styles as well. Leading you to the first question to begin home growing…which should you choose? That depends on your preference and/or your operation.
Overall, each strain provides a variety of differing effects. It's been a common belief that sativa strains provide an energetic high, and indica strains are more relaxing and couch-locking. But through testing capabilities and crossing genetics, experts have come to find out it's not as simple to classify strain types as you think. Certain strains also require more attention, nurturing, and complex growing requirements than other strains.
With that being stated, if you're growing weed for your own personal stash be sure to do your research into the way it grows best. Sativa dominant genes tend to thrive in outdoor spaces. However, advancements in lighting sources can now mimic the power of the sun. Indica plants tend to grow shorter and are denser, which can be best for smaller indoor grow spaces.
Once you've chosen the cannabis strain that you plan to grow, it's time to get your hands on some seeds or clones of the strain. Welcome to the world of Autoflowering cannabis seeds. Autoflowering seeds are ideal for home growers looking for a quick turnaround, less effort, and restrained growing areas. Set on 'auto-pilot', autoflowering seeds skip the typical vegetation stage and begin to flower automatically while they mature. Without photoperiod stages of light-meaning periods of light, and periods of dark for buds to sprout.
Many pot growers also prefer clones due to their proven yields or 'turn-out'. Clones are aptly titled, as they are an exact replica of the mother plant they've been taken from.
Setting up Your Pot Grow Room or Tent
Before you begin germinating seeds or cultivating clones, you've got to ensure your grow room tent is set-up for success. Here are a few items to consider when setting up your pot grow room:
Temperature controls – To grow your own pot plants, you'll have to consider temperatures, humidity levels and airflow. Cool, dry areas without moisture are ideal. You'll need ducting, fans or dehumidifiers to control the levels of humidity in your space. Temperatures of 70 – 75 degrees, with humidity at 40-70% is recommended for growing cannabis. A thermometer to monitor these conditions is essential.
Water safe & cleanliness – Because you'll be frequently watering your pot plants, you'll have to consider your area's surface and keeping it clean to avoid molds or mildews. Moisture safe materials and drains to avoid standing water work best. Avoid carpets, wood, or fabric rich materials that can hold harmful contaminants.
Ample room or space – Most cannabis plants are going to get big (unless you choose a shorter stature autoflowering variety). So, the bigger your space, the bigger your crop can be. In the flowering stage, pot plants can triple in size. Remember this when choosing your space, in addition to the number of pot plants you'll be growing.
Scent control – One of the most unique characteristics of the cannabis plant, is its scent. Which you should consider when setting up your indoor pot grow room. If you have close neighbors, or a burning desire to be discrete, carbon air filters are most effective in cleaning the aromatic air from your crop.
Due to the number of factors to consider when setting up your pot-growing space, many home growers turn to innovative and affordable grow tents to begin their gardening. Grow tents are designed to control light, temperature and humidity taking the guessing game out of unknown factors for amateur growers. Prices for grow tents range from $50 – $2500, which gives you a ton of wiggle room if you're on a budget.
Indoor Pot Growing Lights
Another important factor to consider for growing quality pot plants are the lights that feed them energy. Indoor grow lights have been designed to mimic the sun by providing the correct levels of the light spectrum.
If you're not using a grow tent, keeping light-tight conditions are important for optimal flowering and growth. Because cannabis plants flower depending on periods of light and dark, any glimpses of light during their dark stages will affect the plants negatively. ALWAYS ensure that your room is tight blocking out any outside light. Typical pot plants normally grow optimally with 12 hours of light and 12 hours of dark.
There are a variety of lights to choose from for your pot grow room. Different types of spectrums/bulbs are often used during the vegetative stage of your plants and flowering stages. However, there are "full-spectrum" lights which can be used for all growth stages. On the market today, Fluorescent TDs, CFLs, HID, HPS, MH, LEDs, and LECs are the most common indoor grow lights. To learn more about choosing the type of indoor grow light for your space, read our more in-depth piece on light options here (link to indoor grow light article).
Pot Grow Mediums and Nutrients
You're ready to get growing, but you have yet another choice to make, and it's deciding what medium and nutrients you'll use to cultivate your pot plants.
There are two schools of thought for indoor cannabis growing mediums, hydroponics (water growth) or soil growth. Either will nurture growth in similar ways but have a few key differences to think about when choosing which one to go with for your indoor growing space.
Soil – This tends to be the most common type of growing. Starting cannabis plants in soil is an easier method for first-time or new home growers. When choosing soil, using quality products is always the best option. Try to avoid any with extended-release fertilizers (think, Miracle Grow). 'Super soils' are now on the market, which conveniently contain the nutrients that it takes to grow pot properly (which saves on effort and time). The organic-based soils contain worm castings (aka 'vermicast,' which helps to aerate and enrich the soil), and other materials that supplement cannabis growth. You can also mix your own if you're a DIYer. Mycorrhizae or soil bacteria will be necessary with organic growing for the pot plants to properly convert the matter into nutrients. Fabric, plastic or air pots are used most by growers (note: Be sure you consider drainage for your pots). The size of your container will ultimately decide the size of your final plant. Here are the most common pot sizes, and estimates of how large cannabis plants can grow in them:
2-3 gallon container ~ 12"
3-5 gallon container ~ 24″
6-8 gallon container ~ 36″
8-10 gallon container ~ 48″
12+ gallon container ~ 60″ ~
Hydroponics – When growing in a hydroponic medium, pot plants typically take root in either vermiculite, rockwool, clay pebbles, coco coir (extracted coconut husk) or perlite base. However, some systems can grow pot without any base at all. Soil-less mixes are available at hydroponics stores. Generally, these are the materials you'll need to get going with an amateur system:
Table
Containers – 3-5 gallons, per plant
Clay pellets
Rockwool cubes
Water pump
Plastic tubing
Drip line & emitters
Air pump
Air stone
Whether or not you're using soil or hydroponic systems, your pot plants will require certain nutrients to supplement their growth. While a huge variety of fertilizer options are available on the cannabis market today, the following nutrients are needed for your plant to thrive.
Nitrogen (N)
Phosphorus (P)
Potassium (K)
Magnesium
Calcium
Copper
Iron
Many new products have the essential nutrients in one easy-to-use feed. When watering and feeding plants, it's always best to go 'low and slow' at first. So to say, it's better to underfeed, than overfeed, which can burn and damage your pot plants.
In addition to monitoring feed schedules and nutrients, pH levels in the water you use are important to consider for cannabis growing, too. If the pH is off in your water, the plant won't be able to absorb nutrients properly, which will lead to nutrient deficiencies and for all intents and purposes, a 'sick plant' (sad face). Below are the ideal pH levels for soil or soil-less cannabis growth:
Soil: 6.0 – 7.0 pH
Soil-less: 5.5 – 6.5 pH
Germinating Seeds & Vegetation Stage (18 hours of light)
When purchasing or acquiring seeds, it's best to go for feminized seeds. Starting with feminized seeds will ensure that your resulting harvest will be female pot plants. Why should you care about having female plants? Because only female plants produce the buds from which you'll harvest oils. Male plants tend to produce only about 50% female plants, thus encouraging growers to maximize their potential yield by going with all-female seeds.
That's right folks. Who run the (cannabis) world? Girls.
Seeds must be germinated before they can be propagated. Seed germination kits and set-ups are available for purchase online.
The same idea can be accomplished with a few simple at-home products. The paper-towel method of germinating seeds is the cheapest (and most common for low-budget pot home growing) way to do so. You'll need to assemble these materials and follow the steps below to complete germination:
Materials for Pot Seed Germination:
Cannabis seeds
Paper towel
2 plates
Water
Growing medium
Process for Pot Seed Germination:
Lightly moisten the paper towel.
Place the paper towel on a plate, and put seeds on one half of the towel.
Fold the other half of the towel over the seeds.
Cover the plate with the other plate to keep the moisture contained.
Seeds will germinate in about 1-7 days (or as little as 1-4).
Once germinated, place seed about 1 inch into your growing medium.
Your seed will erupt from the growing medium, with two sprouting leaves.
Keep lights ideal for seedlings over the sprouted seed (which is about 2-6 inches away).
As seeds grow, adjust lights to enter the vegetation stage of growing.
Because a clone is taken from a mother plant and grows its own root system…it can be a much easier method to start with. To clone a plant, make a hole in your lightly packed growing medium, place your clone inside, and cover with soil. Immediately after, water and mist the clones. Lights with lower brightness should be placed about 8 inches above the planted clones and kept in ideal conditions until growth matures.
Once your seed or clone has successfully grown, you're in a vegetative state of growth. Pot plants should be kept under lights for 18 hours per day when growing indoors. The vegetative stage can technically last forever…your plants won't start budding or blooming flower until you begin their periods of light followed by periods of dark.
Most cannabis growers wait until the plants are big enough and strong enough to sustain healthy growth before pushing them to the flowering stage. Others, follow recommendations for the type of cannabis strain, clone, or seed they were provided by a trusted fellow grower. Methods like 'low-stress training' or 'scrogging' can be conducted during the vegetative state to improve overall growth and quality of product. Check out this video for a step-by-step to cannabis plant cloning.
Flowering Stage (12 hours of light)
Once you're in the flowering stage, you'll make a few adjustments and will need to continue monitoring your growth closely.
The first thing you'll want to keep your eye on (if you didn't use a guaranteed feminized seed, or clone) is male plants. Male plants have unique characteristics that make them stand out from female plants. Be sure to know what to look for in identifying male plants (remember, only the female plants can produce buds).
The problem with having male plants growing amongst your female pot plants is the potential for pollination, which will negatively affect your yields by producing buds that have seeds (aka hermaphroditic plants), or males seeds which produce no buds.
When flowering, begin your photoperiods of lights on and lights off for your cannabis plants. You'll typically need to change your lights to those ideal for budding plants. Unless you've chosen an option that is best for both or one that is interchangeable with a quick bulb change, that will provide the light spectrum ideal for budding plants versus vegetative-stage plants.
As your pot plants grow, you'll also want to adjust the height of your lighting system to ensure the tops don't burn. Depending on your soil medium nutrient package you've chosen, the levels or amounts of feed will also differ in the flowering stage as well.
Harvest, Dry, and Cure Your Pot Plants
Once you've reached the full mature growth of your cannabis plant, it's time to harvest it. If you're not aware of typical harvest times for the strain you chose, a key indicator of a plant peaked at the optimal time to take down, is trichome coloring. The trichomes or crystals on your plant will go from clear, to milky, to an amber color. For top-quality bud, it's time to take your plants down when the trichome is 20%-80% amber.
There's no exact science when it comes to harvesting, although growers do tend to favor certain signals depending on their specific strains and yield goals. Generally, you're cutting down the plant (either full, or by stalks), and then hanging it to dry.
A 'wet trim' of fan leaves is usually recommended before hanging, as additional moisture on your plant can lead to mold or rot throughout the drying process. Any leaf without beneficial trichomes will be trimmed either before drying or after (before curing).
Be sure to dry your plant in a dark, cool area with ideally no humidity. Depending on your conditions, the complete drying phase can take up to 2 weeks. Once your plants are dry, trim the buds and nugs off and do any needed manicuring or removing sugar leaves. From there, it's time to cure your crop.
Harvested buds are usually stored and cured in mason jars, which are kept in cool dark spaces. For the first two weeks of curing, you'll need to 'burp' your jars or open the cap and allow moisture to release (typically for about 10-15 secs).
As the nugs dry out, burping can be done less (about once a week). While the curing process normally takes about 2 weeks, you can continue to cure your bud for as long as you want. The longer you cure, the smoother your buds will smoke.
Growing your own pot plant can be quite the task. Above all, monitor your pot plants closely, treat them with care, and follow to follow whatever guidelines come with your specific cannabis strain. With a variety of opinions, products, and methods to grow cannabis at home – do what's best and easiest for your cultivating desires, and most importantly, have fun in the process.
Your end-product of home-grown pot plants will be worth the hard work.