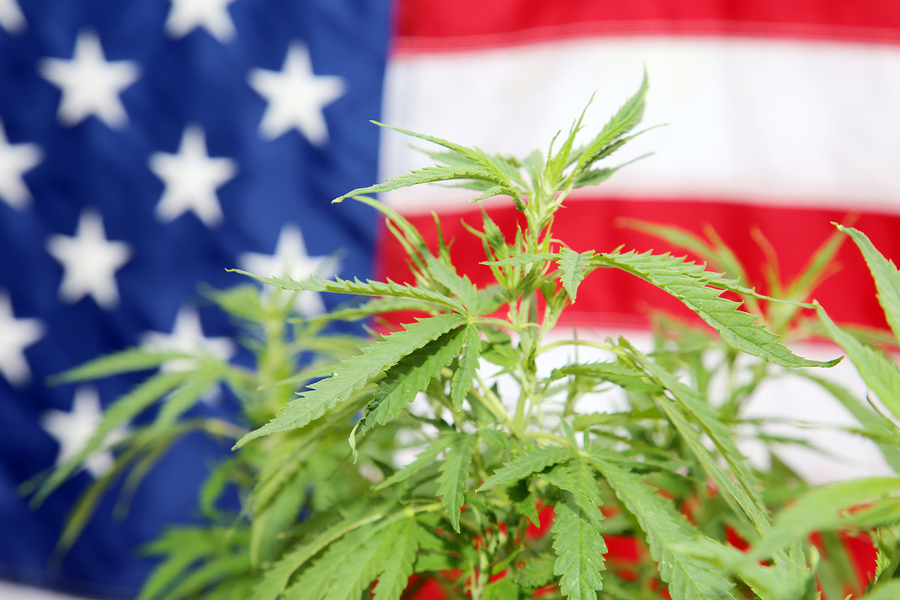 As more states legalize medical and recreational use of cannabis, many 420 fans want to know about buying and using cannabis legally in the United States, and how to go about it. In this piece, you'll learn about the history of cannabis in the US, its current status as a medical drug and recreational drug, and lastly what steps to take in order to legally buy weed in your state.
A Brief History of Prohibition and Legalization
For centuries, cannabis has been used around the world to treat different diseases, and it was also a commonly used medicine in America up until the early 1900s. In fact, cannabis tinctures were widely used for everything from migraines to nausea. Massachusetts was the first state to pass a law in 1911 prohibiting sales of cannabis except by licensed pharmacists who were filling a doctor's prescription. It was not until the 1930s that the federal government pushed for cannabis prohibition for several reasons.
During this time, there were intense anti-immigration sentiments spurred on by the jobless rate of the Great Depression. At the same time, emerging pharmaceutical companies were trying to increase profits and saw the widely accessible plant as an economic threat. In the 1930s, head of the Federal Bureau of Narcotics, Harry Anslinger, started an intense campaign against cannabis. He promoted propaganda that associated weed with criminal activity, addiction, and insanity.
He also blamed the African American and Mexican communities for the widespread use of marijuana and supposedly related crime and reckless behavior. In fact, the term marijuana was popularized during this time to intensify this negative association with the Mexican community to further his agenda, rather than the more common and etymologically accurate term cannabis.
With financial support from the beverage industry and pharmaceutical companies trying to protect their patents, Anslinger proposed the Marijuana Tax Act of 1937. The goal was to impose a tariff and paperwork requirements to dissuade doctors from prescribing cannabis tinctures and small companies from producing tinctures. Over time, Anslinger achieved his goal; by 1943, doctors could no longer prescribe cannabis. By 1945, all pharmacies had to remove cannabis tinctures from their inventory.
Negative portrayals of cannabis in the media can be traced to this era, and it tarnished public opinion and constrained legal access to cannabis for decades to follow. Anslinger published articles in national newspapers owned by the wealthy and influential William Randolph Hearst.
Funded by alcohol and pharmaceutical companies, Anslinger produced anti-marijuana films. This sentiment caught on, and others wrote articles and made movies. Perhaps the most well-known film is Reefer Madness which portrayed marijuana smokers as insane, promiscuous, and violent.
The negative stigma hindered access to medical cannabis, but challenges to legal policy started in the 1960s with several appellate court cases questioning anti-cannabis laws. In 1970, the federal government created the Controlled Substances Act and the Drug Enforcement Administration (DEA), President Richard Nixon established the Shafer Commission to evaluate cannabis laws, and NORML was founded that same year.
In 1972, the Shafer Commission recommended that cannabis be decriminalized for personal use and that personal cultivation be allowed, but Nixon and Congress rejected these recommendations.
In that same year, NORML used the Shafer Commission's findings to bolster efforts in individual states to adopt decriminalization laws. NORML also filed the first-ever lawsuit to reschedule cannabis for medical use in 1972. Some other developments happened in the 1980s that led to the landmark  1996 passing of California's Proposition 215 which allowed patients to legally use, possess and cultivate medical cannabis.
There is much more to the rich history of medical cannabis law, but these milestones laid the groundwork for the significant and fast-paced changes happening today. Some helpful resources on cannabis law history include the NORML and Marijuana Policy Project websites.
Which States Allow Cannabis Medical and Recreational Use?
The good news is that legalization, especially of medical cannabis, enjoys wide support, and Americans will continue to see more states legalize medical use in the near future. There is a wide spectrum of medical cannabis policies across the country. Even some of the more traditional political conservative states have legalized medical cannabis, but are still far from passing legislation for recreational use.
For example, Arkansas and New Mexico have legal medical cannabis but there is still significant resistance to gaining legislative or voter support for recreational use. Other states such as California, Oregon, and Colorado have been pioneers in medical and recreational cannabis legalization, and consequently, they have more established dispensary and marijuana retail store practices as well as state compliance procedures.
In addition, the cannabis industry is flourishing and cannabis culture is more widely accepted in these states than in more conservative states like Missouri or Louisiana that have only medical cannabis laws.
If you're interested in purchasing and using cannabis legally, the first thing you should do is read the laws in your home state (and learn how to prepare for your first dispensary visit). Each state posts clear guidelines for residents and visitors on their government websites. If you're traveling to another state with legalized medical or recreational cannabis, research the state laws for recreational users.
For example, if you're visiting Illinois as of January 1, 2020, visitors to the state will be able to buy a half-ounce of cannabis flower for recreational use at a medical marijuana dispensary (half of the amount allowed for Illinois residents). Until retail stores are fully operational later in 2020, the state will allow dispensaries to sell cannabis to adult recreational users.
If you're visiting California, you can buy weed from a dispensary if you are 21 and older. Only a few states like Massachusetts and California opened cannabis cafes, and other states are in the process of passing legislation to allow lounges or cafes where you can consume cannabis and cannabis-infused products.
Keep in mind that in most states with legal recreational use, using marijuana in public is illegal and you will be subject to a violation and a fine. You also never want to transport cannabis over state lines, because doing so is a federal offense, unfortunately. Cannabis is still scheduled as a Class 1 drug under federal law. Until federal law changes, you want to be especially cautious about how you go about purchasing, growing, and using cannabis.
States Where Marijuana Is Still Illegal
It may be helpful to begin a review of medical and recreational cannabis policy by pointing out that there are only 12 states in which cannabis is totally illegal, meaning no medical or recreational is allowed. These states include Alabama, Idaho, Kansas, Kentucky, Mississippi, Nebraska, North Carolina, South Carolina, South Dakota, Tennessee, Wisconsin, and Wyoming.
To residents in these states, this fact may be disheartening; however, many cannabis bills have already been introduced for the 2020 legislative session in these states. These developments suggest that even the holdout states are gaining momentum in the legalization movement.
For example, Kentucky has already introduced medical cannabis House Bill 136 for the 2020 legislative session; the state came very close to passing medical cannabis in 2019. Other states that have legal medical cannabis (such as Florida and Arkansas) have some leverage and a pre-existing cannabis industry infrastructure that should persuade legislators to support recreational cannabis.
In those states in which cannabis remains illegal, legislators and advocates continue to push for legalization and decriminalization. Advocates argue for rescheduling for cannabis so that more medical research can be conducted and access to effective medicine can be provided to those with debilitating health conditions.
Given that the U.S. only has 12 states in which cannabis use or possession is illegal, it's helpful to review which states allow medical cannabis. It's also important to keep in mind that individuals with medical cannabis cards cannot transport cannabis or cannabis-infused CBD products over state lines; otherwise, they're risking a federal offense if caught. Some medical marijuana users assume that a registry card gives them a free pass to carry weed anywhere, even though a dispensary agent probably has done her due diligence and explained the federal law.
States Where Marijuana IS Legal
Currently, 33 states allow for medical use and 11 allow for recreational use. In addition, medical and recreational cannabis are both legal in Washington, DC.
Here are the 33 states and the District of Columbia that allow medical cannabis:
Alaska
Arizona
Arkansas
California
Colorado
Connecticut
Delaware
Florida
Hawaii
Illinois
Louisiana
Maine
Maryland
Massachusetts
Michigan
Minnesota
Missouri
Montana
Nevada
New Hampshire
New Jersey
New Mexico
New York
North Dakota
Ohio
Oklahoma
Oregon
Pennsylvania
Rhode Island
Utah
Vermont
Washington
Washington, D.C.
West Virginia
Amounts of allowed flower or concentrates per patient in 30 and 60-day periods vary widely depending on the state, and in some circumstances, patients can submit a waiver approved by their physician if they need more than the maximum amount to treat their condition effectively.
Here are the 11 states and the District of Columbia that allow recreational cannabis use:
Alaska
California
Colorado
Illinois (going into effect January 1, 2020)
Maine
Massachusetts
Michigan (going into effect January 1, 2020)
Nevada
Oregon
Vermont
Washington
Washington, D.C.
In these states, recreational use is only legal for adults 21 and older. Consumption is not allowed in public places. Limits of possession vary from state to state. Most limit possession amounts to one ounce; exceptions are Maine and Michigan (2.5 ounce maximum) and Washington, D.C. allows up to 2 ounces. CBD concentrates and edible amounts also vary widely from state to state.
How to Apply for Medical Marijuana Card
There are basic steps for obtaining a medical marijuana card common to many states with legal medical cannabis, but always check the specific requirements of your state to ensure you're compliant. A common step is to meet with a healthcare professional (physician, physician's assistant, etc.) designated by your state to certify that you have a qualifying condition for a medical marijuana card.
Qualifying medical cannabis usage conditions usually include, but are not limited to cancer, glaucoma, AIDS, cachexia, persistent muscle spasms, epilepsy, rheumatoid arthritis, severe nausea, severe pain, Post Traumatic Stress Disorder.
Some states include any condition for which a doctor can prescribe an opioid, and some states are offering innovative programs such as Illinois' Opioid Alternative Pilot Program. In most state amendments, there is a clause requiring that the patient and physician/health care professional must have a "bona fide relationship" in which there are a thorough assessment and ongoing monitoring of the patient's health. This requirement prevents against abuse of a medical cannabis card by someone without a debilitating condition. The health care professional recommends that the patient might benefit from cannabis treatment (remember, physicians cannot technically prescribe cannabis because it's still classified as a Schedule I drug under federal law).
After a patient receives the certification form from a licensed healthcare provider, a patient submits the application, proof of residence (in the form of a state-issued photo-ID), and an application fee to the state agency overseeing the medical cannabis program. It costs anywhere from $50 (Arkansas) for a one-year registry card up to $200 (New Jersey). Most states require annual renewal of registry cards.
Some states require patients to register with one medical marijuana dispensary. Caregivers will also follow a similar registration process in order to be able to pick up cannabis from dispensaries and cultivate in states that allow caregivers to conduct these actions.
Once the patient receives their medical marijuana registry card, they can visit a dispensary where staff will recommend cannabis products that will address their health concerns. The medical dispensary staff will also suggest the best methods of consumption for patients as well as offer information about federal and state laws. In some states, the minimum age for minor patients is 18 and other states, it's 21 and older.
Some states allow smokable forms of marijuana for adults 21 and older only. Some states acknowledge another state's marijuana registry card, as is the case in Arizona. This state does not allow visiting patients to purchase cannabis from their dispensaries but does allow them to possess and use up to 2.5 ounces while in Arizona.
It is unclear how visiting patients would obtain cannabis while visiting Arizona, and this example shows how the issue of marijuana registry card reciprocity raises questions about grey areas and creates potential legal violations for visiting patients. This is why it's always best to read government materials and consult dispensary staff from the state in which you plan to purchase and use cannabis.
Some states have more complex approaches to medical cannabis policy. For example, there are two levels of medical cannabis status in Washington. Patients with an approved medical authorization form can grow up to 4 plants at home. If the patient would like to access medical cannabis from a dispensary and protection from arrest not guaranteed with just a medical authorization form, and the legal right to grow two additional plants, they must have their information entered into the state medical marijuana database by a certified medical marijuana consultant at a dispensary.
After this step, the patient can purchase the legal amounts of cannabis and cannabis-infused products from the dispensary.
In Which States Can I Grow My Own Weed Legally?
Currently, 16 states allow growing cannabis for either medical and/or recreational purposes. Eight states allow for medical cannabis only include Arizona, Hawaii, Oklahoma, Missouri, Montana, New Mexico, Rhode Island, and Washington. Most of these states have a maximum of 6 plants allowed with no more than 3 flowering at a time.
The nine states that allow growing for both medical and recreational purposes are Alaska, California, Colorado, Maine, Massachusetts, Michigan, Nevada, Oregon, and Vermont.
Five states (California, Michigan, Nevada, Oregon, and Vermont) allow medical patients to grow an additional amount of plants beyond the maximum allowed for recreational purposes.
In most states, patients can ask their physician for a waiver if their need exceeds the limit of medical cannabis plants set by the state. Most states that allow indoor cannabis growing for recreational use are limited to six plants with no more than 3 flowering.
However, some states like Illinois have a limit of 5 plants while Oregon home growers are limited to 4 cannabis plants. Interestingly, just because a state allows medical marijuana patients to grow and partake in legal recreational use does not always mean growing cannabis is legal; Washington is an example. Therefore, it is always best to review the most current state policies.
Risks for growing cannabis illegally in states not listed above could result in anything from a misdemeanor and fines to a felony and incarceration depending on the number of cultivated cannabis plants and offenses.
Cannabis laws will continue to change rapidly, so keep up with these policy developments in order to consume safely and legally. In states where medical and/or recreational cannabis is legal, dispensary agents can answer questions about legal questions whether you reside in that state or are visiting.