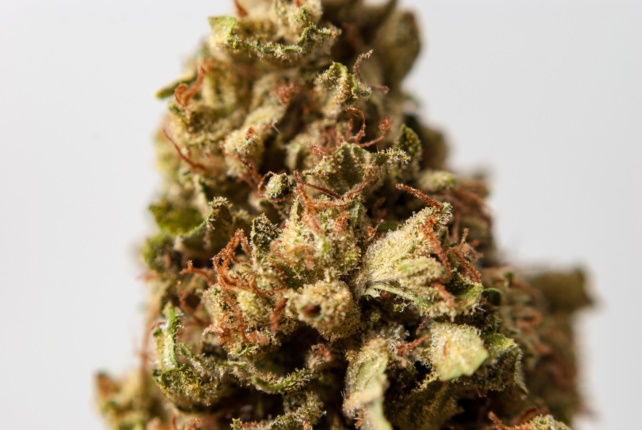 Special Kush #1 was originally produced by Royal Queen Seeds. The strain is a descendant of the original Kush variety found in the Pakistan and Afghanistan regions. Special Kush #1 gives a slow high, which is perfect for recreational and medicinal use.
Characteristics
The Special Kush 1 strain is 80% Indica/20% Sativa and has a THC content of 17%. The buds of this strain are small and compressed with a hint of purple throughout and a frosted coating over them. The leaves are medium shades of green. As expected based on the origins of Special Kush #1, the parent of this strain is Kush Afghani.
Aroma/Taste
The aroma and taste are somewhat consistent with other pure cannabis strains. However, it can be described as having an herbal, hash-like yet spicy flavor. Other users have described it as having a skunky, earthy aroma with a hint of berry.
Effects
The effects of the Special Kush #1 strain start out with a slow uplifting boost and then quickly turn into a hard-hitting full-body high. It provides a true stoned feeling that leaves users in such a deep relaxed state that if they closed their eyes for a few seconds, they may fall asleep.
The deep relaxation that this strain offers provides a great medicinal use for people suffering from depression, anxiety, stress or insomnia. Special Kush #1 is also known to trigger appetite, making this a perfect option for those suffering from eating disorders or having side effects from chemotherapy.
Best Time For Use
Because of the effects that the Special Kush #1 gives its users, it is best used at night right before bedtime. The all-over body high that this strain gives puts the user in such a deep relaxed state that sleep is extremely easy to obtain. Therefore, planning any activity other than relaxing is not a good idea while using Special Kush #1.
Growth
Since deriving from Middle East origins where the plant grew wild in the mountains, the Special Kush #1 strain tends to thrive better in an outdoor environment. Although growing indoors is possible, special attention must be given as this plant can reach almost 10 feet in height.
The flowering process takes approximately 8 to 10 weeks and can yield anywhere between 60 to 150 grams per plant. However, with enough food and water as well as warm temps, one plant can produce over 500 grams. Also, outdoor growing will always produce more yield.
When it comes to a strain of cannabis that provides a complete body high that puts the user in an extremely relaxed state, Special Kush #1 is it. There is no fancy flavors or aromas when it comes to that strain; just solid cannabis that does the job and does it very well.