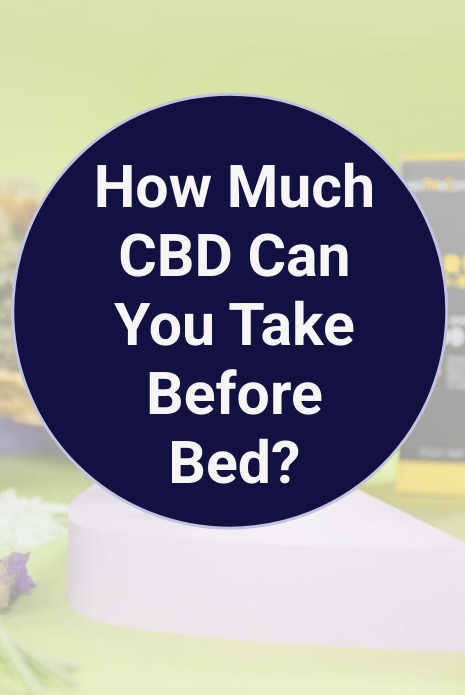 Are you struggling to get a good night's sleep? If so, you've probably heard about the potential benefits of CBD for promoting relaxation and restful sleep. But how much CBD should you take before bed to experience these effects? In this article, we'll delve into the world of CBD and sleep, exploring the optimal dosage to help you catch those elusive Zzz's. Whether you're a CBD newbie or have been using it for a while, finding the right dosage can be a challenge. Don't worry, though – we've got you covered. We'll discuss factors that can influence the ideal amount of CBD, such as your body weight, metabolism, and the severity of your sleep issues. So, if you're ready to improve your sleep quality and wake up feeling refreshed, keep reading to discover the answer to the burning question: How much CBD can you take before bed?
What Is CBD?
CBD, short for cannabidiol, is a compound derived from the cannabis plant. Unlike its more well-known counterpart, THC, CBD does not cause the psychoactive effects typically associated with marijuana use. Instead, CBD is known for its potential therapeutic properties, including its ability to promote relaxation, reduce anxiety, and improve sleep quality.
CBD interacts with the body's endocannabinoid system (ECS), a complex network of receptors and neurotransmitters that helps regulate various bodily functions, including sleep. By stimulating certain receptors in the ECS, CBD can help rebalance the body's natural sleep-wake cycle, leading to improved sleep.
The Benefits Of CBD For Sleep
There is growing anecdotal and scientific evidence suggesting that CBD can be an effective aid for sleep. Many people who struggle with insomnia or other sleep disorders have reported experiencing better sleep after incorporating CBD into their routine. While more research is needed to fully understand how CBD affects sleep, studies have shown promising results.
One study published in the Permanente Journal found that out of 72 adults with anxiety and sleep concerns, 79.2% experienced decreased anxiety and 66.7% experienced improved sleep after taking CBD. Another study published in the Journal of Clinical Pharmacology found that CBD helped reduce the frequency of nightmares in patients with post-traumatic stress disorder (PTSD), leading to better sleep quality.
How CBD Works To Promote Better Sleep
To understand how CBD promotes better sleep, it's important to know how the endocannabinoid system (ECS) functions. The ECS plays a crucial role in regulating sleep, mood, appetite, and pain sensation. It consists of three main components: endocannabinoids, receptors, and enzymes.
Endocannabinoids are naturally occurring compounds produced by the body. They bind to cannabinoid receptors, which are found throughout the body, including the brain and nervous system. Enzymes then break down the endocannabinoids once they have fulfilled their function.
CBD interacts with the ECS by influencing the receptors involved in regulating sleep. It can enhance the binding of endocannabinoids to these receptors, leading to a more balanced sleep-wake cycle. CBD also has anti-anxiety properties, which can help calm the mind and promote relaxation, making it easier to fall asleep and stay asleep.
Factors To Consider When Determining CBD Dosage
When it comes to determining the right CBD dosage for sleep, several factors come into play. These factors can vary from person to person and may influence how CBD affects your sleep quality. Here are some key factors to consider:
1. Body weight: CBD dosage is often based on body weight. As a general rule, the higher your body weight, the more CBD you may need to experience the desired effects. However, individual differences can still play a role, so it's important to start with a lower dosage and gradually increase if needed.
2. Metabolism: Your metabolism can affect how quickly your body processes CBD. People with faster metabolisms may require higher doses to achieve the same effects as those with slower metabolisms.
3. Severity of sleep issues: The severity of your sleep issues can impact the ideal CBD dosage. If you have mild occasional sleep disturbances, a lower dosage may be sufficient. However, if you suffer from chronic insomnia or more severe sleep disorders, you may need a higher dosage for meaningful results.
4. Sensitivity to CBD: Everyone's body reacts differently to CBD. Some individuals may be more sensitive to its effects and require lower doses, while others may need higher doses to achieve the same results. It's essential to listen to your body and adjust your dosage accordingly.
Recommended CBD Dosage For Sleep
Finding the right CBD dosage for sleep can be a trial-and-error process, as it varies from person to person. It's always best to start with a low dose and gradually increase until you find the dosage that works best for you. Here are some general guidelines to help you get started:
1. Start low: Begin with a low CBD dosage, such as 10-20mg, and assess how it affects your sleep quality. If you don't experience the desired results, gradually increase the dosage by 5-10mg at a time until you find the optimal dose.
2. Divide your dosage: Instead of taking your entire CBD dose before bed, consider splitting it into smaller doses throughout the day. This can help provide more consistent relief and promote a balanced sleep-wake cycle.
3. Consider other factors: In addition to CBD dosage, other factors can affect your sleep quality. Make sure to practice good sleep hygiene, such as maintaining a regular sleep schedule, creating a relaxing bedtime routine, and optimizing your sleep environment.
Potential Side Effects Of Taking Too Much CBD Before Bed
While CBD is generally well-tolerated, taking too much can lead to potential side effects. It's important to find the right dosage that provides the desired benefits without causing any adverse reactions. Some potential side effects of taking too much CBD before bed may include:
1. Daytime drowsiness: If you take a high dose of CBD before bed, you may experience excessive drowsiness the following day. This can interfere with your productivity and overall well-being.
2. Dry mouth: CBD can cause dry mouth, also known as cottonmouth. To mitigate this side effect, make sure to stay hydrated throughout the day and have a glass of water by your bedside at night.
3. Changes in appetite: CBD can affect your appetite, causing an increase or decrease in hunger. If you notice any significant changes, adjust your dosage accordingly or consult with a healthcare professional.
How To Incorporate CBD Into Your Bedtime Routine
Incorporating CBD into your bedtime routine can help signal to your body that it's time to wind down and prepare for sleep. Here are some tips for incorporating CBD into your nightly ritual:
1. Choose the right CBD product: There are various CBD products available, including oils, capsules, edibles, and topicals. Consider your preferences and needs when selecting a product. CBD oils are a popular choice for sleep, as they allow for precise dosage control and faster absorption.
2. Set a consistent bedtime: Establishing a consistent sleep schedule can help regulate your body's internal clock. Set a regular bedtime and aim to go to bed and wake up at the same time every day, even on weekends.
3. Create a relaxing routine: Before bed, engage in relaxing activities that promote sleep, such as taking a warm bath, reading a book, practicing mindfulness or meditation, or listening to calming music. Incorporate CBD into this routine to enhance its soothing effects.
4. Experiment with timing: CBD can take varying amounts of time to kick in, depending on the product and your individual metabolism. Experiment with different timing to find the sweet spot for you. Some individuals find that taking CBD 30-60 minutes before bed works best, while others may need to take it earlier.
CBD Products Specifically Designed For Sleep
If you're specifically looking to improve your sleep quality, there are CBD products on the market that are formulated to promote relaxation and better sleep. These products often contain additional sleep-promoting ingredients, such as melatonin, lavender, or chamomile. Here are some CBD products to consider:
1. CBD sleep oils: These oils are infused with sleep-inducing ingredients, such as melatonin, to enhance their calming effects. They are typically taken sublingually for faster absorption.
2. CBD sleep gummies: These gummies are a convenient and tasty way to incorporate CBD into your bedtime routine. They often contain melatonin and other sleep-supporting ingredients to help you drift off to sleep.
3. CBD sleep capsules: Similar to CBD sleep oils, these capsules are designed to promote better sleep. They provide a pre-measured dose of CBD and other sleep aids, making them easy to incorporate into your routine.
Other Natural Sleep Aids To Consider
While CBD can be a helpful tool for improving sleep, it's not the only option available. There are several other natural sleep aids you can consider incorporating into your routine. Here are a few:
1. Magnesium: Magnesium is a mineral that plays a crucial role in sleep regulation. It can help calm the mind and relax the body, making it easier to fall asleep. You can try taking a magnesium supplement or incorporating magnesium-rich foods into your diet, such as leafy greens, nuts, and seeds.
2. Valerian root: Valerian root is an herb that has been used for centuries as a natural sleep aid. It can help reduce anxiety and promote relaxation. You can find valerian root in supplement form or as a tea.
3. Lavender: Lavender is known for its calming and soothing properties. It can help relax the mind and prepare the body for sleep. Consider using lavender essential oil in a diffuser or adding a few drops to your bathwater.
Conclusion
Getting a restful night's sleep is essential for overall health and well-being, and CBD may offer a natural solution for those struggling with sleep issues. Finding the right CBD dosage before bed can be a personal journey, influenced by factors such as body weight, metabolism, and the severity of sleep issues. Remember to start with a low dose, gradually increase as needed, and pay attention to how CBD affects your sleep quality. Incorporating CBD into a bedtime routine, along with practicing good sleep hygiene, can maximize its potential benefits. If you're unsure about the correct dosage for you, consult with a healthcare professional who can provide personalized guidance. With the right CBD dosage and a consistent routine, you can finally catch those elusive Zzz's and wake up feeling refreshed and rejuvenated.