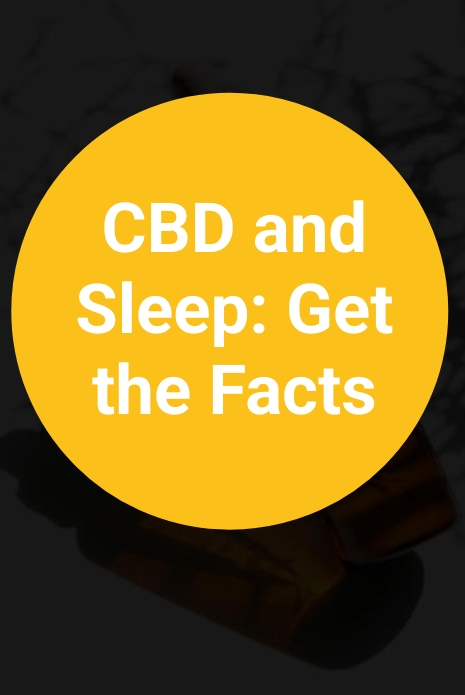 Are you tired of tossing and turning all night? Struggling to fall asleep or stay asleep can be incredibly frustrating, leaving you feeling groggy and unproductive during the day. If you're seeking a natural solution to help improve your sleep quality, CBD might be the answer you've been looking for.
CBD, short for cannabidiol, is a compound found in the cannabis plant that has gained significant attention for its potential health benefits. While CBD is often associated with relieving pain and reducing anxiety, its sleep-enhancing properties are becoming increasingly recognized. In this article, we'll explore the relationship between CBD and sleep, how it works, and the potential benefits it can offer for those struggling with sleep disorders or general sleep issues. So, if you're ready to experience a more restful and rejuvenating night's sleep, keep reading to discover the incredible potential of CBD.
What Is CBD?
CBD, or cannabidiol, is a non-intoxicating compound found in the cannabis plant. Unlike its counterpart THC, CBD does not produce a psychoactive effect, meaning it won't make you feel "high." Instead, CBD interacts with the body's endocannabinoid system, a complex network of receptors and neurotransmitters that helps regulate various bodily functions, including sleep.
The Relationship Between CBD And Sleep
Research suggests that CBD may help improve sleep quality by addressing underlying issues that contribute to sleep disturbances. For example, CBD has been found to have anxiolytic (anxiety-reducing) properties, which can help calm the mind and promote a sense of relaxation. Additionally, CBD may help alleviate pain and inflammation, both of which can interfere with sleep.
Furthermore, CBD has been shown to interact with serotonin receptors in the brain. Serotonin is a neurotransmitter that plays a crucial role in regulating mood and sleep. By modulating serotonin levels, CBD may help regulate sleep-wake cycles and promote a more balanced sleep pattern.
Benefits Of Using CBD For Sleep
Using CBD for sleep can offer a range of potential benefits. Firstly, CBD may help reduce anxiety and promote relaxation, making it easier to fall asleep and stay asleep throughout the night. By calming the mind and body, CBD can create a more conducive environment for quality sleep.
In addition to its anxiolytic properties, CBD may also help alleviate pain and inflammation, common issues that can disrupt sleep. Whether you suffer from chronic pain conditions or occasional discomfort, incorporating CBD into your sleep routine may provide relief and improve overall sleep quality.
Moreover, CBD has been found to have a positive impact on REM sleep, the stage of sleep associated with dreaming. By enhancing REM sleep, CBD may contribute to better memory consolidation and overall cognitive function.
How CBD Affects The Sleep Cycle
CBD can influence the sleep cycle by interacting with various receptors and neurotransmitters involved in sleep regulation. As mentioned earlier, CBD interacts with serotonin receptors, which play a crucial role in promoting healthy sleep-wake cycles.
Additionally, CBD has been found to interact with adenosine receptors. Adenosine is a neurotransmitter that builds up in the brain throughout the day and promotes sleepiness. By interacting with adenosine receptors, CBD may help increase the feeling of sleepiness and promote a more restful night's sleep.
Different Types Of CBD Products For Sleep
CBD is available in various forms, allowing you to choose a product that suits your preferences and needs. Some of the most common CBD products for sleep include:
1. CBD oil: CBD oil is a versatile option that can be taken sublingually (under the tongue) or added to food and beverages. It is typically available in different strengths, allowing you to customize your dosage based on your specific sleep needs.
2. CBD capsules: CBD capsules offer a convenient and pre-measured way to incorporate CBD into your sleep routine. They are easy to swallow and provide a consistent dosage with each capsule.
3. CBD gummies: CBD gummies are a tasty and discreet way to consume CBD. They come in various flavors and can be easily incorporated into your nightly routine.
4. CBD topicals: CBD topicals, such as creams and balms, can be applied directly to the skin. They are often used to target localized pain or discomfort that may be interfering with sleep.
Dosage And Usage Recommendations For CBD And Sleep
When it comes to CBD dosage for sleep, it's important to start low and gradually increase until you find the optimal dosage for your needs. It's recommended to begin with a low dose, around 10-20mg, and assess how your body responds. If needed, you can gradually increase the dosage until you achieve the desired effects.
It's also worth noting that CBD may have a biphasic effect, meaning that low and high doses may produce different effects. While a lower dose may promote relaxation and improve sleep, a higher dose may have the opposite effect and cause alertness. Finding the right dosage for your individual needs is key.
Potential Side Effects Of Using CBD For Sleep
CBD is generally well-tolerated and considered safe for most individuals. However, like any supplement or medication, CBD may cause side effects in some people. Common side effects of CBD include dry mouth, drowsiness, and changes in appetite or weight.
It's important to note that CBD may interact with certain medications, so it's always advisable to consult with a healthcare professional before incorporating CBD into your sleep routine, especially if you are taking any prescription medications.
Research And Studies On CBD And Sleep
While research on CBD and sleep is still relatively limited, preliminary studies suggest promising results. A 2019 study published in The Permanente Journal found that CBD improved sleep and reduced anxiety in a majority of participants. Another study published in the Journal of Clinical Pharmacology in 2012 reported that CBD may increase total sleep time and decrease sleep disturbances.
As interest in CBD grows, more research is being conducted to explore its potential benefits for sleep disorders such as insomnia, sleep apnea, and restless leg syndrome. These studies aim to provide a deeper understanding of CBD's mechanisms of action and its effectiveness in promoting restful sleep.
How To Choose The Right CBD Product For Sleep
With the wide range of CBD products available, it's important to choose the right one for your sleep needs. Here are a few factors to consider when selecting a CBD product:
1. CBD source: Look for products derived from organically grown hemp that is free from pesticides and other harmful chemicals. Third-party lab testing can provide additional assurance of quality and purity.
2. CBD concentration: Consider the concentration of CBD in the product and choose a strength that aligns with your desired dosage.
3. Extraction method: CO2 extraction is considered the gold standard for CBD extraction, as it ensures a clean and pure final product.
4. Additional ingredients: Some CBD products may contain additional ingredients, such as melatonin or lavender, that are known for their sleep-promoting properties. These added ingredients can enhance the sleep-inducing effects of CBD.
5. Customer reviews and reputation: Read customer reviews and seek recommendations from trusted sources to ensure you choose a reputable brand that delivers quality products.
Conclusion And Final Thoughts On CBD And Sleep
CBD holds great potential as a natural remedy for improving sleep quality. Its ability to reduce anxiety, alleviate pain, and regulate sleep-wake cycles makes it a promising option for those struggling with sleep disorders or general sleep issues. However, it's important to remember that CBD is not a magic solution and may not work the same for everyone.
If you're considering incorporating CBD into your sleep routine, it's advisable to consult with a healthcare professional, especially if you have any underlying health conditions or are taking medications. They can provide personalized guidance and help you determine the best approach for your specific needs.
Ultimately, finding restful and rejuvenating sleep is a journey that may involve various lifestyle changes and holistic approaches. CBD can be a valuable tool in this journey, but it's important to approach it with realistic expectations and a well-rounded approach to sleep hygiene.
So, if you're ready to embark on a journey towards better sleep, why not give CBD a try? With its potential sleep-enhancing properties and wide range of available products, CBD may just be the natural solution you've been searching for. Take the first step towards a more peaceful night's sleep and discover the incredible potential of CBD today.